COMMENT
By Enis Koylu
It seemed like the perfect move. Pep Guardiola arrived at Bayern Munich with the Bavarians coming off the back of a brilliant treble-winning season and had Mario Gotze, one of the finest prospects in world football, gift-wrapped waiting for him.
But that wasn't enough. With pre-season in full flow and less than two weeks until the DFL-Supercup clash with Borussia Dortmund, the Bavarian giants confirmed the signing of Thiago Alcantara from Barcelona.
On the face of it, a move for the Spain international makes sense. The 22-year-old played under Pep
for a total of five years for both the
Blaugrana
's reserves and their full team and is well-versed in the slick passing style which saw them dominate European football during his four years in charge.
THE VIEW FROM SPAIN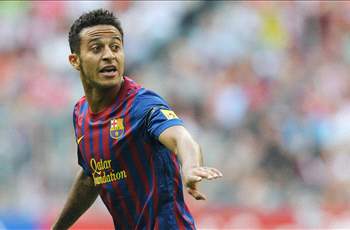 Barcelona are losing their ready-made heir for Xavi, despite Tito Vilanova's desire to keep him at Camp Nou. The problem was that the coach could not guarantee the 22-year-old a starting spot at Barca.

And so he decided to look elsewhere. He wants to play more regularly, particularly ahead of next summer's World Cup.

Barca will miss Thiago as a substitute for Xavi because the 33-year-old will need to rest more and more going forward. Now it's up to Sergi Roberto to step up to the plate.

- Pilar Suarez | Barcelona Correspondent

However, it is fraught with problems. Bayern's midfield - as they demonstrated by bullying and pressing opposition into submission throughout last season - is already perfect and does not need to be disturbed.
In Javi Martinez, they have stability, in Bastian Schweinsteiger calm and in Toni Kroos class. Thiago, while a good player and a €20 million bargain, brings nothing new to the table.
More worryingly, it sends a negative message to Bayern's current stars. Prior to his season-ending injury in April, Kroos had established himself as one of his team's finest players, scoring a personal-record goal tally and finally cementing a place in the starting XI behind Mario Mandzukic.
Equally, it seems oddly dismissive of Gotze. The 21-year-old's €37m transfer made him the most expensive German player of all time and, despite being one of the brightest stars in the Bundesliga last term, Guardiola seemed to play down the significance of his signing. "Gotze is a superb player, but I need Thiago," he said on Thursday - hardly a glowing endorsement of the player.
His preference for a player who is yet to achieve anything and failed to live up to his potential, over two established internationals who worked miracles across the course of last season, is baffling.
Then there is the wider issue of where Thiago will fit in at Bayern. Guardiola was quick to laud his ability to play anywhere across midfield, though the centre of the park is already well stocked at the Allianz Arena. Dropping the ever-improving Kroos would be an act of folly, Schweinsteiger is a club icon in the prime of his career and Martinez's addition made the difference in their pursuit of a treble. One of them will have to make way for the new man - why would Pep pay €20m for a reserve?
Guardiola even mentioned the possibility of playing his fellow Spaniard in defence to accomodate Thiago. While playing without a recognised defensive midfielder would not sting them against the Augsburgs of this world, the likes of Borussia Dortmund and the rest of Europe's elite would be able to expose them on the break with such a set-up.
The signing of another midfielder will also upset the balance of the squad players. Luiz Gustavo, while not glamorous, is as good a back-up for the position as anyone in the game and falling further behind in the pecking order could force the Brazilian to look elsewhere.
Meanwhile, in the shape of Emre Can and Pierre-Emile Hojbjerg, Bayern have two of the best young midfielders in German football waiting in the wings. The former, 19, has already voiced his frustration with his lack of opportunities, hinting that he would leave if the situation did not get better.
For a club who purport to take care of their own, this is shockingly unfair treatment for two youngsters who have done nothing to deserve it.
At his official unveiling as Bayern coach at the end of June, Guardiola pledged to adapt to the side, rather than making Bayern adapt to him. However, in his brash bid to land Thiago, he looks set to take a colossal risk which could upset the balance at his new club.
Follow
Enis Koylu on