The Champions League finalists have started their pre-season campaign and Goal brings you the complete guide...
Borussia Dortmund had a magical run in Champions League which was unfortunately ended by Bayern Munich in the final as they missed out on a trophy on all fronts.
With Mario Gotze leaving to join Bayern, Dortmund had to strengthen and the signings of Pierre-Emerick Aubameyang, Sokratisw Papastathopoulos and Henrikh Mkhitaryan certainly points to the fact that they mean serious business.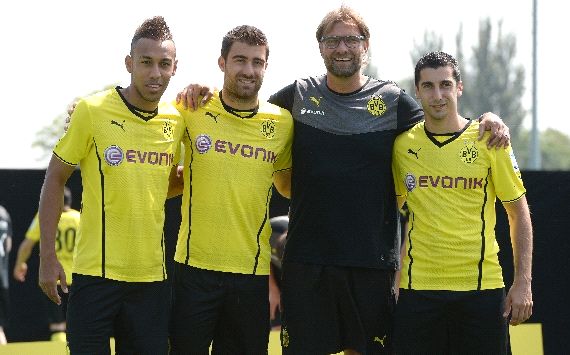 The players returned to training on 3rd July in Kirchberg, Austria where they trained before taking on Sat.1 Helden team in a charity encounter on 7th July at the Signal Iduna Park. They also faced a fourth division club, FC Magdeburg on the next day at the MDCC Arena.
FC Basel was next on the cards three days later which was followed by a training camp in Bad Ragaz in Switzerland until the 18th of this month.
| | |
| --- | --- |
| I | BVB Dortmund vs Sat.1 Helden am Ball |
Date: 07 July, 2013

Venue: Signal Iduna Park, Dortmund

Kick Off: 20:15 local time
18:15 GMT
10:45 pm IST
Borussia Dortmund began their pre-season campaign after training in Austria by playing in a charity match against the Sat.1 Helden am Ball to collect funds for the flood victims in the German states of Saxony and Saxony-Anhalt.
About the opposition-
The Sat.1 Helden team was a side assembled for the Charity encounter by German entertainer, Oliver Poacher which consisted of Bundesliga shot stopper, Simon Jentzsch who turned up last season for FC Augsburg.
| | |
| --- | --- |
| II | FC Magdeburg vs BVB Dortmund |
Date: 08 July, 2013

Venue: MDCC Arena

Kick Off: 18:00 local time
16:00 GMT
8:30 pm IST
On the very next day, Dortmund went up against FC Magdeburg as the second fixture in their charity endeavour to help the flood victims.
About the opposition-
FC Magdeburg is a German club playing in the fourth division of Germany and having finished bottom of the division last season, they were only saved from explusion by a league reform.
| | |
| --- | --- |
| III | FC Basel vs BVB Dortmund |
Date: 10 July, 2013

Venue: St. Jakob Park, Basel

Kick Off: 19:30 local time
17:30 GMT
9:30 pm IST
About the opposition-
The formidable FC Basel who finished as semi-finalists in last season's Europa League would indeed put up a strong fight to Dortmund. Although they were eliminated from the Champions League in the play-off stages they only lost to eventual Europa League winners Chelsea in the semi-finals. Domestically they made it four in a row in the Swiss Super League though missing out on the Domestic Cup by finishing as runners up.
Dortmund went to win 3-1 with new signing Henrikh Mkhitaryan on the scoresheet.
| | |
| --- | --- |
| IV | Bursaspor vs BVB Dortmund |
Date: 13 July, 2013

Venue: Cashpoint Arena, Altach

Kick Off: 20:00 local time
18:00 GMT
10:30 pm IST
About the opposition
Bursaspor will take on Borussia Dortmund in Austria in a friendly encounter. Having won the Super League title in 2010, they could only finish 4th in the Turkish Super League last season. However they mean business this season having signed Taiwo from AC Milan to bolster their defense
Pierre-Emerick Aubameyang starred in their 4-1 victory over Bursaspor.
| | |
| --- | --- |
| V | FC Luzern vs BVB Dortmund |
Date: 16 July, 2013

Venue:
Swissporarena, Lucerne, Switzerland

Kick Off: 19:30 local time
17:30 GMT
9:30 pm IST
About the opposition-
Twice winners of the Swiss Cup and a winner of the Super League in the past, FC Luzern could only finish eigth last year.
Former Dortmund player, Dimitar Rangelov who turned up for the German club for three seasons until 2012 now plies his trade for the Swiss club.
Date: 20 and 21 July, 2013.

Venue:
Borussia-Park, Germany

Teams:
Bayern Munich, BVB Dortmund, Munchengladbach, Hamburger SV

Schedule:
20th July: HSV vs Gladbach followed by Dortmund vs Bayern
21st July: Third Place Playoff followed by Final between winners
The prestigious pre-season tournament returns for its 2013 iteration which brings four top class teams from the Bundesliga.
It also sees eternal rivals Bayern Munich and Borussia Dortmund going head to head before their important Super Cup encounter on 27th July.
BVB Dortmund's Man to Watch
Henrikh Mkhitaryan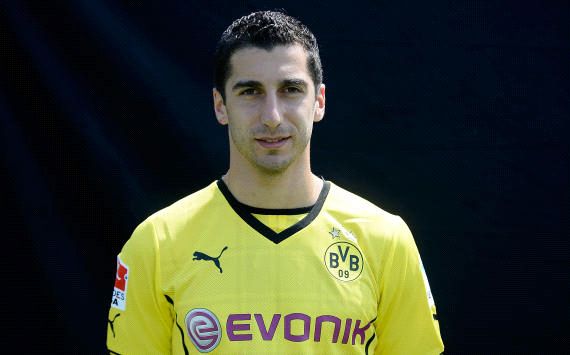 The Armenian hitman who was pursued by several top clubs in Europe including Liverpool had opted a switch to Dortmund and can be the ideal man to plug the gaping hole left by Mario Gotze.
The player who plied his trade in Ukraine for Shakhtar Donetsk was part of their impressive campaign in the Champions League last season, which was in fact halted by Dortmund in the round of 16.
His impressive performances also earned him Shakhtar's player of the season award and with 25 goals in the Ukrainian Premier League last season, he also succeeded in setting a league record.
More direct than Gotze, Henrikh is altogether a different player. His clinical finishing is an added advantage apart from being involved in the build up play.
Borussia Dortmund's pre-season squad

Goalkeepers:Weidenfeller, Langerak, Alomerovic, Bonmann
Defenders: Durm, Sokratis,Hummels, Schmelzer, Piszczek, Bandowski, Sarr
Midfielders: Gundogan, Kirch, Kehl, Sahin, Bender, Kuba, Mkhitaryan, Reus, Grosskreutz, Hofman, Ducksch, Bajner, Bakalorz
Strikers: Lewandowski, Schieber, Aubameyang