In what came as a shocking move, Spain ace David Villa elected to switch to Atletico Madrid for a measly 5.1 million Euros this summer after he was purchased for a princely sum of 40 million Euros just three seasons back.
A pale shadow of the glorious self that befit Spain's all time top international goal scorer, a tally of 56 goals in 91 appearances with a strike rate of 0.62, Villa certainly had a lot more to offer in top flight.
When El Guaje had effected his move to FC Barcelona as a plausible replacement for Zlatan Ibrahimovic who failed to find his feet at the Camp Nou outfit, it seemed like a match made in heaven. The prolific and deadly Spanish forward was moving to one of the top clubs in the world, if not the outright best club who had just won the Champions League two seasons back which would help him to further his position as one of the top strikers in the game.
What eventually transpired was in stark contrast. Before joining Barcelona, Villa was the outright first choice striker for the La Furia Roja. Being an integral part of the Luis Aragones' Spain side, he announced himself to the world in style by bagging 4 goals in as many matches and thereby leading Spain to Euro 2008 title.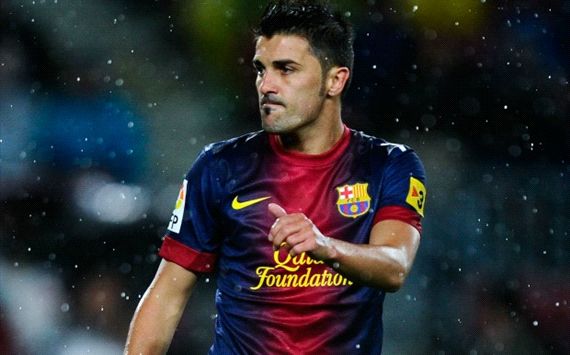 Villa put in another masterful performance in Spain's World Cup campaign where he was an instrumental weapon in their armoury as he managed to bag five goals in the process.
Just before he joined Barcelona, in the preceding two seasons for the national team he had a ridiculous goals to games ratio of 13 in 14 matches in 2007-08 (0.93 strike rate) and 11 in 15 matches in 2008-09 (0.73 strike rate). Instead of bettering it in the coming years as he entered into the mature years, there was a relentless nosedive both his onfield performance as well as the accurate reflection in stats as his goals to games ratio for the three years in Barcelona were 0.42, 0.67 and 0.63 respectively.
Frankly speaking, Villa did carry his form and ability atleast in the first season of joining the Blaugrana as he was part of the massively successful team that captured an unprecedented six trophies under Pep Guardiola including the Champions League. The stunning curling shot that all but buried Manchester United's hopes of a comeback in the Champions League final is still bound to give the Red Devils faithful a nightmare.
It was some way to announce himself in the El Clasico too as he struck twice to welcome Jose Mourinho as the Real Madrid manager at Camp Nou in 5-0 humbling.
An injury in his second season didn't augur well for him. And then he had to contend with playing alongside the 'Best player of the World', Lionel Messi who pushed him out of his favoured central position onto the wings, which certainly did not give him enough opportunities to display his killer instinct in front of goal.
Villa's injury woes coupled with Fernando Torres' woeful form with Chelsea eventually led Vicente Del Bosque to experiment with a 'False nine' in Cesc Fabregas. Fabregas dropped deep and opened up space for his team-mates to exploit.
Fabregas, on his part, gave a decent account of himself as Spain ended up defending their Euro title successfully which included a 4-0 thrashing of Italy in the final. What has to be seen however, that this was a move born out of necessity rather than anything.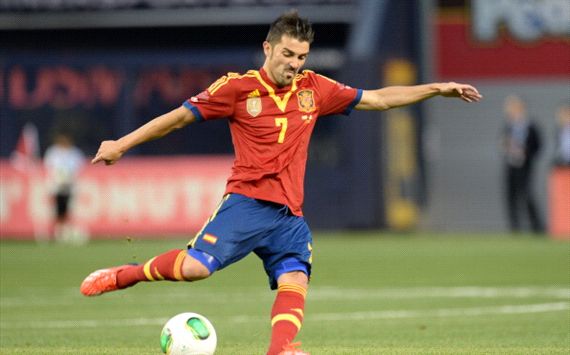 Even in the recently concluded season where Villa was fit and raring to go, he was relegated to a position on the bench as he strangely fell out of favour with new coach Tito Vilanova. However El Guarje did come up with the goods when called for and in just 17 starts, he managed a creditable 10 goals.
Even at the Confederations Cup, he wasn't the preferred striker though he did impress against Tahiti by scoring a hat-trick. Del Bosque had mentioned ahead of the tournament of being unsure as to who would be his number nine in the team. Eventually Roberto Soldado was handed the start though Torres was named in the starting eleven against Brazil.
The move to Atletico Madrid thus promises to rejuvenate the national prospects of the 31 year old who chose to stay back in Spain with a plethora of clubs interested in him. What Atletico offer Villa is a chance to rediscover his old form and play as the main striker, unlike his time at Barcelona. Villa has a good chance of reprising his favourite role and thus slowly but steadily pushing himself into the Spanish staring eleven.