After a scintillating Confederations Cup performance, Brendon Netto suggests that Neymar emphatically proved his doubters wrong & justified the fee Barcelona spent to recruit him.
Brendon Netto

COMMENT | Spain

Follow on
With a resounding 3-0 win over Spain in the Confederations Cup final, Brazil issued a warning to the rest of the footballing world. They effectively announced their long-awaited return to the summit of international football but while they'll have to prove themselves all over again at the World Cup next year, there are a couple things that will go undisputed.
Firstly, the tournament marked the return of "Joga Bonito", the famed Brazilian style of play that promotes flair and attacking football, the kind the national team is historically renowned for. Also, the competition marked the emergence of a new star for the 'Samba Kings' as Neymar burst onto the scene and is now poised to take his place among the Brazilian greats. This presence of a talisman in every Brazil team has almost become tradition.
Pele, Socrates, Romario and Ronaldo were among those who led the Seleccao admirably while Ronaldinho and then Kaka briefly oversaw their recent barren phase. However, the stage is now set for Neymar to flourish and although there were doubts about the Brazilian prodigy prior to the tournament, there certainly aren't any now.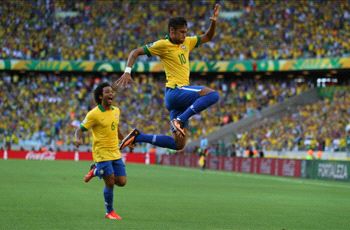 A star is born
Neymar disregarded the skepticism that surrounded him since his move to Barcelona was announced within two minutes of the tournament's commencement. With a majestic swing of his right foot, he put his side ahead against Japan in spectacular fashion and set the tone for the rest of the competition not only for himself but for Brazil as well.
The move to take him to Barcelona is reportedly worth £48.6 million, a staggering amount for a 21 year old who is unproven in Europe and critics were quick to point that out. Much was made of his slight frame in particular and the need for him to bulk up was voiced repeatedly.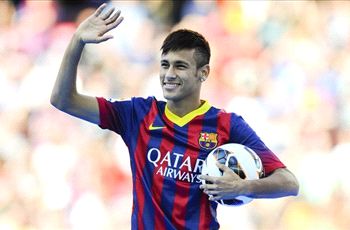 Worth every penny
However, the nimble-footed attacker proved during the tournament in Brazil that he can take care of himself on pitch against the more robust players and displayed the kind of maturity in leading his side that bodes well for his career in Spain. Over the course of the competition, Neymar justified his price-tag and then some.
Despite being consistently blessed with an abundance of talent, Brazil have always been a team that craves a talisman, a superstar among stars if you will. From 1958 through to the early '70s, Pele was the golden boy for the national team, winning three World Cups in his time. He was succeeded by the likes of Zico, Socrates, Romario and eventually Ronaldo who won the title twice.
Even among those players, Pele and Ronaldo stand out. There's something about a phenomenal goal-scorer that fits so perfectly into a Brazilian side. The fact that Brazil failed to win the World Cup for around two decades between Pele's retirement and Ronaldo's emergence suggests the need for that one extraordinary attacker. If anyone's capable of emulating the two Brazilian legends, it's Neymar.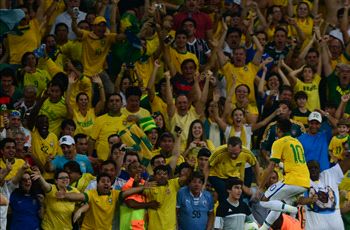 The Golden Boy| Sustaining a nation's hopes
What's so impressive about the Barcelona recruit's performance in the Confederations Cup is his influence and contribution in every match. He was often criticized of going missing in games and failing to deliver when he's needed the most but this time around, he stepped up to the plate at every opportunity and didn't disappoint.
In 5 games, Neymar notched up 4 goals and 4 assists. Hence, he was directly responsible for 8 of the 14 goals Brazil scored in the tournament. He was never kept quiet for too long as he either scored or assisted a goal every 51 minutes. He was rightly awarded the Golden Ball while he collected the Bronze Boot as well.
Apart from the statistics and accolades, it's worth noting that there was nothing ordinary about Neymar's contributions. While Fred picked up the odd scrappy goal, every one of Neymar's strikes were spectacular and were worthy contenders for goal of the tournament. Even his assists were top drawer; the one where he wriggled through a gap between two Mexican defenders before squaring the ball to Jo stands out.
Not only were those contributions easy on the eye but they also came at critical moments for Brazil. What will also please Barcelona is the fact that he consistently produced match-winning performances throughout the tournament and did so against top oppositions. There was no Tahiti in their path for them to steamroll, Brazil worked hard for every win and Neymar passed every test with flying colours.
Of course his success at the Camp Nou is not set in stone. He still has to learn to fit into their 'tiki-taka' brand of football. He will have to adopt their ideologies and most significantly, gel with his new teammates. Many suggest that he won't be able to partake in the limelight that is so stubbornly fixed on Lionel Messi and argue that he'll fall by the wayside just like Zlatan Ibrahimovic and David Villa did.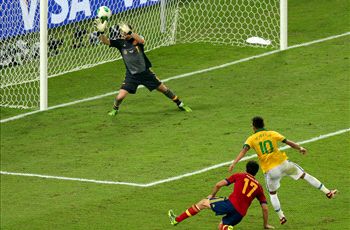 He already has his teammates' respect
However, the Brazilian has already pledged his support to the reigning Ballon d'Or winner and as long as he maintains that stance, he'll have a great chance at Barcelona. The maturity he showed of late should hold him in good stead and enable him to adjust to his new colleagues. The advantage he has is that he's already shown most of them what he's capable of in the recent 3-0 win over Spain and they'll be glad to have him aboard.
The 2013 Confederations Cup will be remembered as the tournament in which Neymar embraced his destiny and accepted the responsibility of leading Brazil back to the very top of world football. Meanwhile, Barcelona will be thrilled that their investment has been vindicated and will be proud that they did indeed sign a real star and not the overrated one-trick pony so many critics made him out to be. Sometimes, even Joey Barton can get it wrong.
Will Neymar be a success in Barcelona? Send in your thoughts in the comments below or discuss with the writer on Twitter @BrendonNetto.
How do you stay up with football when on the move? With http://m.goal.com –your best source for mobile coverage of the beautiful game.