Let us switch our gaze to the summer of 2009 when the immensely succesful Carlo Ancelotti who had coached AC Milan for 9 years was to be unveiled as Chelsea FC's coach with the obvious aim of winning the Londoners a maiden Champions League. Something which Roman Abramovich's millions had still failed to acquire.
Besides the usual euphoria surrounding the Italian's arrival, the Blues faithful hoped that Ancelotti's appointment would mean that Andriy Shevchenko's fledgling career would receive a timely boost as it was under him that the Ukrainian had won a Ballon d' Or in 2004. At London though, signed in 2006 he had managed a measly 9 league goals in 47 appearances over two seasons, after which he was sent back to Milan on loan where he performed worse than he did at Stamford Bridge, failing to score in 18 league appearances.
Carlo Ancelotti however rebuffed the expectations by deciding that Shevchenko would not get first team football and as a result, he was shipped off to Dynamo Kyiv.
Fast forward to 2013 and we have a similar situation on our hands. Ancelotti has recently joined Real Madrid with the obvious aim of leading Madrid to the fabled La Decima, a task that even the self proclaimed 'Special One' failed to deliver after a controversial three year stint at the capital club. The question that is however on almost everyone's lips is whether Ancelotti can help Kaka rediscover his best form.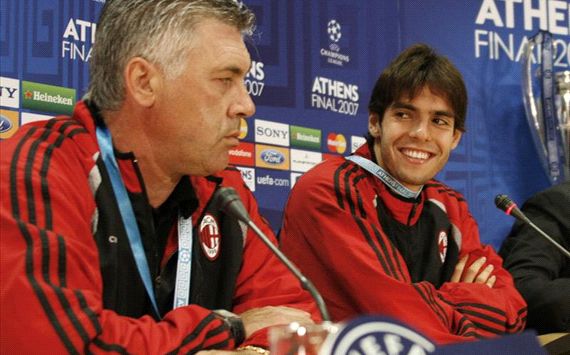 As was his priority after taking over Chelsea, Ancelotti showed that for him the team came first which was vindicated when he won the double in his very first year at Chelsea .
Although detractors might point to the fact that last season Carlo had bowed down to the larger than life Zlatan Ibrahimovic at PSG and had almost given a free rein to do as he pleases. However that just proves that the veteran tactican can adapt to his needs and at PSG, he knew that the volatile Swede was the key to success and keeping him content would be the way to execute his tactical plans.
That Kaka has been a bits and pieces player for Real Madrid after his much celebrated switch from AC Milan is further reason for Ancelotti not to go out of his way to induct him into first team. When asked about the Brazilian, Ancelotti was as vague as possible in his reply.
"I know him very well. I hope to see him train and then we'll decide what to do. Kaka is a Real Madrid player. We're going to work with him and do everything to make him a better player."
You would expect a bit more clarity from the man who had made Kaka into a world beater during their tenure at Milan which culminated in him winning the Ballon d'Or in 2007. That Kaka is not on Ancelotti's plans as he goes around to wrest the La Liga back from familiar foes, Barcelona and also charts out a path to the mythical 'La Decima' is also apparent in his comments regarding Luka Modric.
When asked whether he wanted to convert the Croatian into a deep lying playmaker, similar to what he did with Andrea Pirlo at Milan, he said he had no plans to do so.
"Pirlo's was a more defined position.Modric needed to be able to move all over the pitch."


Couple that with the recent acquisition of Spanish starlet, Isco and arguably Madrid's best playmaker in 'Kaka's role', Mesut Ozil an integral part of the squad, there is little hope of Kaka retaining a position in Ancelotti's Madrid, let alone a starting berth.
With Kaka having lost that pace and dynamism which made him one of the best, it would be unwise to play him behind the striker with the likes of Isco and Ozil being worthier contenders for that role.
Kaka will have to prove his worth to Ancelotti all over again and he won't have the luxury of time to do so. However, he can take comfort in the fact that the manager is aware of his capabilities and familiar with what brings out the best in him. The Brazilian may have to concede that he will not feature in the starting eleven on a regular basis but he may at least get chances to make a contribution under a manager who once built a team around him.