In football we divide the components of player development into four categories: technical, tactical, physical, and psychological; all factors which are looked upon while studying a player's development and or ability. But often a fifth category, environment, is overlooked. And this comes down to a lot of luck!
Let's examine this key factor through a glimpse into my own family, where I have two young boys aged four and seven. As is the case with most families in Japan and elsewhere in Asia, Mom dictates the daily routine for our kids, and it's interesting to take a look at what mothers consider when it comes to their children playing football.
Often, a child's first experience with football will be in kindergarten. In Japan, many kindergartens hire outside companies to provide physical education teachers for their schools. In addition to teaching physical education classes, these companies also provide after-school activities in the form of various sports.
In the case of my sons, their after-school football program had a large number of participants even though the instructors were hardly knowledgeable about football development. Mothers, especially younger ones, are rarely aware of the quality of the instruction their children are receiving; they are however more than happy to have an extra hour to themselves, either in the form of free time or time spent with other moms on the sidelines chatting away while Junior appears to be having lots of fun.
I've watched many of these kindergarten sessions development take place with physical exercise masquerading as football development. Meanwhile, lots of quality football schools struggle to draw students for lack of marketing acumen.
While these kindergarten programs don't provide high-quality instruction, they do provide fun for the kids - and happy kids equal happy mothers, who are one of Asia's most important demographics.
When fathers occasionally visit, they're usually amazed at what is going on. But they don't dare suggest pulling their children out of the program as both mother and child have joined a new circle of friends. The problem is that when kids don't learn to manipulate the ball they fall behind, just like a student without proper instruction will lag in studies.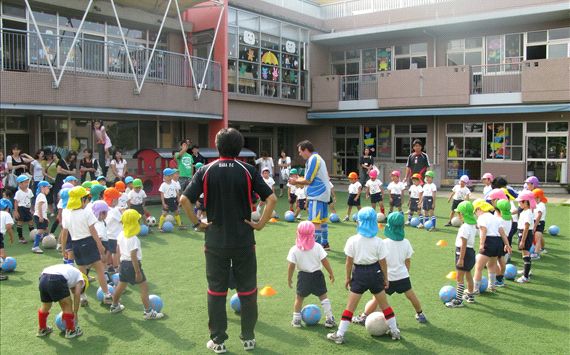 Parents need to ensure their kids get the 'right' training
Once a child becomes older and has no ability to manipulate the ball they become bored, frustrated, and demotivated, sometimes quitting as a result. You can hire the best coach in the world, but there is not much he can teach a player if they are not able to manipulate the ball.
The bottom line is that there are quality programs out there. But it comes down to the parents to figure out what their young child needs. If your son or daughter are not being taught the basics of how to stop and start, change direction, and manipulate the ball, they are in the wrong environment. Every training session for kids should have a technical component to it.
Under-12 club teams in Japan have similar problems; they often train two or three times a week for two and a half hours per session. With many teams understaffed, these clubs focus less on coaching and more on allowing kids to interact with each other. On any given weekday, my son's club has only two or three coaches for as many as 60 players.
This is the reason we started supplemental football schools in Japan to focus on technical development that was not happening at the club level. But even if you don't have access to one of these schools, there are plenty of things you can do for your child.
Parents needs to work with their kids and encourage them to practice on their own. After all, most great players practiced by themselves or with friends with no coaches in attendance. It's all about repetition and willingness to practice, but what you practice is also important.
Federations throughout the world put a lot of energy into educating coaches. While this is very important, they also need to put energy and resources into 'parent education' and empowering kids to practice on their own. With the many available channels for technical content, this empowerment has become a game-changer for young players in Japan.
Tom Byer has taught his famed footballing techniques to millions of young players in Japan, China, and elsewhere in Asia via his football schools, regular clinics, TV appearances, and other media.
How do you stay up to date with football when on the move? With http://m.goal.com – your best source for mobile coverage of the beautiful game.