COMMENT
By Mark Doyle
Italy
boss
Cesare Prandelli
admitted before Saturday's Confederations Cup clash with
Brazil
that "the important thing is to find the balance we lacked against Japan." It's fair to say that it proved an embarrassingly futile search.
For the second successive game in this most chaotic of tournaments - on and off the field - Italy were a shambles, defensively and tactically. Indeed, for the second successive game, Prandelli was forced into a change of personnel after less than half an hour of play - a necessity that should be as humiliating for the coach as it is for the player concerned.
On Wednesday night, against Japan, it was Alberto Aquilani who suffered the ignominy of a first-half withdrawal for purely tactical reasons. On Saturday night, Riccardo Montolivo lasted just 26 minutes before being replaced by Emanuele Giaccherini, with Italy being once again overrun in midfield. If it had not been for Italy's admirable resilience and character, they would never have claimed the most undeserved of victories over Japan, and would have been thrashed by a Brazil side that is not without its own defensive deficiencies.
MATCH FACTS | Italy 2-4 Brazil


Shots
On Target
Possession
Corners
Bookings
Red cards

ITALY
10
4
45%
6
1
0
BRAZIL
14
11
55%
5
3
0
Admittedly, there are a number of mitigating factors in Italy's disjointed displays in Brazil thus far. Firstly, Prandelli is in a difficult position in that his options have been severely restricted by the quality of the players available to him in key positions.
As already discussed in detail on these pages
, the
Azzurri
are crying out for a true
trequartista
and have been since well before Euro 2012.
Furthermore, Stephan El Shaarawy's dip in form and apparent incompatibility with Mario Balotelli has forced Prandelli to shelve his hopes of playing the pair in tandem, or as part of a three-man frontline. Hence, the change of formation on the eve of the Confederation Cup to 4-3-2-1. Balotelli, Italy's most consistent performer to date, did excel in the lone forward role against Mexico but Italy were ripped to shreds by Japan in their second outing, while the
Azzurri
proved just as vulnerable after switching to 4-2-3-1 for the meeting with Brazil in Salvador.
It must also be acknowledged that, as far as the Confederations Cup is concerned, not only did Italy have to face the hosts without their playmaker, Andrea Pirlo, and their most industrious midfielder, Daniele De Rossi, a number of top players have simply performed uncharacteristically poorly.
Gianluigi Buffon has arguably never turned in a worse display during his stellar international career than he did against Brazil. He looked every inch the "pensioner" Franz Beckenbauer described him as during the Champions League quarter-finals, getting beaten by a Neymar free kick on the side of the goal that he was supposedly protecting, going inexplicably AWOL in the lead-up to Fred's first goal and then gifting the Fluminense forward a second by spilling a tame enough effort from Marcelo.
In fairness, Buffon has been repeatedly let down by those stationed in front of him. Andrea Barzagli, the model of consistency for Juventus, has been sluggish and sloppy in equal measure, giving away a penalty against Mexico that should have also resulted in a red card. Mattia De Sciglio, meanwhile, must take a significant share of the blame for the spot kick Buffon conceded against Japan, on account of a sloppily underhit back-pass. As for Leonardo Bonucci and Giorgio Chiellini, quite why they decided to allow Fred the freedom of the park before his first goal in Salvador is anyone's guess.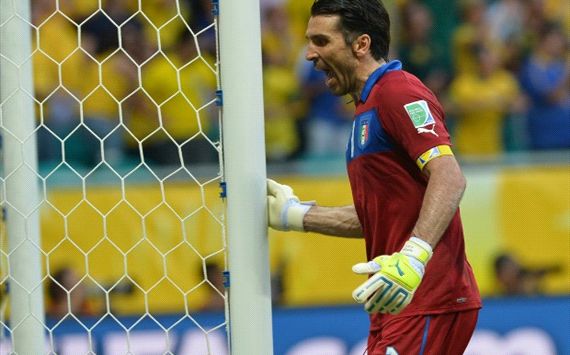 Buffon | The Italy skipper's defence let him down against Brazil
Then again, Buffon, Barzagli, Bonucci and Chiellini are all coming off a season in which Juventus not only won the title once again, but also had the added strain of competing in the Champions League. That was not a burden that they had to carry in the run-up to Euro 2012. The extra workload could perhaps explain why the 'Juve block' look so jaded and have consequently proven so error-prone. Prandelli openly discussed the debilitating fatigue affecting his squad earlier in the week, "At this moment we need fresh legs. Technical tweaks won't make a difference - we need physical sharpness."

That is undeniably true, so why the constant tinkering? The Azzurri need clear tactical thinking right now, particularly with a semi-final showdown with Spain looming. The uncertainty surrounding who will start from game to game, and how Italy will line out from game to game, is placing further strain on tired minds and tired legs.

The harsh reality of the situation is that a year out from the World Cup, Prandelli knows neither his best line-up, which is hardly surprising given that he does not know his best formation. If anything, they are even less equipped to tackle Spain than they were in Kiev this time 12 months ago, which is desperately worrying - both in the short-term and the long-term.