Controversy's favourite child while in England, Mario Balotelli's switch to AC Milan has done him a world of good as he has let his performances speak for him...
Everything was going wrong for Mario Balotelli in England, even more than what normally goes awry for the hugely controversial striker. While in Manchester City's title winning season, his on-field heroics went hand in hand with his off the field histrionics, the season which just concluded was a tale of massive imbalance where off field controversies hogged the limelight and could not be offset by his footballing prowess. He spent most of the time on the bench always at loggerheads with Roberto Mancini, and even when he was afforded the time to showcase his talent, he frustrated the viewers with a lack of effort.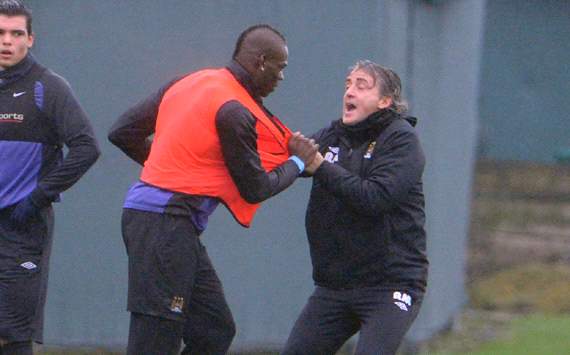 Mancini was not the right man to harness Balotelli's talent
Such was the deteriorating situation between both player and club management, especially Mancini who spoke out in open about the difficulties in managing the mercurial forward, that a prompt deal was struck in place and 'Super Mario' was shipped back to his homeland, to don the famous jersey of AC Milan.
Contrary to popular belief that Mario will mess up Milan, instead it has been a fairytale run for the tempermental striker. Not only has he done justice to his immense talent but he has literally carried a struggling Milan side on his shoulders and pushed them to win the last Champions League berth.
Leave alone his performances, even statistics point to the fact of how effective he has been after the switch. In 13 matches for the Italian giants he has turned up for, he has scored 12 goals. Not only while turning out for the Milan red, Balotelli has been equally prolific when he has worn the famous Azzurri colours as his 5 goals in 9 matches in 2013 are a testament to. He has firmly established himself as the central striker in Cesare Prandelli's plan.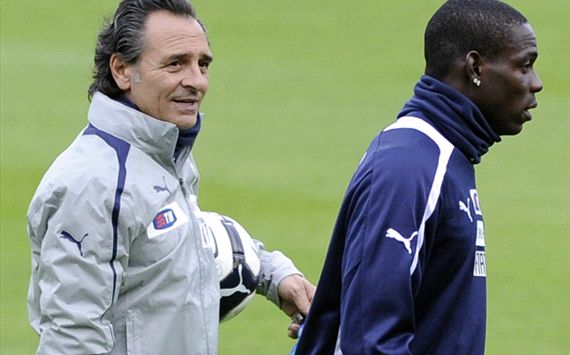 Prandelli is ready to accept the whole Balotelli package - World Class talent along with the craziness
Now the dynamic forward could not have brought such drastic changes into his game that would have made him so effective after the slump in England, and it was more about confidence and the feeling of being wanted which AC Milan and its fans certainly left no stone unturned to do.
The vice president of AC Milan Adriano Galliani said,
"Balotelli in
Rossoneri is a dream that has been realized. It is a transfer that everyone wanted: club, president and fans."
This was indeed a far cry of being labelled as 'crazy' by former manager Roberto Mancini.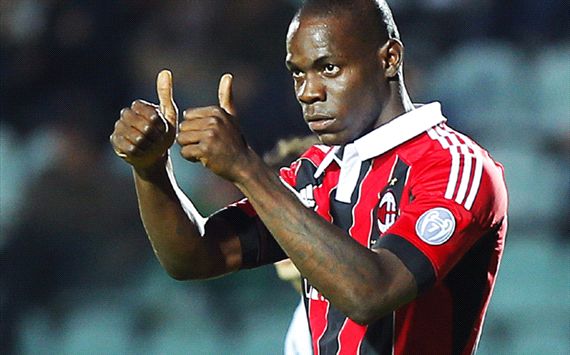 Balotelli was the undisputed star in AC Milan
Besides the obvious confidence building measures which Mario thrives on, it was also a case of building the team around him with the young attacker being the fulcrum of a Milan team which was deep into transition after a slew of veterans calling it a day, and the sale of superstars Zlatan Ibrahimovic and Thiago Silva to PSG in the summer. The new rebuilding effort that was already underway with Italian youngsters forming the core of a team which looks all set to attain glory in the coming years needed a person to be the poster boy. And who better than 'Super Mario' to be that man.
Allegri has also not hesitated to relegate Stephen El Shaarawy who had almost single handedly carried Milan through the dark times in the second half of the season to only a supporting role after Balotelli's arrival with Mario leading the line.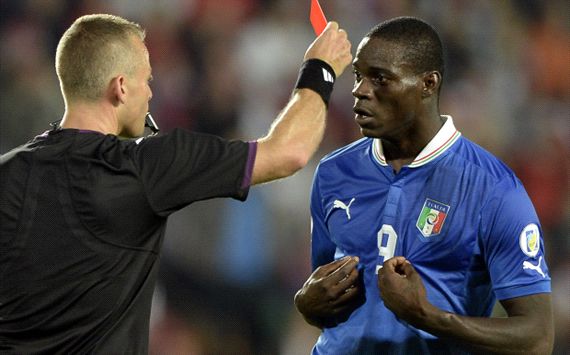 His performances outshone his tempermental issues
What can be attributed to Allegri's superior man management skills is that there had been no furore with Balotelli's elevation as the most important player in Milan. He did have the added advantage of dealing with youngsters who still did not have massively inflated egos and let their on field performances do the talking.
This has also allowed the prodigous Balotelli to bring this impeccable form and confidence when turning up for the Azzurri as he has led the line with aplomb, wreaking absolute havoc in the rival defense. Although Cesare Prandelli's gameplan revolves around the sheer brilliance of Andrea Pirlo, Balotelli is the outlet in attack who is supposed to hold the line up with his pace and athelticism.
Even when he was leading the line against Brazil where he hardly received any kind of service in the absence of Pirlo he provided an almost impossible backheel which led to Italy equalising against the run of play. With his back to goal, he received the ball from midfield before flicking it across to an onrushing Emmanuele Giaccherini all the while being tightly marked by a defender.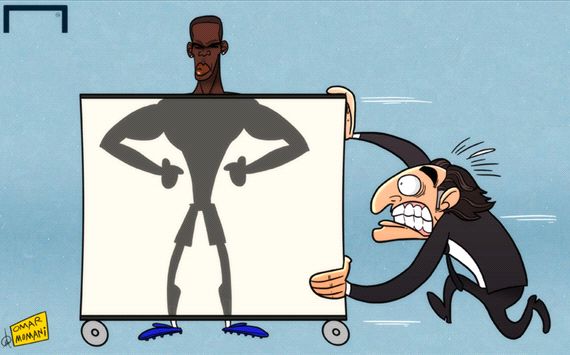 It is not that controversy has left the man, as his knack of picking up bookings was as evident as always. Milan's only loss after his joining was when Balotelli was serving a suspension for having picked up 5 yellows in no time. Even when turning up for Italy, he recently did get sent off and more recently picked up another needless yellow due to illegal celebrations after scoring the winner against Mexico in the Confederations Cup.
However, all this has been treated as side stories in an otherwise fairy tale saga, as his performances are on altogether a different level and as long as he can keep this up, controversy or not, Balotelli has the calibre to be one of the greats of the game.