From the
Invincible Batch of 2004 to the Invisible Batch of 2013
, if anything the sorry state of Arsenal has served a timely reminder to the 'other' side in the Bundesliga that if they traverse on the path of selling their best players to domestic rivals, it will only dent their championship credentials.
Borussia Dortmund are no strangers to that feeling as they finished second to Bayern Munich this season in probably almost every competition that they contested in, including the Champions League. However, more importantly the gulf in class was apparent from the massive difference in points in the Bundesliga between the champions and the pretenders, a scary 25 points.
That was after Dortmund had succeeded in stealing Marco Reus from under the nose of giants, Bayern Munich last season, putting the claim to bed that no German club could contest the might of the all conquering Bavarians. Oh, Jurgen Klopp's men did beat them all ends out in the past two seasons as they dominated domestically, breaking the hegemony of the
Die Roten
. Although Dortmund did sell the inspirational Shinji Kagawa to Manchester United, in Reus they had more than a capable if not better replacement.
However the German landscape has considerably changed altogether. Never prone to lying down without putting up a stiff fight, Bayern have hit back and in some style too, winning an unprecedented treble this season. To make this possible, they spared no expense by plugging the holes in the team with signings galore, including that of of Javi Martinez for a Bundesliga record fee of.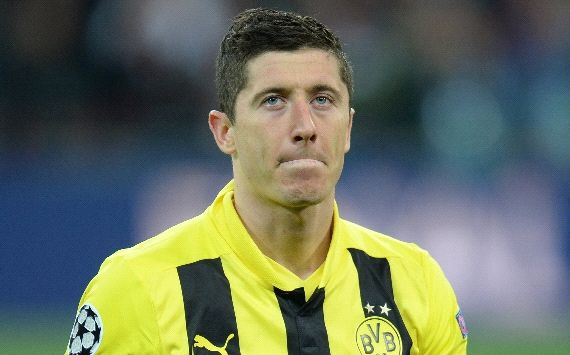 Lewandowski | Thinking about Bayern move?
If you thought at Bayern would stop at winning the treble, you are mistaken as they have roped in Pep Guardiola to replace the retiring Jupp Heynckes. And then they did the unthinkable. With the season still not over and Bayern due to meet bitter rivals, Dortmund in the Champions League final, it was announced that the blue eyed boy of Borussia, Mario Gotze had agreed to join their rivals after they triggered his release clause,
Although born in Bavaria, Dortmund had signed young Gotze at the age of 8 years and from then on had build him up to his current position of being one of the hottest properties to play the game with great technical ability and vision in his position of an attacking midfielder. Thus it was a cruel surprise when the player elected to switch sides in such a brazen fashion no matter what the reason for the move.
Not contented with grabbing Dortmund's jewel in the crown to be a part of an already star studded side, Bayern Munich have now set their sights on Robert Lewandowski, the Polish dynamite who had scored a record four goals against Real Madrid in the first leg of the Champions League semi-final. Lewandowski is excellent at dropping deep and linking up play wherein he opens up space in the defense, a trait much loved by a certain Pep Guardiola and his remarkably successful Barcelona team.
However, this time around with no release clause in Lewandowski's contract, Dortmund are hell bent on playing spoil sport to the player's ambitions of moving. Dortmund are in no mood to comply with the player's demands, even keeping in mind that the player has only a year left on his contract and is in no mood to extend the dea, apparently eager for a move and that too to bitter rivals, Bayern Munich.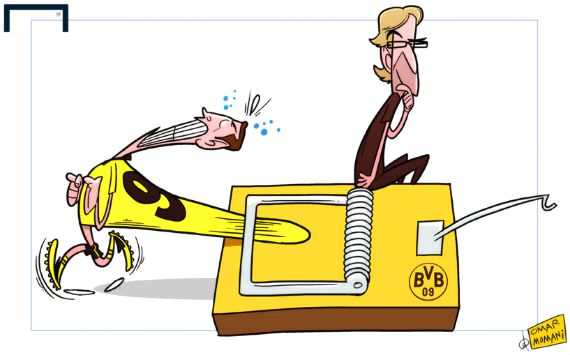 Mousetrap | Will Dortmund succeed?

More than losing a key player, it is more about a statement of intent from Dortmund who do not want to be cowered into submission in front of the rampaging Bayern Munich who seemingly have two separate teams equally good to compete in any competition in the world. Having already lost Gotze, Dortmund chief Hans-Joachim Watzke and co. are prepared to make a considerable loss when the player leaves for free rather than letting him move to Bavaria.
To that effect
they have even denied letting him move abroad
in a similar vein to Shinji Kagawa's move to Manchester United. If that means that the player will not give his full effort on the field and will purposely play second fiddle, they are prepared to take the risk and do the needful in securing a suitable replacement for the Pole.
Lewandowski himself knows that he has to perform at the highest level and must not let his performance levels slip for not being allowed to effect his move, as that might mean that the demand for signing him which is on an insane high, will go crashing down in no time.
With no dearth of money at their disposal with Dortmund breaking in among the top 20 richest football clubs, they certainly are not dependent on the money brought on by Lewandowski's sale having already received the buy out amount for Gotze besides,
announcing an increase in budget this term around
.
If Gotze's purchase was considered a statement of purpose from Bayern Munich clearly putting it out who the boss was, the refusal to budge when it comes to Lewandowski is a stern reply by the challengers saying that they might be down, but they will certainly be back with a fight.
How do you stay up with football when on the move? With
http://m.goal.com
–your best source for mobile coverage of the beautiful game.