PROFILE
By Ed Dove | Nigeria expert
It is rare that football fans get the chance to witness a 6-1 scoreline at a major international event, even rarer that the performance of the victors is widely criticised during and following the clash, and rarer still that it is the losers who are universally heralded as 'heroes' after the final whistle.
Yet, Nigeria's opening Confederations Cup clash against Tahiti in Belo Horizonte was anything other than a typical tournament contest.
Despite recording an ostensibly convincing scoreline, the Super Eagles' performance did little to suggest that Stephen Keshi's young squad can make a big impact in this tournament. Indeed, beyond the performance of sprightly and assured forward Nnamdi Oduamadi, who bagged a hat-trick on the day, there was little to commend Africa's champions.
Oduamadi is part of Keshi's second, post-Afcon revolution. While nations like France, Greece and Italy have, in recent times, demonstrated an unswerving loyalty to the squad of players that won them a major international crown, there has been no such sentiment from the Nigeria boss.
Since the glorious Cup of Nations victory earlier in the year, a number of players have been dispensed with due to their perceived failings on the testing stage. While Nosa Igiebor and Ike Uche have moved away from the setup, opportunities have arisen for Oduamadi, Anthony Ujah of Koln and the returning Joseph Akpala.
ODUAMADI SPARES NIGERIA BLUSHES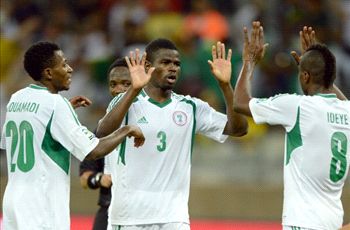 MINUTES PLAYED
PASS COMPLETION
TOTAL SHOTS
GOALS
90
79%
4
3
PLAYER RATING


4.0

Showed impressive poise and composure with three well-taken goals to ensure Nigeria's blushes were spared against the footballing minnows.
The 22-year-old looks like the pick of the bunch, and in six international appearances to date, has already found the net on four occasions. While his hat-trick against Tahiti will have made international news, it was his vital equaliser against Kenya in the World Cup qualifier in Calabar which initially endeared him to Super Eagles fans.
They have every right to be excited about a player who has been on the radar for many years, without having received the senior international acknowledgement that many felt was his destiny. A feature of Nigeria's youth teams, Oduamadi missed the chance to play in an international tournament back in 2009, when a hamstring injury prevented him from joining the squad at the Fifa Under-20 World Cup.
Now, Oduamadi is finally relishing the opportunity to shine in an international tournament. Against Tahiti his goals demonstrated composure and a refinement of play, although he was surely aided by the fairly hopeless defending with which he was faced.
Nigeria fans were quick to praise his performance and, more broadly, his quick integration into the national side. His trio of goals also prompted comment from Adriano Galliani, AC Milan's vice-president, who called for to youngster to be immediately promoted to the club's first team ahead of pre-season.
Oduamadi, like Nwankwo Obiorah, Joel Obi and Ogenyi Onazi, forms a collective of prodigal Nigerian stars snapped up by Italian clubs at a young age. While Obi and Onazi have made inroads at Inter and Lazio respectively, Oduamadi and Obiorah have been predominantly sent out on loan since arriving in Europe.
Since leaving Nigeria in 2008, fresh from the production line of the Pepsi Football Academy, Oduamadi has spent time at Genoa, Torino and Varese.
Over the last two seasons in the Italian lower leagues, Oduamadi has honed the talents that were on display against Tahiti. He is a versatile, intelligent attacking player, equally adept on the flanks, stretching a side with his pace and ingenuity, as he is in the centre of the park, playing a more integral role to offensive moves.
His composure and clinical finishing were evident against Tahiti, although this probably wasn't the context to be making sweeping statements and evaluations on a player's ability and future prospects. Galliani's comments will doubtless be a major spur to Lagos-born youngster, and Milan fans following the Confederations Cup may well choose to keep a closer eye on their Nigerian investment.
Normally a player as raw as Oduamadi would be unlikely to realistically be ready to contribute at a club of Milan's stature, but these are modern times for the
Rossoneri
. Once such a heartland for the merits of experience, the team have steadily offloaded their creaking veterans in recent seasons.
If his goalscoring form continues this summer, don't be surprised to see Oduamadi find himself a place among the burgeoning African talents already beginning to define the identity of this post-Ancelotti Milan.
It certainly won't continue to be as easy as it was against Tahiti, but the Confederations Cup gives the youngster a prime opportunity to demonstrate his confidence and composure before a global audience—expect him to take it.