Andre Villas-Boas is amongst the emerging managers in Europe at the moment. The 35-year old Portuguese has had a decent season with Tottenham Hotspur narrowly missing out on a Champions League place to Arsenal. With an emphasis on detail and attack minded football, Villas-Boas should be set to aim higher for the upcoming season and ensure that Spurs return to the Champions League fold.
However, with the managerial scenario at moneybags Paris St.Germain still in a state of confusion, the French club are interested in hiring the Spurs gaffer to replace the outgoing Carlo Ancelotti, who has his sights set on the vacant Real Madrid post. PSG gave a good account of themselves by winning Ligue 1 and pushing Barcelona all the way in the Champions League quarter-finals. With the squad set to be augmented with more signings over the summer, they are already aiming for bigger things in Europe.
But the question that the young coach should ask himself is whether a move to Paris would really suit him?
After the disastrous 'project' at Chelsea, Villas-Boas was a manager who had come from being the toast of Europe to yet another discard in the Chelsea machine.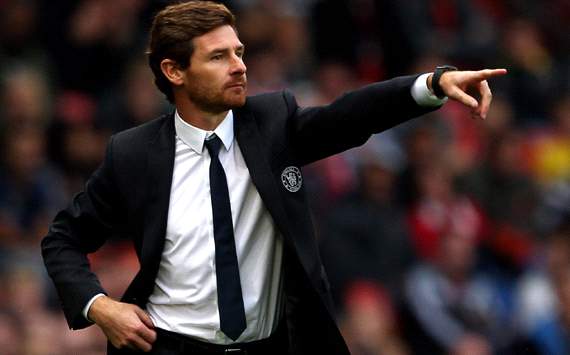 Villas Boas had a poor spell at Chelsea
When Spurs chairman Daniel Levy revealed in the summer of 2012 that Villas-Boas was to be the club's new manager, it was not met with much enthusiasm from the fans who were still reeling under the departure of Harry Redknapp. They had reason to worry considering Chelsea were a divided squad during the time Villas-Boas was sacked. But Levy took a leap of faith and entrusted the side by providing him funds in addition to an assurance that he would be given time to rebuild the squad. Such statements are a rarity amongst sides that have tasted Champions League football.
Villas-Boas did not get off to the best possible start and drew the ire of fans when the club stumbled from one disappointing result after another. Had it not been for the heroics of a certain Gareth Bale, Spurs would have never really come close to a top 6 finish and never earned the trust of the fans.
But what he had at White Hart Lane was support from the owner and players. He had learnt from his lessons at Chelsea by patching up with Michael Dawson and bringing the best out of the club's young players who had finally found a manager who believed in them. Results came and at times in style. Spurs put up a good fight in the Europa League and also pushed Arsenal and Chelsea to the brink in the battle for Champions League spots.
Should he make a move to France, he will find any of the above hard to come by. Funds will be in surplus yes, but he will be under pressure from day one to repeat and better Carlo Ancelotti's work. Champions League progress will be considered a default requirement along with the league title. In their bid to become a European superpower, they will not care for the collateral damage that comes in the form of players or managers.
PSG owner Nasser Al-Khelaifi is no Daniel Levy in terms of patience. Had the former been in charge of Spurs, Villas-Boas might have been well on his way.
To add to that, PSG has some big names in the squad like Zlatan Ibrahimovic, Thiago Silva, Ezequiel Lavezzi and Javier Pastore, all of whom don't take too kindly to being dropped from the squad or their authority questioned.
| | | | | | |
| --- | --- | --- | --- | --- | --- |
| Club | Games Managed | Won | Draw | Lost | Win Percentage |
| Academica | 30 | 11 | 9 | 10 | 36.67 |
| Porto | 51 | 45 | 4 | 2 | 88.24 |
| Chelsea | 40 | 19 | 11 | 10 | 47.50 |
| Tottenham | 54 | 27 | 16 | 11 | 50.00 |
Villas Boas is yet to achieve consistency with results
The former Porto coach's win record does not make for encouraging reading with the exception of Porto. His numbers with Chelsea and Spurs can only result in the manager being sacked prematurely.
PSG's success this year boiled down to the high performance of the players who were guided by an excellent man-manager in Ancelotti. The Italian spent nearly a decade at Milan in a high-pressure environment which was followed by a two year spell in the Chelsea pressure cooker, the bottom line being that he knew how to manage a squad with big ego's involved and also how to squeeze out good performances from these players.
Ancelotti has managed big teams before PSG

Ancelotti has been in charge of teams that have taken down some of Europe's heavyweights like Barcelona, Bayern Munich, Arsenal, Liverpool, Manchester United and Inter Milan. Not many coaches can boast of such a record. Villas-Boas does not possess such a statistic. His first tryst with the Champions League knockout phase ended in disaster as Napoli overran Chelsea in Italy in February 2012.
All coaches who are now household names today took their time at lesser known clubs before taking the big step. Ancelotti spent a year with Reggiana followed by a two year spell with Parma before he made the big move to Juventus and subsequently Milan.
Mourinho spent two fruitful seasons at Porto before making the leap to Chelsea. Many more such examples spring to mind, but it only shows that Villas-Boas would be wise to stay at Spurs and build his reputation even higher before taking on another high-pressure role.