The 2012-13 season is one that a Milan fan would have liked to forget but now can remember with pride. The Rossoneri who were expected to struggle given that they had lost a host of veteran players and talismans over the summer of 2012, rallied back to finish in an impressive third position in Serie A and ensuring that they would be part of the Champions League next year.
With the club taking a new route by nurturing young players to fill the ranks as opposed to ageing established players, the times ahead are exciting if you are a Milanista. Having acquired a marquee signing in Mario Balotelli in January and with funds available for making forays into the transfer market, the Diavolo can ensure that they continue their much needed transition.
A vast portion of the plaudits must go to coach Massimiliano Allegri. The former Cagliari boss was accused of being tactically naïve as for the previous two seasons all he had to ask his team to do is to pass the ball to Zlatan Ibrahimovic and he would take care of the rest. This year however, it was a true test of his managerial acumen. The 45-year old tinkered with his formation numerous times before settling on an attacking 4-3-3 with young striker Stephan El-Shaarawy leading the line. The 20-year old, nicknamed the 'Pharoah' thanks to his Egyptian roots, was in red hot form for the Rossoneri in the early part of the season.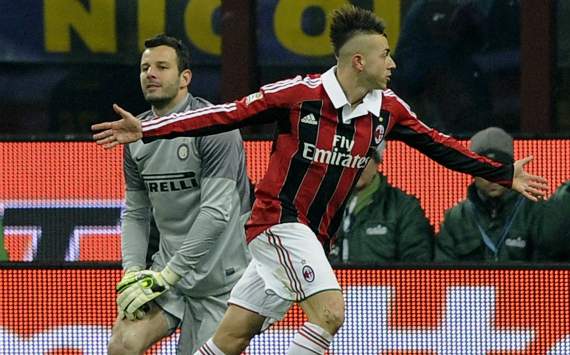 El-Shaarawy has had a brilliant season with Milan
Despite their young striker's goalscoring exploits, a defence that was once amongst the strongest in Europe, leaked in goals and ensured that the seven-time European champions were cattle feed for relegation at that point in the season.
However come November, Allegri's team had found a set first XI which allowed them to gain some momentum and claw their way back to the top half of the table. With Balotelli's arrival, their firepower jumped from being a one-man show to one of the most feared in Europe. If there was any sign that this team had character, the first leg clash in the Champions League Round of 16 against Barcelona at the San Siro was enough proof.
With the transfer window open, rumours are bound to fly in all directions. But one that would really send Milan fans into prayer rooms is that of Manchester City's interest in El-Shaarawy. The English giants have the financial muscle to make a sizeable offer for the young Italian who scored 18 goals in 45 games for the Italian giants. When clubs across Europe are making all the right noises to retain their stars, Milan are doing the exact opposite strangely.
"El Shaarawy is the Milan player with the most requests. He's not unsellable because everything can happen in the transfer market." – Milan CEO Adriano Galliani
Such statements only serve to increase the possibility of clubs poaching young players from other teams. Yes, the financial benefits are immense as Milan found to their advantage last summer when two of their prized assets in Thiago Silva and Ibrahimovic fetched them a hefty sum, some of which is still available for use in the transfer market now.
At that moment, the Rossoneri needed a transition and the sale of their two best players facilitated that need. Now that the transition is underway, Galliani's statements seem like a spanner in the working of that machine.
But this situation has always been a case at Milan where their striking department has taken a sizeable hit just when they show some semblance of forming a fruitful partnership. When Andriy Shevchenko was at his peak along with Filippo Inzaghi, he was sold to Chelsea where his career graph took a nosedive. When he returned to the San Siro on loan, he was a pale shadow of his former self. It was Brazilian genius Ronaldo's turn next as he played for the Rossoneri when his form and fitness both were questionable. This was followed by a short spell by Klaas Jan Huntelaar who was quickly shipped off to Schalke before the arrival of Ibrahamovic whose time at Milan was nothing short of special.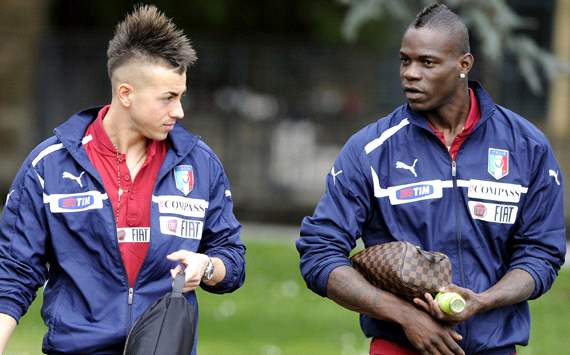 The new order for Milan and Italy

Milan have had a history of having national team players in their ranks which only serves to increase their chemistry when they represent their country. Balotelli, El Shaarawy and Riccardo Montolivo are regulars in the Azzurri squad and it would seem imprudent to break up this trio just when they are on the road to hitting top gear. With Serie A losing their top talents during every transfer window, retaining El Shaarawy is vital not only for the club, but for the whole country as well.
The Rossoneri are reportedly lining up moves for Ezequiel Lavezzi, Javier Pastore and Carlos Tevez to replace El Shaarawy if he is indeed sold. In the eventuality that Tevez makes the move to Milan, he will not be able to develop any sort of understanding with Balotelli having shown that during their Manchester City days as they failed to click as a pair.
Lavezzi and Pastore are both established players internationally and would demand a hefty pay packet which goes against Milan's austerity drive over the past year. The money which would be shelled out on these players could be used to strengthen other aspects of the team. The Diavolo need a more competent central midfielder to replace the outgoing Massimo Ambrosini. This in addition to a world class centre-back is a must for the Italians.
Furthermore, El Shaarawy is part of a new order of Italian football where the young guns are being brought to the forefront by national team coach Cesare Prandelli. He progressed as a player only because he was started regularly by Allegri, something he cannot be guaranteed at Manchester City where there is a plethora of talent for each position. Adam Johnson and Scott Sinclair are glaring examples of how tough the competition is at City.
Being only 20 years of age, he has plenty of time on his side to up his game under Allegri. If the 2012-13 season saw a trailer of what El-Shaarawy can do, then rest assured given the right guidance he will show Europe and the world the whole movie.