Brendon Netto




Comment

| Europe


Follow on
Despite winning the Premier League in emphatic fashion, Manchester United need a central midfielder, that's no secret. Given Michael Carrick's sensational display this season, acquiring a more formidable midfield partner for the England international seems to be the priority with PSV Eindhoven's Kevin Strootman leading the list of candidates. However, when a bargain comes along, the clever act on it and there isn't a better bargain in the market than Thiago Alcantara at present.
The Barcelona youngster is undoubtedly a phenomenal talent and one that is well known of. Many regard him as the future for the Catalans but recent developments with respect to his contract means that his future could well lie elsewhere. Thiago failed to play a minimum of 60% of the team's playing time this season and hence his release clause dropped drastically from €90 million to €18million.
United have always admired the Spaniard and even tried to sign him two seasons ago. Reportedly, Barcelona were only willing to sell the midfielder with a buy-back option at the time, a testament to how highly he's rated at the Camp Nou but those terms didn't suit Premier League outfit. This time around, the matter is entirely out of Barcelona's hands and the Red Devils are favourites to sign the 22-year old.
Other Suitors:
When a prodigious talent like Thiago becomes available, there's never just the one interested party. Apart from United, Bayern Munich and Manchester City have also shown a keen interest. United are still in pole position but before leaving for the U-21 European Championships, Thiago announced that he will only take a decision after the tournament.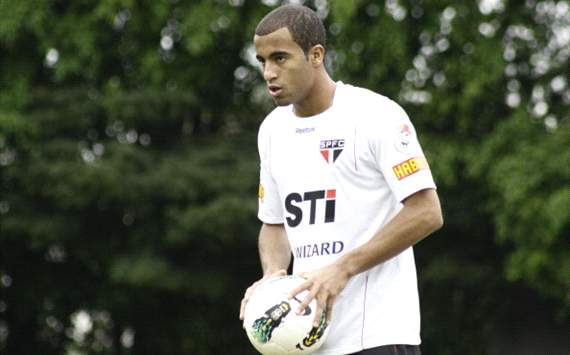 Lucas Moura dilly dallied with his decision-making last summer
While that's clearly the logical thing to do, United fans would have found his quotes disturbingly familiar to those of a certain Lucas Moura prior to the Olympics last summer. Paris-Saint-Germain were the proverbial vultures at the time who swooped in to sign the Brazilian just before he could commit to United and there's every chance that City could be planning a similar maneuver in Thiago's case.
While he could command a regular starting berth at either Manchester club, the same cannot be said of his chances at Bayern Munich. Given that his primary reason for mulling over a move away from Spain is his lack of playing time ahead the World Cup, a move to Bayern would contradict that purpose.
Why not stay put?:
Thiago may have a few fantastic offers available but one of his most viable options is perhaps not to move at all. He is understandably troubled by the lack of game time he's seeing and were it not for the presence of two of the best midfielders in the world in Andres Iniesta and Xavi Hernandez in the side, he would've strolled into the starting line-up.
Thiago was dubbed "The next Xavi" a while back and he's lived up to that tag so far. What he could learn from the midfield maestro is while patience is a virtue in Barcelona's system on the pitch, the same applies off it. During a period between 1998 and 2002, Xavi found himself in a similar situation where he was left out of the side despite his obvious ability in favour of another Catalonia legend, Pep Guardiola.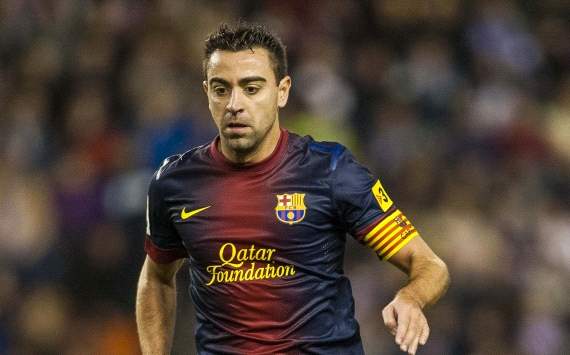 Xavi took a while to become a regular in the Barca First XI

In fact, the Camp Nou faithful often disapproved when the 'young pretender' came on to replace the cult figure that was Guardiola. Coincidentally, United were reportedly interested in offering Xavi a way out but the Spaniard decided to fight for the chance to play for his boyhood club, he eventually got his opportunity and the rest is history.
Thiago is concerned about his role in the World Cup next summer but he's only 22 and if he looks after himself, he may have another three World Cup campaigns beyond the one in Brazil. Xavi is 33 and Thiago seems like the natural heir to his throne. If he sticks around, his time will come and he will eventually be a central figure for Barcelona and Spain and he can finally live out his boyhood fantasy.
Life in the Red half of Manchester:
First and foremost, being a central figure at United isn't really a step down but more like a step sideways from the prospect of being one at Barcelona. In Spain he would have to wait his turn, at Old Trafford, there's a position there for the taking.
There'll always be a question mark over any player coming into the Premier League but Thiago's technical ability should hold him in good stead just as it did for the likes of Juan Mata and Santi Cazorla who effortlessly adapted to their new surroundings.
He would offer United the kind of penetration and ingenuity from central midfield that's been lacking in recent years. In addition to his range of passing that would complement Carrick's, the youngster is more than capable of beating a man. He dribbles past players, plays quick one-twos and makes forward runs. He could be the spark in midfield United need while Carrick remains the distributor.
While his passing has likened him to Xavi, his forays into the final third bear an uncanny resemblance to Iniesta's style of play. Some may even say that he's a hybrid of the two and that sort of dynamism would help him command a spot in the first eleven even if United manage to sign Kevin Strootman as well.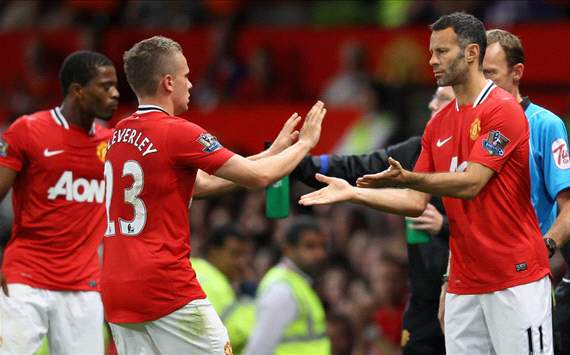 Youth and Experience: United have midfield depth

There are plenty of games to ensure the sufficient involvement of Carrick, Thiago and Strootman while an injury to any one of them would be well dealt with through the availability of the other two. Even if Anderson is sold in the summer, Ryan Giggs, Tom Cleverley and Nick Powell would ensure that the English champions maintain their strength in depth.
From Thiago's point of view, United offers him a chance to step up to the plate right now. He's certainly ready to do that and is only being made to wait because of the players ahead of him at Barcelona. The fact that Xavi signed a contract extension this season that runs until 2016 could facilitate his decision to leave.
From United's perspective, this is an offer they can't afford to pass on. After chasing players like Wesley Sneijder and Luka Modric in a bid to replace Paul Scholes, a player of that calibre who's significantly younger and available for a fraction of the price has fallen into their laps. You can almost envision Sir Alex Ferguson screaming from the terraces of Old Trafford to get the deal done. Fortunately, being Scottish himself, David Moyes' has a taste for a good bargain as well and may be prompted to see the transfer secured.