A lot of the modern day football teams have that one player who just never seems to tire. It is almost as if the player is a personification of the Energizer Bunny who just puts in 100% no matter what. Sporting giant Adidas along with statistics moguls Opta combined to define such players as 'The Engine'. They have identified Bayern Munich's Javi Martinez, AS Roma's Daniele de Rossi and Barcelona's Dani Alves among others as players who fit this profile and as a result are the face of Adidas' Nitrocharge Boot series.
The players are judged on four factors on determining whether they are the perfect example of 'The Engine' namely work rate, pitch coverage, on and off the ball movement respectively. Goal throws some light on how the current European champions Bayern Munich's Spanish dynamo rates on these scales.
Work Rate
Martinez has been one of the key factors in Bayern's stupendous season. The Spaniard has complimented his fellow midfield partner Bastian Schweinsteiger perfectly and the duo have combined to shut out high quality opposition like Juventus and FC Barcelona on their way to a well-deserved treble.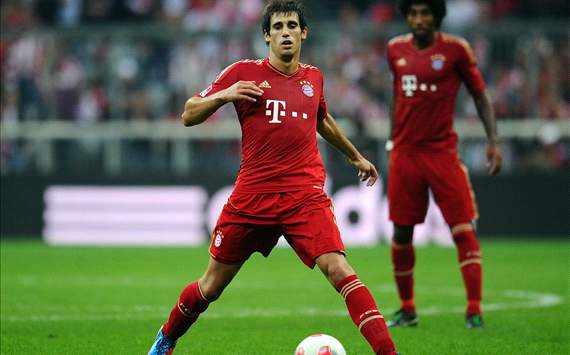 Martinez has been influential for Die Roten
Martinez has made 38 appearances for Die Roten this year in all competitions. Out of these he has represented the Bavarians in the Bundesliga on 27 occasions spending a total of 1758 minutes on the pitch. During this time he has accumulated a sum of 1383 touches which goes to show that the 24-year old is always amongst the thick of things for the German giants.
Pitch Coverage
Martinez has spent a majority of the time in his defensive midfield position. The midfielder has made rare forays into the opposition half preferring to keep the game ticking and ensuring that the opposing team finds it very difficult to trouble the Bayern defence.
On the ball
Coming from Spain where there is a profound emphasis on constant and accurate passing, Martinez has made 1629 passes in all competitions with an accuracy of 87.7%. He has taken the aerial route on 163 occasions and has succeeded 125 times with an accuracy of 76.87%, a brilliant number for a midfield player.
His runs forward have allowed Schweinsteiger to sit back to guard the defence while his partner in crime bombs ahead to help out the attacking unit of the Germans. This has seen Martinez score 3 goals and also rack up 3 assists for the Bavarian giants.
Martinez's numbers for the Germans are very impressive considering that he is a young player who is playing his first season away from Spain. With numbers like these it is no surprise that he forms one part of the best midfield pivot currently in Europe.
Off the ball
Martinez: Not afraid to put in a tackle

Martinez performed the job he was brought to do with aplomb. He has made an average of 2.5 tackles per game and won at least 3 aerial duels per game in all competitions. This coupled along with an average of 2.4 interceptions and 1.8 fouls per game in all competitions for Die Roten, Martinez is well and truly the complete defensive midfielder which has seen the Germans rack up some mind-blowing defensive statistics for the 2012-13 season.
Nitrocharge your game like Martinez with the Adidas Nitrocharge Pro.