By Greg Stobart
The final act of
Gareth Bale's
sensational season was to pick the ball up 30 yards from goal, drive inside a defender and unleash an unstoppable last-minute winner into the top corner. It was a picture book finish to a glorious campaign for the Welsh forward and simultaneously the start of what will be a summer-long transfer saga.
On current form, Bale would walk in to any team in the world and that is why Real Madrid, arguably the biggest club on the planet, are trying to lure him away from Tottenham and make him their big-name close season capture.
GARETH BALE'S CAREER STATS


TEAM

YEAR

APPS

GLS

Southampton
2005-07
44
5
Tottenham
2007-
173
53
Big money, too. It would take a bid in the region of the world record €94 million that Madrid paid for Cristiano Ronaldo for Spurs chairman Daniel Levy to consider cashing in on his star player, with three years remaining on Bale's contract.
Bale has yet to sign the €152,000-a-week new deal which is currently on the table, even though an agreement appeared very close, as he holds out for a better basic wage, and Spurs would surely have no option but to sell if Madrid come up with an astronomical €100m bid the Spanish giants are reported to be readying.
Nevertheless, Tottenham still expect the 23-year-old to start next season at White Hart Lane, not least because he is not the type of character who would push for a transfer in the same manner that Dimitar Berbatov and Luka Modric engineered moves away from the Londoners in recent years.
Bale has a young child and has often been described as a 'home boy' despite making it clear in public statements that he would be interested in playing abroad for one of the big European clubs at some stage in his career.
After he scored 31 goals in all competitions last season, there is no doubt that Bale deserves to be playing at the highest level and Tottenham's failure to qualify for the Champions League means they are vulnerable to offers.
Real Madrid are aware of that, which is why they have gone on a charm offensive through the Spanish media.
Club legend Zinedine Zidane joined defender Sergio Ramos in describing Bale as one of the best players in the world, while newly re-elected president Florentino Perez says the Welshman was "born to play for Real Madrid" and that his pricetag would simply classify him as an investment.
Most concerning for Tottenham will be that Jonathan Barnett, the head of Bale's representatives Stellar Group, appeared to encourage an offer when he went on the record to say it would be an "honour" if Madrid made a move for his client.
THE VIEW FROM SPAIN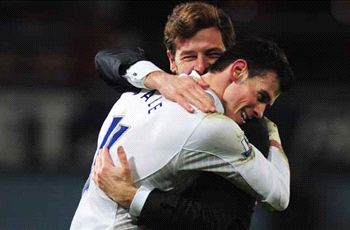 "Now the Neymar saga is over, Gareth Bale will become the new top transfer target for La Liga's big two clubs, particularly Real Madrid who prised Luka Modric away from White Hart Lane last summer.

"And just like the pursuit of the Croatian, Real Madrid face a battle to get their man with Tottenham already making it clear they expect the 23-year-old star to stay in the Premier League and there are few teams in the world who drive a harder bargain than the north Londers.

"Florentino Perez is desperate to begin the start of his new term as president with a marquee signing, however, and Bale certainly fits the bill. Signing the Wales international would represent a major coup, whatever the cost."

Luis Herrera, Goal Spain
Barnett has a close relationship with Levy but Bale and his team have long been thinking about the next step in his career and working on an exit strategy.
In fact, the main reason he is likely to stay at Spurs for another season is that he was almost too good last season. With each sensational performance, his transfer value went up another notch, while he revelled in a central role as the main man in Andre Villas-Boas' side and is happy that the team is being built around him.
Yet Bale is highly unlikely to ever feature in an international tournament with Wales, while Tottenham, for all their potential, have won one trophy in the last 14 years and will be playing in the Europa League next season.
Sources at the north London club insist the days are over when Spurs would sell their best players to domestic rivals, so interest from the two Manchester clubs, particularly United, had been strongly rebuffed.
Bale's future appears to lie overseas, and he will not be motivated by money so a move to somewhere like Paris Saint-Germain or Monaco is not considered a possibility.
Real Madrid can offer him in the region of £200,000-a-week - their 'second tier' of players behind Cristiano Ronaldo and Kaka - and the Spanish side's chances of landing Bale are also boosted by their close relationship with Tottenham, with whom they have a partnership agreement after Modric followed the same path last year.
Bale has had to deal with speculation surrounding his future ever since he burst on to the scene with his performances against Inter in the Champions League in 2010 - but in 2013 he has shown the quality and consistency of a bona fide superstar.
It leaves several people with big decisions to make this summer. Once the identity of Real Madrid's new manager is confirmed - probably Carlo Ancelotti - then they are almost certain to make a huge push to sign Bale.
It is a saga that promises to rumble on, perhaps even for another year. If Bale continues to produce the form that saw him sweep all of the individual awards in England this season, he will be worth it for Real Madrid.