Any sport is about winning. This fact is a given. But the end never always justifies the means. In other words winning trophies in style is a combination not many teams in world football can boast of. Johan Cryuff's Netherlands team were regarded as one of the best sides to watch but unfortunately that never translated to honours. Arsenal seemed to have found that winning formula under Arsene Wenger during their domineering years at the start of the new century, but that eventually died down as well.
FC Barcelona have been the model that everyone wishes to follow lately. With an emphasis on holding the ball and pressing opponents when not in possession, the Catalans have become the benchmark for success. Now nearly every team wants to emulate the model of the Spaniards. They too want to bring their academy players into the squad and play a brand of football which is pleasing to the eye.
Chelsea owner Roman Abramovich has always been one to be fascinated by the Barcelona project. This obsession to see his own team play that way has claimed 9 managerial victims.
The Russian oligarch's pursuit of Pep Guardiola was no secret. It was very apparent even after Roberto Di Matteo won the Champions League with Chelsea that Abramovich did not prefer the Italian in the hotseat. In addition Pep's decision to take a year's break did not help matters.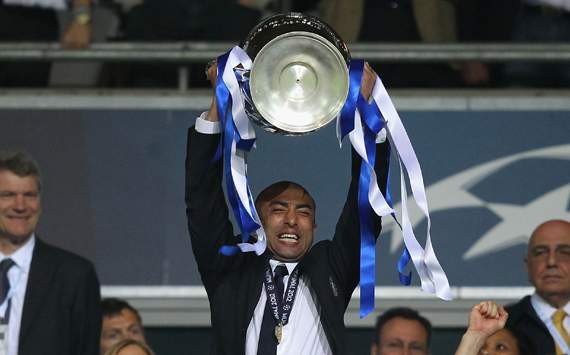 Champions League triumph could not save Di Matteo
When Di Matteo was given the manager's post, he received a set of players who were very different to the Chelsea of old. Players who were renowned for grinding out results were now replaced by those who have a penchant for flair and possess a bag of tricks in their locker.
To be very fair to Di Matteo, Chelsea were a different side to watch altogether under him at the start of the 2012-13 season. Chelsea actually became one of the teams to watch unlike previous years when you can safely turn the television off once the Blues scored. When results went downhill culminating in the elimination from the Champions League, Abramovich did what he does best, sack.
Di Matteo was ousted and in came Rafa Benitez, who was not exactly ranked high in the list of managers whose teams were free flowing. Benitez brought some semblance of defensive stability and the Blues did what they are good at, squeeze out wins. A Europa League title was a reward for that approach.
Now with Jose Mourinho's imminent return to Chelsea, one wonders what does Roman Abramovich really want? Does he want to play free flowing football or does he want to just win no matter what the style of play is?
When Mourinho left Chelsea in 2007, there were a plethora of reasons for the decision. The appointment of Avram Grant as Sporting Director, the owner's interference with regards to transfers and quite possibly the failure to implement a more pleasing brand of football.
Unlike defensive leagues like Italy, England is one that promises goals. Mourinho was the complete opposite of that fact. His teams were renowned for their defensive stability. He believed in the mantra of what cannot be breached cannot be defeated. It was this belief that saw his Chelsea team concede a miserly 15 goals in his first season in charge.
Mourinho's Chelsea resembled the Germany team of old. They got the job done regardless of the style of football they employed. The wins and trophies came as a result of this approach, but such is Abramovich's desire to win in style that he felt that a change was needed. World class managers came and went but none were able to change the style that Mourinho had left behind. Villas-Boas tried to stamp his authority onto the team by changing the way they play, but ultimately the Champions League triumph was a result of Di Matteo using Mourinho's blueprint.
Even with Inter, the Portuguese's teams were rock solid at the back. The way in which the Nerazzurri shut out oppositions would have been a throwback into the days of Catenaccio. But Mourinho started to use a counter-attacking tactic to win games, something he hadn't done at Chelsea. A mistake from the opposition and the ball would be whisked away to the other end in a sweeping move. This gave the Italians an unprecedented treble in the 2009-10 season.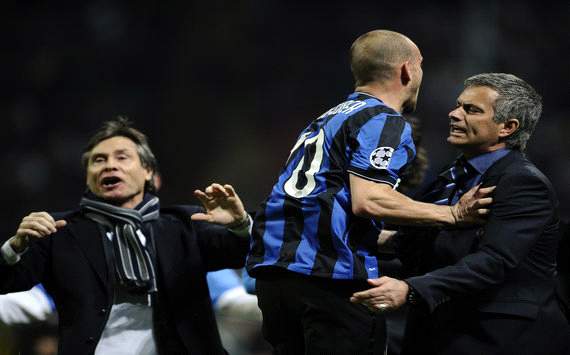 Mourinho won a treble in 2010 with Inter employing counter-attacks

Taking charge of Real Madrid was altogether a different prospect. The media were scathing in their remarks and fans equally hostile. Mourinho's Los Blancos were at first tagged boring but they soon turned to the best counter-attacking team in Europe till the ascent of Borussia Dortmund. Madrid won the Copa del Rey and the Spanish league title but they were found lacking in Europe, something that he was to change ever since he signed from Inter. Unfortunately the Spaniards lost on three occasions at the semi-final stage and his deteriorating relationship with the fans and players did not help his cause at the club.
Truth be told, Avram Grant's Chelsea were on the road to playing the type of football Abramovich craved for. They built up play from the back and they won by large margins in addition to maintaining a healthy defensive record. The change can be attributed to the presence of Henk Ten Cate in the coaching staff. The Dutchman had been assistant to then Barcelona manager Frank Rijkaard on their way to the 2006 Champions League.
Under Grant, the Pensioners went on to reach the Champions League final, something which they had never before achieved, went undefeated at home and lost the Premier League title by two points to Manchester United.
When Luis Felipe Scolari took charge, Chelsea created a wonderful first impression of themselves when they won games in style. But when things went south, Chelsea sacked the manager and brought back the approach that served them well. That ensured an FA Cup triumph in the 2008-09 season and seconds away from the Champions League final till Andres Iniesta interfered.
Even under Carlo Ancelotti in the 2009-10 season, Chelsea were a lot more attacking but maintained their defensive ethos admirably. They went on to score 103 goals that year which included four wins where they scored 7 or more goals, something unheard of in Roman Abramovich era.
With Chelsea choosing to turn to their former manager to bring them back to the glory days, it is very clear that Abramovich has eaten his words of wanting to play more stylish brand of football. He has chosen trophies and honours over being branded the best side to watch. Blues' fans should hope that this time their beloved manager leads them back to good times and not get on the wrong side of the owner.
Do you think Abramovich has been made to eat humble pie? Leave your comments below or discuss with the writer on Twitter @Mohan_Srini.