Aditya Bajaj

Comment | Serie A

Follow on
How does one define success?
For some clubs qualifying for the Champions League every season is as good as achieving success, never mind then the fact that for the past nine seasons they have been trophy less despite being invincible at one point not long ago.
On the other hand, some win league titles year in, year out but still perform under par in Europe which in effect should be the barometer for measuring success for the big clubs but its success nevertheless.
It's really subjective and depends on how one defines it based on the objectives and other yardsticks of monitoring progress season after season.
But if anyone's looking for the almost perfect example, look no further than Napoli who just managed to lure one of the most controversial yet decorated managers in world football.
Bankruptcy in 2004, re-instatement to Serie C1 in 2005, promotion to Serie A in 2007, participation in the Uefa Cup in 2009 and the Champions League in 2011, winning the Coppa Italia in 2012, finishing runners-up to Juventus in 2013 and luring Rafael Benitez to manage them for the next two years starting next season – that is some success story.
Yes, Borussia Dortmund have captured the imagination of football fanatics worldwide with their incredible achievements both domestically and internationally over the past three seasons having sailed past a similar storm over the same period of time as the Italian club but it's one thing to challenge a single superpower in the Bundesliga and completely another to shove aside a handful of rich clubs to pave your way up and sit right there amongst the upper echelons of some of the biggest clubs in Italy.
While Dortmund have rightfully earned their praise for challenging the likes of Bayern Munich back home and Real Madrid aboard, Napoli have done amazingly well to step aside the likes of Milan, Inter and Roma to challenge Juventus for the title over the course of last season until their inexperience and fragility meant they had to settle for second, albeit with a direct pass to the biggest cup competition in club football.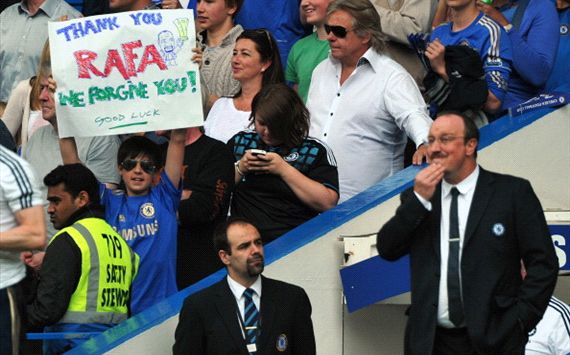 No longer the 'Interim One' | Rafa Benitez's experience is exactly what Napoli need next season
With the signing of Rafa Benitez, however it can be highlighted that they are well equipped to mount a realistic challenge for the league title next season, probably even go far in Europe like Dortmund did this time around. Do not let the constant criticism by the Chelsea fans blind you because the Europe League winner has nevertheless been a winner over the past decade first with Valencia and later with Liverpool.
He is one of the most experienced tacticians in football today and that is exactly what Napoli need to take the project forward – a manager with the know-how of competing at the top. Winning two La Liga titles with Valencia despite the duopoly of Real Madrid and Barcelona is no small task at a time when the Spanish league was far more competitive than it is now and Benitez did just that before signing for Liverpool following a Uefa Cup triumph the Spanish cup back in the 2003-04 season. An almost improbable Champions League winner's medal with Liverpool in Istanbul back in 2005 kick-started the most successful era of the last decade at Anfield and although he failed to win the Premier League, credits to him for helping them stay up there as one of the best performers in Europe alongside the likes of Milan and Chelsea who were the most consistent during that period.
Despite Chelsea and Manchester United's domination at home, Liverpool during his time were amongst the best English teams abroad with one Champions League trophy, one runners-up medal, one semi-final appearance and a quarterfinal in his five and a half seasons with them.
If he was ever undone by the media and critics it was down to his own doing taking unwanted jibes at rival clubs, their fans and managers. The success at Istanbul probably always stayed in his head and may have even led to his downfall as he used that victory to defend himself everytime he was pegged down for failures during his time with Liverpool.
Back in Italy, a forgettable campaign with treble winners Inter Milan never helped enhance an already faltering reputation as he was released from the club after a mutual agreement over disagreements regarding the club's transfer policies and the failure to get players he wanted. Even there, he used the Club World Cup – a trophy disregarded by most as amongst the easiest to win - lifted by Inter under him to distort any suggestions that at the end of the day he had failed. But two years without employment is a long time to reflect on what went wrong and to evolve and improvise to change things and his time as the 'interim manger' of Chelsea suggests just that.
Constantly booed by the home fans, Rafa did really well to help them finish a respectable third after a disastrous end to the Champions League campaign and the sacking of Roberto Di Matteo. Winning the unwanted Europe League vindicated him, secretly pacifying some sections of the fans if not all and re-instating some pride to a club that became the first defending champions in history to bow out of the Champions League in the group stages itself only months ago.
For Napoli however, his acquisition is a major coup. Often criticized for not snapping up the opportunity of closing down the gap with Juventus on more occasions than one under Walter Mazzari, Rafa's experience will certainly fill that void at the Sao Paolo. Not to forget his exploits in Europe will definitely help them go further in the Champions League than they did under Mazzari in the 2011-12 season where they shot themselves in the foot in the second round throwing away a 3-1 lead from the first leg to a distraught Chelsea side that would eventually go on to win the trophy.
What's important to note, however is the fact that with his arrival, the three-man defense and wing backs so synonymous with the Blues may be done with as he prefers the 4-2-3-1 over anything else with much emphasis on a solid defense as opposed to the attacking football that the fans have gotten used to at Naples. Rafa's teams usually start slow, conserving energy and striking the opposition when they run out of steam and Napoli needs to adapt to that.
Another aspect of his tenure at clubs, particularly at Liverpool, is his tendency to overspend on the transfer market. It's noteworthy to ponder that during his time at Anfield, Liverpool ended up spending more than Chelsea (mostly on mediocre players) and it will be interesting to see if a financially sound transfer packet has been promised to the Spanish tactician at Napoli to help him build a team that challenges not only for the domestic title but emulates Dortmund's feat in Europe this season.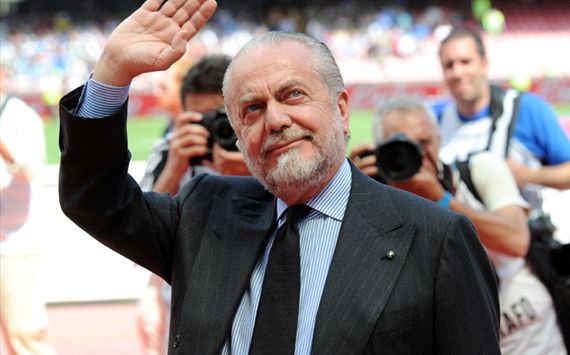 Aurelio De Laurentiis | The enigmatic film producer has done an increbile job as club President
But first on his agenda should be resolving the scenario surrounding Edinson Cavani and his rumoured transfer elsewhere. The striker has already stated that he may consider staying in Italy but hasn't ruled out a move to Spain or England either. It can be viewed both ways.
If he decides to stay, Napoli have a forward capable of destroying any defense in the continent single handedly and Benitez could start planning the season accordingly revolving the side around him. However, if someone does activate his over 70 million buyout clause the money could be used to improve a paper thin squad both in terms of quantity and quality given Benitez's tendency to rotate more often than not.
What happens from here on, we will find out once the season starts in August but Aurelio De Laurentiis deserves nothing but praise for the incredible work he has done as club president since taking over a club dismantled with bankruptcy some nine years ago. The revenue has increased manifolds over the past few seasons and it is all down to the film producer who despite his several attention-seeking jibes with the media has truly brought this club on the footballing map and his latest acquisition is a testimony to that.
It has barely been days since Napoli signed Benitez and already they are being linked to names like Javier Mascherano of Barcelona and Ramires and David Luiz of Chelsea.
Who would have thought this was even possible until last week? Perhaps, 'welcome to the big league' is all we can say at the moment to Napoli.
Don't forget to let us know in the comments section below or discuss on twitter@adityabajaj
How do you stay up with football when on the move? With http://m.goal.com –your best source for mobile coverage of the beautiful game.