With Rafa Benitez's time at Chelsea coming to an end, Goal's Shikharr Chandra looks back at his short spell at SW6 and why the fans have reasons to thank...
Shikharr Chandra

Comment - Premier League

Follow on
At last it's over! The six month long run of interim manager Rafael Benitez finally came to a close as Chelsea ended their post season USA Tour with a 5-3 defeat against Premier League rivals Manchester City.

It was always going to be a hard task for anyone to step into the shoes of former manager Roberto Di Matteo not only for what he had achieved last season, but also because he was an outright fan favourite. In an ideal scenario the board should have clearly replaced him with someone who could gel with the fans comfortably as well as get the job done. In came Rafael Benitez, 'The Interim One'.

It was yet another decision the management had taken without keeping in mind what the fans really wanted and what made it worse was the past history with Benitez
| | |
| --- | --- |
| "We don't need to give away flags for our fans to wave.- Benitez during his time at Liverpool | |
Benitez started his tenure at Chelsea with a 0-0 draw against Manchester City at Stamford Bridge in a game that would only be remembered for the sort of welcome the new manager got. The banners of 'Rafa out' and a chorus of boos throughout the 90 minutes were his welcome from the Bridge faithful. The fans were clearly unhappy with the appointment and were quick to show their appreciation for their former manager with a 16th minute applause for Di Matteo.

With the results not favouring him and cup losses at the hands of Swansea and Corinthians, questions were being raised about Rafa's capability by the Chelsea fans, but what the Spaniard proved in the end was that he was a far better manager than what many considered him to be.

Rafa took over a Chelsea side that was yes, the European Champions but a side that was clearly unbalanced and which lacked experience. With the departure of Didier Drogba over the summer and Romelu Lukaku on loan at West Brom, Chelsea were left with just two strikers - an out of form Fernando Torres and an injured Daniel Sturridge.

Another questionable decision was to let go of both Raul Meireles and Michael Essien at the start of the season with the latter joining Real Madrid on loan. Even after spending close to €100 million, Chelsea clearly lacked depth.

Even though Oscar and Eden Hazard had a tremendous season, the former's lack of experience at times and an average form in the league left Rafa with very limited options. What was another surprising move by the Chelsea management was to leave out Florent Malouda from the first team, a player who had been instrumental in Chelsea's success in the past few seasons.

When Di Matteo left the club, Chelsea were on a pretty decent run in the league and it was the group stage elimination from the Champions League, which cost him the job. The Blues found themselves humiliated by Atletico Madrid in the Super Cup and over run by Juventus and Shakhtar Donetsk in the Champions League. For all the success Di Matteo had brought to this club, it would be fair to say that he was never a tactical guru and possibly not the right man to take the club forward.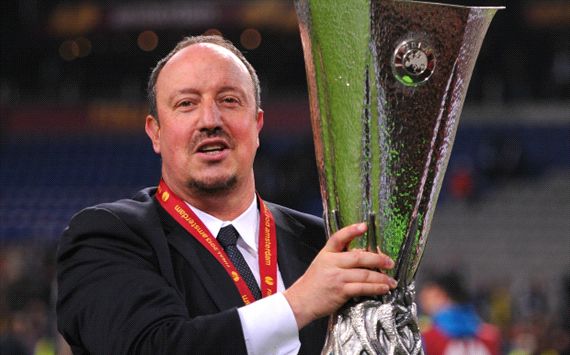 Benitez was rightfully rewarded
Benitez clearly steadied the ship at Chelsea. His style was simple and he approached games with a more cautious and widely perceived defensive approach. His first month saw the Blues score only 1 goal, but a 8-0 win against Aston Villa in December 2012 brought back the smile on the faces of the fans. Out from the Champions League, Rafa had the tough task of motivating his players to play in the second tier of European competition, something the fans and the players were simply not used to.

With a staggering 69 games and 7 competitions to play in, Rafa's rotational policy was put to good test and he passed with flying colours. Under his reign it would be fair to say that there were no real injury issues apart from Oriol Romeu's unfortunate long term knee absence and Eden Hazard's hamstring problem right at the end.

Although Benitez's interim tenure will not be remembered the same way as the likes of Guus Hiddink and Di Matteo, but what he should be credited for was the improvement in the individual performances of certain players. With the introduction of David Luiz in midfield, Benitez to some extent solved the problem of an efficient double pivot problem at Chelsea.
Given a free role to express his attacking abilities, Luiz's ball playing skills was put to good use. A rejuvenated Fernando Torres was also seen as the Spaniard finished as the club's top scorer with 22 goals in all competitions. Although he might still not be the vintage Torres that Rafa had when he was at Liverpool, but his 9 goals in Europe this season were instrumental in Chelsea's Europa League success.

Another thing the former Liverpool man did incorporate was a defensive stability in the team. Roman Abramovich's transfer policy proved that he wanted a more expressive and an attacking Chelsea side which he got but that led to defensive fragility, something that Di Matteo could not solve during his time.

Although he was a person who went about his job in a diligent and respectable way, he did not have the same relationship which earlier managers at Chelsea had with the players.


| | |
| --- | --- |
| "He was not really the sort of manager you could sit and talk with" - Frank Lampard | |

In the end though, Rafa did what was asked of him. A third place finish capped off with a brilliant Europa League win was more than what many fans would have wished for when he took charge of the club.
The 53-year old certainly earned the respect of many supporters outside Chelsea and even though he did manage to change a few minds at the club, this relationship looks to have finally come to an end.A bitter sweet ending that saw both the club and the manager benefiting as Rafa looks set to secure a job with one of the biggest European clubs in Napoli who are close to signing him
What do you think about Rafa's time at Chelsea? Respond in the comments section below or get in touch with the writer @ShikharrC
How do you stay up with football when on the move? With http://m.goal.com –your best source for mobile coverage of the beautiful game.