AC Milan are easily one of the most well known and supported clubs around the globe. They are truly one of Europe's powerhouses as shown by the seven Champions League trophies that adorn the trophy room at the San Siro. The club has seen some exceptional players like Paolo Maldini, Alessandro Costacurta, Franco Baresi, Andrea Pirlo, Alessandro Nesta, Gennaro Gattuso, Ronaldinho, Clarence Seedorf, Kaka, and Zlatan Ibrahimovic don the famous Red and Black of the Diavolo.
Also known as Europe's retirement home, Milan had a reputation of prolonging the careers of players who were deemed at the end of their shelf life in other leagues in Europe. Thus when a mass exodus of such established players took place in the summer of 2012, Milan fans could only watch in fear as the superstars of yesteryear would no longer run out onto the pitch.
Despite winning the Scudetto in the 2010-11 season and following it up with the SuperCopa Italiana, Milan's game centred around the presence of their talismanic striker Zlatan Ibrahimovic. His presence up front along with Thiago Silva marshalling the defense kept the Rossoneri in the hunt for trophies. However when both these players were sold to balance the coffers and the club failing to replace them, fans were not too optimistic about this season.
Massimiliano Allegri completed the 2008–09 season with Cagliari in an impressive ninth place, which was hailed as a huge result with respect to the limited resources, the lack of top-class players, and the high quality of their attacking football style, which led the Sardinians not far from Europa League qualification.
Such results eventually saw him be awarded the Panchina d'Oro (Golden bench), a prize awarded to the best Serie A football manager according to other managers' votes. In the 2009–10 season, he managed to confirm Cagliari's high footballing levels despite the loss of regular striker Robert Acquafresca, leading an impressive number of three players from his side — namely Davide Biondini, Federico Marchetti, and Andrea Cossu — to receive Italian national team call-ups during his reign at the club.
Such a record prompted the Milan supremos to spare no effort in bringing him in as Leonardo's successor in the Milan dugout in the summer of 2010.
Allegri was a far cry from Carlo Ancelotti who had brought two Champions League titles and a Serie A trophy to Milan. It was natural of fans to expect Allegri to emulate that success. His first two years in charge at the club were a dream period as he had the veterans to fall back upon when the chips were down.
Ancelotti was the fans' yardstick for success at Milan
The 2012-13 season was truly a test of Allegri's character and tactical acumen, one he had displayed so aptly in his time as Cagliari trainer. With a young squad at his disposal devoid of star names, the 45-year old had a rocky start with the club which at one point saw them being contenders for relegation.
Constant changes in formation and tactics resulted in the Rossoneri being in danger of missing out on a Champions League knockout stage spot, something which was unthinkable only a few months ago. Allegri, however, showed the world just why Milan took him away from Cagliari in 2010, by finally settling on a 4-3-3 formation which allowed youngster Stephan El-Shaarawy freedom to wreck havoc.
The Egypt born Italian youngster was in the shadows the previous year due to Ibra's presence in the team, but here was his chance to truly shine, and boy did he take it. 18 goals in 45 appearances along with 6 assists were remarkable numbers for a teenager who only months ago was in the fringes of the first team.
This along with the emergence of youth academy product Mattia De Sciglio gave Milan a whole new image, that of a young and fast outfit. De Sciglio's rise solved a problem that had plagued the Rossoneri ever since the retirement of Paolo Maldini and the decline of Marek Janulovksi, that of the left-back position. Luca Antonini, Djamel Mesbah, and Taye Taiwo all tried and failed to make the spot their own.
De Sciglio was a far cry from the instability that had become synonymous with the left side of defence for Milan. Calm on the ball and not afraid to put in a tackle, the youngster reminded the fans of a young Maldini which also earned him a call into the Italian national side.
El-Shaarawy and De Sciglio can attribute their development squarely onto Allegri's shoulders as he gave them the confidence to perform on the big stage despite Milan having such a rough ride in the league and Europe.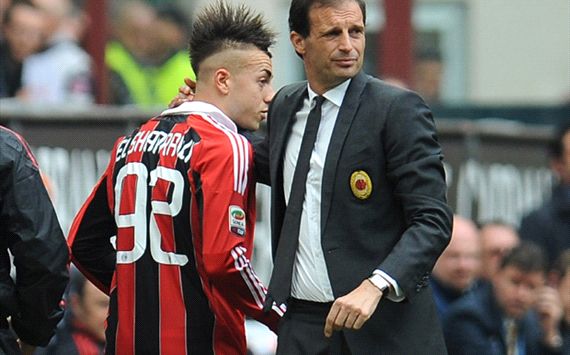 The Pharoah's stellar season was due to Allegri's guidance
Names like Giampaolo Pazzini, Nigel de Jong, Ricardo Montolivo, Cristian Zapata and M'Biaye Niang didn't exactly garner the confidence votes from the Rossoneri faithful who were still reeling under the departures of their veterans. Allegri however galvanized this weakened unit into a team worthy of upsetting the odds.
By the time the January transfer window had arrived, Milan were in the middle of a purple patch losing only two of their 13 games in all competitions. With rumours growing of Mario Balotelli's arrival from Manchester City, the mood around the Rossoneri camp only grew more positive.
The former Inter striker's signing was celebrated with much fanfare and pomp. Suddenly what was considered an ordinary attack became one of the most feared strike forces in Europe. Balotelli adapted to his new team instantly scoring a brace on his debut against Udinese where the teamwork shown by him, El-Shaarawy and Niang was a delight.
Despite this surge in form, none around Europe gave Milan a chance in the Champions League Round of 16 clash when they had to face the might of Barcelona. Milan's luck would run out and it would be back to square one for the team. What transpired was the stuff of dreams.
A stadium that had seen empty seats in a vast majority of games was packed to the brim. The decibel levels were just like the old days as the fans saw Milan pull off a convincing 2-0 victory over the Spanish giants. It wasn't a backs against the wall performance like everyone expected. Barcelona were well and truly shut out of the game using a solid defensive structure that Allegri had established. So tight was Milan's shape that Barcelona only had one shot on target in the whole game.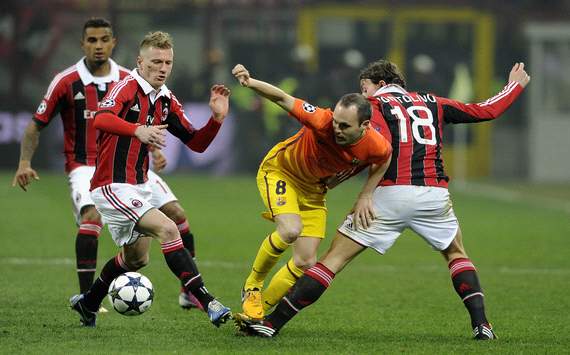 Milan shut out Barcelona from proceedings

The second leg at the Camp Nou could have been considered a disaster for Milan by fans, but in reality it only exposed the chinks that Barcelona had in their armour. Had Allegri had better personnel at his disposal and had Niang taken the chance that came his way, the outcome of the game would have been very different indeed.
It is truly remarkable on how the former Cagliari trainer masterminded his team's rise from relegation contenders to Champions League group stage participants.
And the coach has done this in a manner that has seen his players come to his support even as noises regarding his imminent sacking grow louder.
"When I got here Allegri was in charge and we get on really well. I hope he stays, as I'm really happy with him. If I were the club, I'd do everything to keep hold of him" - Mario Balotelli

"We have a good bunch of lads here, led by a great coach, and I hope that we all stick together for next season" - Stephan El Shaarawy
When a striker who was labeled unmanageable by Jose Mourinho and one who enjoyed a troubled relationship with Roberto Mancini comes to a coach's aid, it speaks volumes on how well he has managed the personnel he had in his disposal.
With Serie A teams making widespread changes to their coaching staff and players, it is important that Milan president Silvio Berlusconi remember that Allegri has started a transition that he must oversee completely before he is considered expendable.
If Milan do dispense of Allegri, then the fans, the board and his successor owe him a big thank you for making life a lot more easier at the club.
How do you stay up with football when on the move? With http://m.goal.com –your best source for mobile coverage of the beautiful game.