COMMENT
By Harsh Shah
As the title very much suggests, Liverpool Football Club's tryst with one of the most ardent working-class icons in the institution's as well as English football's history is destined to end when the referee blows for full-time this Sunday at Anfield. Alongwith the conclusion of the current Premier League campaign, May 19, 2013 will also be remembered as the day Jamie Carragher, one of the red half of Merseyside's most sincere and loved sons featured on a football field with the liverbird on his chest, marshalling and directing the Liverpool defence at the top of his voice.
With Sunday's season finale against Queens Park Rangers set to be Carragher's 737th game in a red shirt, the Bootle-born defender will sign off knowing he has etched his name in the club's history books with quite some grit, given his 17 years of service. And so, when such a one-club personality decides to call it a wrap on his career, it always poses a rather reminiscent and nostalgic question in front of the the supporters as well as football aficionados - How and for what will he be remembered?
For starters, let's take the accolades and achievements he has garnered during his association and servitude with Liverpool. While the first thing that's going to come to anyone's mind is that Carra retires with the regret of never having lifted the Premier League trophy, one can never take away the other titles and triumphs he has amassed in all these years guarding the rear.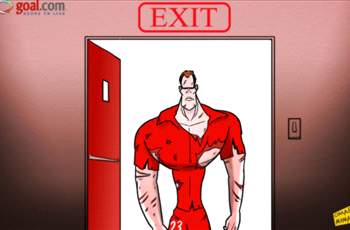 Bruised and battered, but still a champion | This cartoon epitomizes Carra's contribution to Liverpool
2 FA Cup triumphs, 3 League Cup trophies and one Champions League, UEFA Cup and UEFA Super Cup apiece is definitely something to boast for the boyhood Everton fanatic. Especially the miracle of Istanbul in the Champions League final of 2005 against the might AC Milan will go down not just as one of the greatest ever conclusions in the tournament's history, but also for Carragher almost single-handedly denying superstars like Andriy Shevchenko, Kaka, Andrea Pirlo and Gennaro Gattuso from lifting the title. The image of a worn-out Carra lying on the floor with cramps one minute and thwarting Shevchenko from almost point blank range another minute seems like it happened yesterday. Stuff of dreams, really.
Another aspect of Carragher's that rather goes unspoken and unpraised is his versatility and flexibility in his early years, before he settled down in the central defensive role. Pre-Rafa era managers in Gerard Houllier and Roy Evans used him in an array of roles at the back; sometimes as a defensive midfielder, sometimes as a full-back on either flanks and sometimes as an out-an-out centre-back. He would fit in seamlessly and portray a picture of composure yet ferocity at the back, never one to go into a tackle half-heartedly. That's what won over the Kop very early on in his career, for the now adored Carra. Also, these escapades came to good use in his latter years when Liverpool were found wanting at the rearguard positions owing to injury. It was Carra to rescue, now a more reliable and composed presence in comparison to his once fierce avatar.
Yet another reason for Carragher's continued presence in the Kop's folklore in the years to come will definitely have to be a few specific performances and few phases or seasons during which he was absolutely phenomenal.
It could be safe to say that in the final against AC Milan which Liverpool went onto win on penalties with the score after extra time reading 3-3, Carragher was joint man-of-the-match with shot-stopper Jerzy Dudek. Alongwith the Czech keeper, Carra was the biggest hurdle for the formidable Milanese in the second-half as well as extra-time. The latter moreover played and tackled in the game as if his life and existence depended on the outcome of the tie. Proving himself to be a true Scouse warrior THAT night in Istanbul, Carragher played like a true working-class hero, exemplifying the character and traits of a man who had come through the motions, having given his all and worked and persevered real hard.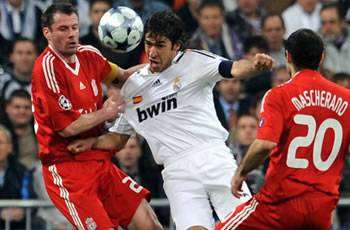 Carra leads the line with 150 appearances in Europe for Liverpool, the highest by any Red
Not just the final, Carragher will also be remembered for the entire European campaign that season as such. At every step of the way, Benitez's men met adversaries much superior to them in technique as well as quality on paper. But what materialised was anything but climatic. Owing a lot to Carragher's never-say-die attitude which saw them go all the way eventually, the Reds thwarted giants like Juventus (then under the tactically sound Fabio Capello) and Chelsea (the Premier League winners that season under Jose Mourinho). The Liverpool No. 23 had that kind of season in Europe which Fabio Cannavaro had the next summer in the World Cup in Germany. Absolutely unbeatable and unpassable.
Casting our gaze ever so sparingly to Carra's negatives in a Liverpool shirt, the first and most unfortunate of observations has to be his own-goal distinction! Having scored more goals at the wrong end than the right, Carragher has been subject to related banter and criticism all along his career. That along with the zero Premier League title victories is something he would most surely love to change if given the chance to.
And so, staying on the topic of own-goals and such undesirable events befalling Carragher, on a frank and honest note, whenever he will be remembered down the years, a bittersweet feeling too is bound to be there at some point in the nostalgia. The intrigue, if we may call it, regarding Carra's showings at least in the latter stages of his career have left the average frustrated Kopite entitled to that feeling all the more so. Those own-goals and slightly lacklustre performances against more frenetic and energetic opponents might have led to the team losing the plot both in short and long-term perspectives.
Yet on the other hand, such is the regard and affinity he possesses for the club in his heart, that you just can't hold him culpable for much long. Having said that, not many players in the modern age are afforded such luxuries. But again, we are speaking about Liverpool supporters here, whose much-storied optimistic and unaffected fandom has attained a reputation of positive lore. Also, Carragher has earned that margin for error after all his fighting performances in the years gone by.
Keeping with the emotion, he will always be remembered of being a tad unlucky, falling short by those small margins. This, not just because the elusive league-winners medal didn't come, but also because of the many unfortunate injuries and his overall performances panning out on the slightly faulty side but never being found short of perseverance and commitment. He was 'Mr. More Than 100 %', through and through.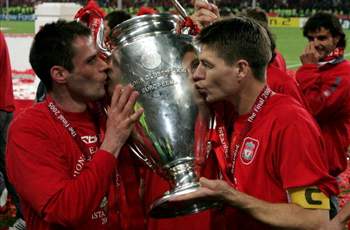 Messrs. Liverpool | Alongwith Gerrard, Carra has to be the club's greatest ever in Premier League history
Yet another honour by which Carra will be cherished is of him being a true leader. Called by many as 'the captain without the armband', he has been an able compatriot to Steven Gerrard in all these years of carrying Liverpool by the scruff of the neck. Not many would stop me when I say Carragher is the club's greatest ever player after Gerrard in the Premier League era. His leadership traits have seen Liverpool above the line in many a Merseyside derbies among other encounters; his trademark bellow-some figure shepharding the backline with steely determination in his eyes.
And so, there are so many facets and ways in which Carra will be remembered by Liverpool supporters and football admirers alike. As fierce and competitive as he was on the field, he is that caring and protective a man outside his profession to his family. Consistently doing charity through his 23 Foundation, Carragher understands the need to give back to society. It makes him the complete man and footballer; knowing where to be fierce and relentless and where to be compassionate and caring.
Lastly, one must never forget the way Carra got back at his team-mate Rigobert Song when the latter mocked the Bootle boy of his defensive skills. The former took his revenge in training by getting back at the latter with a full-blooded tackle. And so, just like Carra said, "
Never have I hunted down a 50–50 tackle with greater appetite
", one hopes for Liverpool supporters' sake at least, that he keeps hunting those 50-50 tackles with the world of football with an even greater appetite in the years to come.
How do you stay up with football when on the move? With http://m.goal.com –your best source for mobile coverage of the beautiful game.