'You can't win anything with kids," said Alan Hansen referring to Sir Alex Ferguson's decision to replace the stars in his squad with players from the club's youth academy back in 1995. How wrong would those words turn out to be is there in plain view for everybody to see. Ryan Giggs, Paul Scholes, David Beckham, Nicky Butt, Phil Neville and Gary Neville have cemented their place amongst Manchester United lore by winning nearly every possible trophy that European club football can offer.
There is no doubt that Beckham was the celebrity amongst the Class of 92. Looks combined with the sweetest of right feet, he was the complete package. But fame is usually the downfall of players who have a difficulty managing their professional lives with that of the glamour. Even today, the name David Beckham is a safe investment for brands across the world just by the appeal he garners whenever he is on screen. Clubs that he has played for have had financial windfalls thanks to having Beckham on their roster. Such facts have also goaded the media into branding him a player who is only there for the fame and not the football.
Everybody loves a person who fights against the odds and emerges victorious which is the reason Rocky Balboa is considered the greatest underdog of all time. It is a gene that is imbibed into every Manchester United player in the training ground. Never give up as it is never over till the fat lady sings! This attitude has served the club so well and has ensured that the opposition are never safe knowing that United are more than capable of mounting a comeback.
This has been the motto that Beckham has portrayed for the whole of his career.
Having announced himself to the world by lobbing the ball over Wimbledon keeper Neil Sullivan from the halfway line in 1996, Beckham would establish himself as the club's first choice right-sided midfielder helping his club on the way to Premier League titles, FA Cups and the Champions League. This was the period that Beckham-mania truly kicked off in the world.
His marriage to pop singer Victoria from the Spice Girls only increased his glamour quotient manifold. The birth of their son Brooklyn was seen as a deteriorating influence on the winger's career.
"He was never a problem until he got married. He used to go into work with the academy coaches at night time, he was a fantastic young lad. Getting married into that entertainment scene was a difficult thing – from that moment, his life was never going to be the same. He is such a big celebrity, football is only a small part." – Alex Ferguson speaking about Beckham's marriage in 2007.
On an international level, Beckham was the subject of hate as he was sent off in controversial circumstances against Argentina in the quarter-finals of the 1998 World Cup where Albacieste midfielder Diego Simeone admitted after the match to resorting to theatrics to get the English player sent off in the game. England crashed out of the tournament and the fans vented their ire on the Manchester United man. At home, Beckham was made the scapegoat and his face appeared on makeshift dart boards in national newspapers, while an effigy of the number seven was hung from a lamppost. He had sunk low in his fans' estimations.
At club level, things were not exactly ideal for the youngster. Ferguson was furious when he saw Victoria participate in a fashion show the time Beckham had to miss training to take care of his son. He fined Beckham and dropped him from a crucial league match against fierce rivals Leeds United in the 1999-2000 season. But Beckham being the fighter that he is helped United win the league by a record margin that season and scored nine Premier League goals to help the Red Devils win a third successive league title in the 2000-01 season.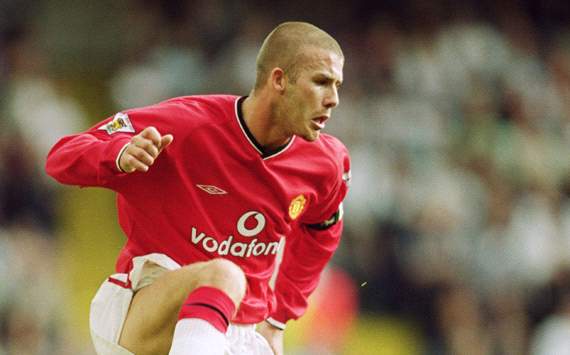 Beckham left United a legend
He became a public hate figure when England fans piled abuse on him in a Euro 2000 game against Portugal where Beckham played a part in both of the Three Lions' goals. The microphones were close enough to hear disgusting chants of 'I hope your kid dies of cancer' directed at Beckham after the match, now the father of a one-year-old son. A visibly angry Beckham reacted by flicking his middle finger towards the offending parties.
Post Euro 2000, England manager Kevin Keegan resigned and caretaker manager Peter Taylor handed the captain's armband to Beckham for a friendly against Italy.
A remarkable two-year turnaround in the eyes of the press and supporters had been completed. Beckham restored. Although England would be defeated by a Gennaro Gattuso goal, it marked the beginning of a long and distinguished reign for Beckham with the armband festooned on his bicep.
The midfielder helped his side complete a rout of Germany by 5-1 in a World Cup 2002 qualifier in Munich. The goal that saw him become a hero again was the equaliser against Greece at Old Trafford when England needed a draw or a win to reach the finals. With the team losing 2-1 with very little time remaining, Beckham stepped up to curl a glorious freekick past the Greek defence to see England through.
In April, Aldo Duscher of Deportivo La Coruna ensured that all English football fans became acquainted with the term 'metatarsal' when his wild challenge fractured that bone in the England captain's foot. He was barely 60 per cent fit for the opening game against Sweden but there was no stopping him, pain or not, for the second match of the group stage against Argentina. Beckham converted the winning goal, a penalty kick late in the first half, to exorcise all the demons from four years previous. England's win condemned the Argentines to an early exit from the tournament but Brazil would end their chances at the quarter-final stage.
Beckham had his best season with United in the 2001-02 campaign where he scored 16 goals from 42 appearances in all competitions. Beckham's stock at the club was slowly spiraling downwards as Sir Alex preferred to use Ole Gunnar Solskjaer as his first choice right sided midfielder over the Englishman. With the famous boot-throwing incident between the manager and Beckham spreading like wildfire, it was deemed only a matter of time before Becks was on his way out of Manchester. Yet Beckham was key to United improving on their slow start to the season by scoring 11 goals from 52 appearances in all competitions.
He has turned ambassador on numerous occasions as seen from his job as a UNICEF Global Ambassador in 2005 and his presence in London winning the hosting rights for the summer Olympics in 2012.
Euro 2004 and World Cup 2006 were testing times for Beckham as England just could not clear the quarter-final and penalty hurdle on both occasions. Post 2006, new manager Steve McClaren declared that the team would move in a new direction sans Beckham. Shaun Wright-Phillips, Steven Gerrard, Aaron Lennon and Kieron Richardson were all tried in the wide-midfielde role, but none could perform with the same efficiency as Beckham did. Eventually he had to be recalled.
McClaren fielded Beckham against Brazil in the June friendly and he provided his side the assist for captain John Terry's goal. A few days later he laid on two goals as the side downed Estonia in a competitve fixture to put England back on track. Beckham had successfully fought his way back once more
Even his time at Real Madrid was marred with incidents where he was considered excess baggage and him coming back to prove those critics wrong time and again. Despite Madrid manager Fabio Capello used Jose Antonio Reyes on the right over Beckham and with speculation growing rife about his possible move to LA Galaxy in the United States in 2007, the England man showed immense character and steel to fight his way back into the plans of the Italian manager who had commented that Beckham had played his last game in a Madrid shirt as early as January 2007.
The then 32-year old was invited back into the team only a month later by Capello who saw the transformation instantly. Beckham scored a 27-yard beauty to equalize against Real Sociedad which Real Madrid went onto win 2-1. The 2006-07 season would be Beckham's last at the Bernabeu as his transfer to the United States was sealed. The midfielder proved pivotal in Real winning their 30th La Liga title and club officials worked overtime to try and untying the transfer to LA Galaxy. However the former Manchester United man had made up his mind to leave.
Beckham would make a return to the England team in 2007 against Brazil in the new Wembley stadium when the match ended 1-1.
United States would escalate Beckham's celebrity status to even greater heights as he would be rubbing shoulders with some of Hollywood's most famous celebrities. After Fabio Capello had taken over as England manager, it was seen as a door being opened for Beckham to return to the national setup. He had form and a soft spot on the side of the manager playing in his favour. However with the MLS season ending early each year, it was important that Beckham competed in Europe to catch the eye of his manager. His loan spell with Italian giants AC Milan was a resounding success as he played in one of the most competitive leagues in the world alongside some of the best players.
England manager Fabio Capello called up Beckham in May 2008 for a friendly against France in Paris. It was followed by a callup for a friendly against the United States at Wembley where the once anti-Beckham crowd became pro-Beckham. The midfielder had earned his 100th cap for the country and assisted John Terry in scoring the winner.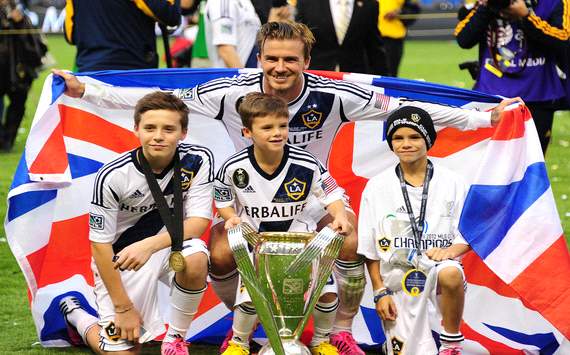 A winner everywhere he went

Two goals in 18 appearances for the Rossoneri led to speculation that Milan might try to sign him permanently which the player himself desired. With the Italians failing to meet LA Galaxy's valuation for the player, Becks had a unique time-share agreement on his contract where he would play for the LA Galaxy from July till the end of the season and would play for Milan from January onwards. This led to backlash from fans who held up banners like 'Go home fraud' and 'Part-time player' whenever Beckham played. The Manchester United in him helped Beckham fight the odds and help his team win the Western Conference final.
His second loan spell at Milan saw him return to Old Trafford as part of the Italians' team to play in the knockout rounds. The reception that he got was astounding and fans welcomed their prodigal son with aplomb. The 2011 season of the MLS was Beckham's best till date after his second romance with Milan as he finished second on the assists chart and retained the Supporters' Shield.
A Western Conference title would follow in 2012 and would also include an MLS Cup medal in a season which proved to be the midfielder's swansong at the club.
His arrival at Paris with moneybags Paris St. Germain in January 2013 was seen as more of a marketing gimmick rather than the Parisien's need for reinforcements during the transfer window. After announcing that he would be donating all his earnings to charity, Beckham set about working towards the goal of proving to all his critics that he wasn't done yet even at the tender age of 38.
Eyebrows were raised (even higher than Carlo Ancelotti) when Beckham was selected ahead of Marco Verratti in the center of the PSG midfield during the quarter-final match against Barcelona at the Parc des Princes. Pundits and the media predicted that the old dog would be overrun by the prolific midfield of Andres Iniesta, Xavi and Sergio Busquets. Yet again, Beckham would go on to make his detractors eat their words as he put on a performance worthy of applause. His work on and off the ball kept the much vaunted Barcelona midfield at bay and justifying Ancelotti's faith in him.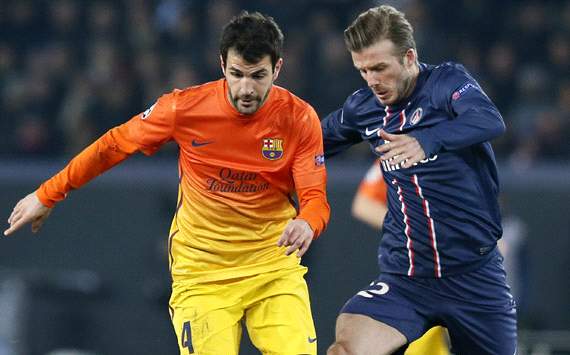 Still got it, Beckham goes up against Cesc Fabregas

David Beckham is someone that has proven it time and time again. To leave when he left the Premier League, everyone was questioning why, but the bigger picture is you have to see what he's done in world soccer. He's made a massive impact on the MLS and you can see that. Everywhere I travel every weekend you see Beckham jerseys regardless of who you play against. Hats off to him. He's a special player.
Player on the field, the range of pass is amazing, the dead-ball specialist he was. I think a lot of people look past the footballer he was. He could pass, score goals, and he was always renowned for his free kicks. There's a lot more to him as a footballer and I think you could understand why the clubs take him like Paris Saint-Germain and being at Man United so long. For a player that can see the bigger picture is pretty special because overall what he's done is amazing. -- New York Red Bulls and former Everton midfielder Tim Cahill on Beckham's retirement
It just showed that the hunger and desire to win never died out even when he had the money and fame in surplus, an attitude that he learnt from his mentor Sir Alex Ferguson who never lost his enthusiasm to win till the day he decided to call it quits. Beckham has always been a fighter when the chips were down; he has always come out on top and has left the game on a high like many other legends before him.
How do you stay up with football when on the move? With http://m.goal.com –your best source for mobile coverage of the beautiful game.