COMMENT
By Harsh Shah
David Beckham has decided to close his chapter, the football bit of it at least. With his decision to say goodbye to all on-pitch endeavours after Paris Saint-Germain's last league game against FC Lorient, Beckham has made clear the fact that the enigma and awe surrounding his image will no longer be carried forward to the football field in the seasons to come.
There won't be any more stoppage time free-kicks that carry his country into the World Cup and neither will there be any last-gasp curling corner kicks in injury time which win his side the Champions League title. All that will be left are the memories and those many walls and wardrobes adorned with the Becks posters and cut-outs flashing a sparkling smile back to us in Manchester's red or Madrid's white.
Conquering titles alongwith people's hearts, Beckham, now 38 has decided to call it quits from the beautiful game. Mind you, he was no Diego Maradona or Pele who won the World Cup in the hale of youth. Neither was he a Lionel Messi or Cristiano Ronaldo who scored 50 goals-a-season, winning the league title and the Champions League almost single-handedly from start to finish. No, he was something much unlike such a roster of footballers. David Beckham, rather intriguingly created an identity of his own over the years, sporting a sense of panache and flair no one had ever seen or ever will in the world of sport, let alone football.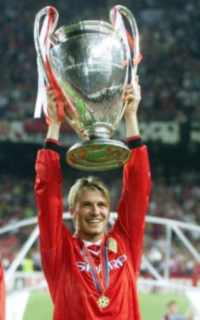 Beckham's heroics at Manchester United laid the foundation for his consequent rise to stardom
David Beckham deserves the plaudits for raising and continually boosting the game's brand and viewership values consistently in all these years. Barring that one time when his LA Galaxy debut against Chelsea in the World Series of Soccer never really amassed the kind of worldwide audience as it should have, the 115-time capped England international has always been the media and public's person of interest when it comes to adding that shine and entertainment value to the sport.
Let's face it, Beckham has been responsible for introducing a large number of the masses to the world of football and then 'soccer', owing to the charm of that celestial right foot and the many endorsement deals that made him the highest paid footballer at one time. From a friend asking whose name was it on your newly acquired Beckham jersey or to a sister/girlfriend quizzing you on who that dapper-looking guy in the latest Coca-Cola advertisement was, the persona surrounding the man who scored 'the goal that shook the world' against Greece had truly taken the planet by storm and that is from where the love-affair with football began for such folks. Even those who barely knew about the 'f' of 'football' knew that there was there this fashionista footballer by the name of David Beckham who appeared on the face of the world's leading magazines and indulged in charity regularly.
Not just that, Beckham rather conspicuously or inconspicuously with his every action on-field or off was bringing about change to the brand that is football.
Quite simply and unarguably, Beckham exudes spirit and confidence and despite his achievements or one may say failures, he is our generation's most famous footballer. How else would you explain an instance of an average football fan's eyebrows rising in exuberance at the mention of Beckham's name in a random conversation, irrespective of his performance in a recent game? Which other footballer had a movie made based on the 'bend' from his dead-ball kicks? Which other footballer in the history of the sport has been responsible for a tremendous hike in his club's merchandise sale despite not hitting top form for large periods?
Call him overrated or over-publicized, the man has made a massive mark on the world at large in his last 22 years of existence at the highest level, with football definitely being the launch pad for his consequent stardom.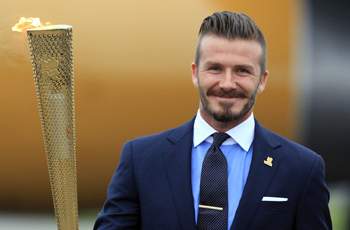 In the past decade or so, Beckham's transformation into an ambassadorial character has been there for everyone to see
While Cristiano Ronaldo's feats will always end up being compared with another Portuguese legend Eusebio's and Messi's to that of Maradona's, Beckham never had to worry about any sort of identity crisis. Rather, over the years, the former Manchester United No. 7 has built a sort of ceremony and grandeur around himself that if there was to be any criticism directed towards him, it would only remained confined to his past record or actions. This particular trend sets Beckham apart from the other superstars of football.
Despite all of the above, there is no denying that Beckham owes it all primarily to football. If not for his fabled half-line goal against Wimbledon, his two corner kicks which won the Champions League against Bayern Munich, THAT free-kick against Greece in the World Cup qualifiers and those many other battling performances in England and Red Devil's colours, Beckham would have never been the shining star that he has ended up being. Even at Real Madrid where he had a stop-start stint, Beckham always cropped up with a crucial goal or two and shut his critics up from time-to-time.
Of his transfer to America's Major League Soccer side Los Angeles Galaxy in the summer of 2007, many complain of it to be one huge endorsement deal, a move which aimed to nothing but raise the bar of football in America on the global scene. Further, there is criticism that the move has been unsuccessful at doing so and American 'soccer' is still a rarity when it comes to being a household presence. But wait a minute, no one realises the fact that there is so much debate the world-over about whether MLS's brand has risen or not following Beckham's arrival, that it in itself is testimony to its roost having risen if not exponentially, but to an extent on the world scene.
And Beckham deserves the praise for that. Just like how so many youngsters all over the world started following the game when Beckham became famous at Manchester United and made his multi-million dollar move to Real Madrid, many would have attained the craze of soccer in the Americas at Beckham's arrival. There is no denying that fact, given their MLS's meagre existence in comparison to the rest of the world.
And then came his latest masterclass transfer to France's PSG. Such was the ingenuity of the move, that Beckham was all but guaranteed yet another league title in yet another country. And when Le Parisiens sealed the Ligue 1 title last week, Beckham attained the distinction of being the first Englishman to win 4 league titles in 4 different countries. Such is his position in the world of football, that he is somewhat spoilt for choice. Definitely not for technical reasons, Beckham's last few years as a footballer were peppered with an ambassadorial element to it at whichever club he played. Can't blame him for it either, can we?
On matters outside of football too the former Real Madrid No. 23 has been a smart and highly trend-setting individual. His marriage to Victoria Adams of the then 'Spice Girls' surely added a 'spicy' touch to Beckham's personal life. His performance on the field notwithstanding, his personal life was always a matter of interest to the media and paparazzi. Then came his endorsements, his football academy, oh and not to forget the countless classy hairstyles and tattoos. There hardly ever has been a celebrity who has carried off an array of hair-dos as wide-ranging as Beckham's with the same sort of style and machismo!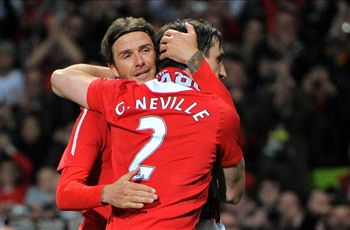 Becks & Gary: One of the most lethal partnerships on the right in Manchester United's history
And so, such is the swashbuckle and charisma surrounding his personality, that people fail to notice that he has always been a true hard-working professional, wherever he has played all along his career. His former partner-in-crime on the right at Manchester United, Gary Neville, revealed this -
"

Look back at his career and you look at it and think 'wow' it's an incredible array of caps and medals. But when you speak to him he just wants to be remembered as a hard working footballer - someone who worked as hard as he could to be the best he could be

."
That and the following quote by the same person sums up David Beckham's sparkling career -
"

Think of how football's transformed, he's the most influential player of that time. He's had an incredible impact. Playing in Madrid, Milan, LA he's transformed English football abroad. Every clothing garment, hairstyle it was followed. That's the impact he had. He's someone who has transported England around the world through football

."
And so with a modern era coming to an end, we'd like to say that it was truly a pleasure, Mr. Beckham. Thank you very, very much for all those memories.
How do you stay up with football when on the move? With http://m.goal.com –your best source for mobile coverage of the beautiful game.