COMMENT
By Liam Twomey
For the most part
Chelsea
were battered and bruised, out-passed, out-hustled and out-thought. At times they even looked completely out of their depth. But when Bjorn Kuipers blew the final whistle, it was
Frank Lampard
and
John Terry
- the latter controversially in some eyes - invited to lift yet another trophy, and Blues fans once again celebrating history in the making.
BENFICA 1-2 CHELSEA
BLUES SEAL EUROPA LEAGUE GLORY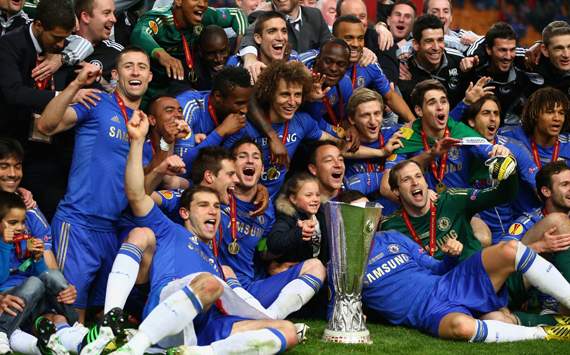 | | | |
| --- | --- | --- |
| | 60' | GOAL! Torres strikes first |
| | 68' | GOAL! Cardozo equalises |
| | 90+3' | GOAL! Ivanovic heads winner |
MAN OF THE MATCH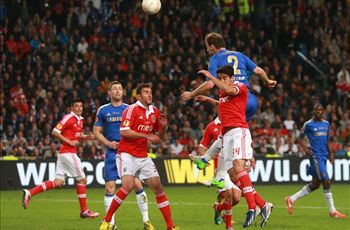 BRANISLAV IVANOVIC







There were occasional reminders of his technical limitations, but he defended stoutly in the face of what at times resembled a siege. Came up trumps with a priceless, towering header in injury time to win it.
The unique veneration reserved for history in football highlights a curious quirk in the mindset common among supporters. For people who choose to live through the thrills and spills of the moment for 90-odd minutes as much as 70 times a season, they remain obsessed with the events of the past and extremely touchy about where their chosen club sits in the greater order of things.
But then, of course, history feeds identity. We define ourselves largely by where we have come from and what we have achieved. So do football clubs and their fans. History is used to inspire, to attract and to comfort those who identify with it. It is also used to intimidate and ridicule other, seemingly lesser clubs who are perceived to 'have none'.
Few have suffered this fate more regularly than Manchester City and Chelsea, the Premier League's two
nouveau riche
superpowers bankrolled by immense foreign wealth. The transformations which have allowed their fans to experience triumph and status beyond their wildest dreams are viewed with a combination of fear and loathing by the traditional elite, who suggest their misfortune in not already having five European Cups sitting in the trophy cabinet should be a source of shame.
This, however, is nonsense. The game, as it states so eloquently at White Hart Lane, is about glory, whether past or present. Today's triumphs are tomorrow's history, and few clubs have adopted this mantra more successfully than Chelsea under Roman Abramovich.
Wednesday's Europa League triumph is the 11th major trophy the Blues have won in the decade since the Russian arrived at Stamford Bridge - over half of the 19 garnered since the club's formation in 1905. They are the first and only London team to have won the Champions League, only the fourth side in history to have won all three major European trophies (including the now defunct Cup Winners' Cup) and, now, the first ever to hold both active continental titles simultaneously.
It is a roll of honour which constitutes a genuine golden era and the only frustration for those of a Chelsea persuasion is that, but for the club's seemingly insatiable appetite for chaos on and off the pitch, even more might have been achieved. Since the acrimonious departure of Jose Mourinho in 2007, there has been just one Premier League title in six years. It is a disappointing record which, if the Portuguese does return to Stamford Bridge this summer, he will immediately look to correct.
But, on an individual level, too, it is clear these are momentous times. Only this week Frank Lampard became Chelsea's all-time top goalscorer. Last summer, following his Champions League heroics, Didier Drogba was voted the club's greatest ever player. Regardless of any personality flaws, John Terry is likely to be remembered as their greatest ever captain, while Petr Cech has surely surpassed Peter Bonetti as the best resident goalkeeper ever seen at Stamford Bridge.
These facts will be used by some to reinforce the argument that Chelsea had no 'history' before Abramovich, and in a sense it has merit. But it is also irrelevant.
For all the titles their club has won, there are millions of Liverpool fans who have never known how it feels to be crowned champions of England. Arsenal's domestic achievements put their London rivals to shame, but one only has to hear the regular booing at the Emirates Stadium over the past eight years to know memories of success are of little comfort.
Chelsea have an increasingly proud history. The only difference is their history is happening now, not 25 years ago. Indeed, if the silverware keeps coming at the current rate, in 25 years it will be Blues fans pouring scorn on the lesser achievements of other, less illustrious clubs.
After a decade in the big time and even as the number of billionaire owners in Europe's major leagues has increased, they remain in the ascendancy. While a lack of traditional elite pedigree will continue to be a sticking point for some, the guiding sense of destiny and extraordinary resilience which have now carried them through two consecutive European finals against superior opponents are qualities to be admired, envied and emulated.
Follow Liam Twomey on