Aditya Bajaj

Comment | Ligue 1

Follow on
If at this time of the year last year, someone would have told you that Zlatan Ibrahimovic would be plying his trade at PSG, he would have been the butt of all jokes that summer.
Zlatan had just wrapped a very emotional season with Milan where he saw off all the veterans in their last game for the Italian giants at the San Siro amidst scenes so sentimental, even a nomad like him couldn't help but feel he was part of something more than just a football club – something special, a family.
Earlier that season, he had declared that Milan is where he would end his career because they brought back a smile on his family's face, not to forget believed in him when the world criticized him (most of them without credible reasoning) for being such a failure during his first and only season back at Barcelona.
But it didn't take a month for things to change.
Crippled financially, the Rossoneri sold off two of their most prized assets – probably the best in their respective positions in world football – to PSG in exchange for some much needed Qatari money and it was déjà vu for Zlatan once again. Only this time, it wasn't he who decided to leave.
Milan decided to pack him off.
Once gone, it was business as usual for the giant Swede who on Sunday was crowned league champion yet again for the tenth time in twelve seasons and in a week of farewells where Sir Alex Ferguson's heart-breaking retirement has overshadowed (and rightly so) everything else in the world of sport (not just football), the former Ajax, Juventus, Inter, Barcelona and Milan forward's achievement deserves at the very least a mention.
Barring a couple of seasons back in 2003 and 2012, Ibrahimovic has lifted titles in the Netherlands, Italy, Spain and now in France – conquering almost all the major leagues in Europe since the turn of the century.
Love him or hate him, it would be hypocritical of anyone to deny the quality this man possesses upfront and the truth is, you simply cannot ignore the fact that despite everything troublesome he brings along with himself, he is by quite a margin amongst the top three players in the world today – occasionally on his day maybe even the best technically.
Now, when you talk about the best players in the world you take into consideration his impact on the team's chances year after year and not just the numbers. Until March, people always said that Barcelona are a team and without Xavi, Iniesta and their midfield, Lionel Messi wouldn't be half as effective as he normally is. His absence for much of the two legged tie against PSG and the second leg against Bayern Munich proved that in truth, the Catalans seem pretty ordinary in the Argentine's absence and their dependency on the best player in the world was left exposed for everyone to see.
Leave out Cristiano Ronaldo from the Madrid squad and what is left is a very talented but ordinary side with no penetration whatsoever. Similarly, leave out Ibrahimovic from all of the teams he's so far played for since his time at Ajax and you are left with a group of players although very skilled and capable in their own capacity, but yet lacking a leader – someone to look upto to make the difference and do justice to their hard work as a collective.
| | |
| --- | --- |
| | ZLATAN IBRAHIMOVIC IN NUMBERS |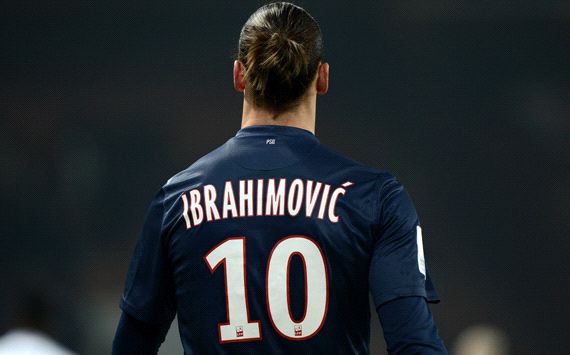 Team
Games

Goals
Assists
League Titles
Ajax
(2001-2004)
110
48
15
2
Juventus
(2004-2006)
96
26
6
2
Inter Milan (2006-2009)
117
66
32
3
Barcelona
(2009-20010)
45
22
13
1
AC Milan
(2010-2012)
85
56
27
1
PSG
(2012 - Present)
47
32
17
1
Total
500
250
110
10
Even though he never scored much during his time at Juventus (he wasn't really much of a goalscorer until he trained under Fabio Capello) he was the chief playmaker behind the striker and with him on his side post Calciopoli, Inter were virtually a one man team until his departure to Barcelona leaving even an awestruck Jose Mourinho to brand him as the best player in the world during his one season with Ibrahimovic at the San Siro.
It's a well document argument that Inter won the treble in 2010, because he left but truth be told it had more to do with Mourinho's shrewd piece of business and tactically prowess than the Swede's departure. He was sold and Inter used the money to build a team around new arrivals like Diego Milito, Thiago Motta, Wesley Sneijder and Samuel Eto'o who were the protagonists in conquering Europe as a team back then but Ibrahimovic's single-handed contribution for three straight seasons prior to that historic campaign at Inter got them there in the first place. He left because there was a better opportunity – a chance to play at the best team in the world.
He is widely considered a failure for his ill-fated stint at Barcelona, but very conveniently as some sort of proof his last days at Camp Nou are much publicized by the media to malign an image not helped by his open arrogance towards Pep Guardiola and Messi. What was largely ignored thanks to the ruckus over his tenure was the fact that he finished with eleven goals and four assists in all but two of Barcelona's first fifteen league matches and was their principle striker until Guardiola's decision to let Messi play in the center taking into account the larger interest of the team which at that point of time was the right thing to do.
Yes, he was arrogant but a total of 22 goals and 13 assists in 45 games at that time was certainly not a bad return. He was expensive but had to be sacrificed for the team and you cannot blame the player for such shoddy management by the people responsible who during the summer looked so desperate to make a statement with his signing following Madrid's double swoop of Kaka and Ronaldo around the same time. He did score the all important away goals at Stuttgart and Arsenal in the Champions League knockout stages but his lazy walk about against Inter was knit picked.
Messi seemed lazy too in the first leg defeat to Milan back in February, but that's where a player's image comes to picture and that's where more than anyone else Ibrahimovic pays for having a bad day at office. His arrogant image (thanks to his own making) has overshadowed the fact that eversince that ill-fated season at Camp Nou, Zlatan has transformed into more of a team player like never before, first at Milan and now in Paris.
He has evolved from a self centric talented individual to more of a team player, a leader in the truest sense and not just with his club but also the Swedish national team. Surrounded by youngsters who can only consider themselves lucky to belong to the same nationality as the PSG striker to even have a chance of training with him, let alone play alongside him, the Swedish captain has led from the front having been given the free role behind the striker by head coach Erik Hamren and his return of 11 goals in 8 games last year is a testament to that.
Often criticized for going missing in big games, he has literally dragged two teams on his back over the last three seasons just like his time at Inter. Milan would have never won the first Scudetto since 2004 back in the 2010-11 season had it not been for him and despite the presence of other star players in Ezequiel Lavezzi, Thiago Silva, Lucas Moura and Javier Pastore, his 32 goals and 17 assists this season have largely been responsible for ending a 19-year old wait for a league title by the Parc de Princess faithful.
He tops the assists chart in the Champions League this season with 7 to his name and it has been a regular occurrence over the past couple of seasons whereby he is in some way or the other always involved in most of the goals that his teams score; either scoring them himself or via an assist or two.
PSG have just won the first trophy of the Qatar-era and though it was largely bought thanks to the unlimited flow of cash over the past couple of seasons that is no reason to not celebrate and appreciate what has been achieved nevertheless. The players work hard no matter what and unlike other billionaires like Manchester City and Chelsea, the French outfit were far superior and unlucky to bow out to Barcelona on away goals in the quarter-finals of the Champions League - a testimony to the great work being done by Carlo Ancelotti and Leonardo along with the team built around Ibrahimovic.
A little more stability regarding the future of Ancelotti and Ibrahimovic, and it wouldn't be naïve to think that they may in the near future be the first French side since Marseille in 1992-93 season to be crowned European champions.
Whatsoever the case though, Ibrahimovic has bagged yet another winner's medal and for that he deserves credit and regardless of whether he ever lifts the greatest club competition in the world, he will go down as a legend for being a consistent winner.
The naysayers will always find a way to belittle the giant by mentioning his lack of success at the continental stage and say that he has never won the Champions League.
But hey, the Brazilian Ronaldo never won it too and neither has Robin Van Persie.
Don't forget to let us know in the comments section below or discuss on twitter@adityabajaj
How do you stay up with football when on the move? With http://m.goal.com –your best source for mobile coverage of the beautiful game.