COMMENT
By Harsh Shah
When Wigan Athletic set foot on the Wembley turf this Saturday evening to take on Manchester City in this year's FA Cup final, they will be living a dream. Knowing full well that support in the stands might be the only place where they realistically match up to their opponents, Wigan will still be hoping to cause a major upset by putting one over the dethroned Premier League champions right when it counts the most.
Besides, the Latics must be acceptful of the fact that they stand at the wrong side of the imbalance against the team from Manchester. The odds are resoundingly stacked against them; with position in the league table, bank balance and lets face it, quality of players too all pointing to an FA Cup triumph for City.
With the realist bound to go for a comfortable 2-0 won for the Citizens against a spirited yet ineffective Wigan side, this game seems done and dusted from the start. For even if Wigan were to have a surprisingly good day at the office, one move or one mistake could go on to gift City the advantage and resultantly the cup.
Hence, for any sort of major upset to occur come tomorrow night, it will just have to be one of those days for City when despite all the good work nothing should have clicked and Wigan should have caught them out on one of their lucky breaks.
Given the nature of the giant killings in the previous rounds of the competition, one would say WHY NOT? Oldham Athletic knocked Liverpool out, Blackburn Rovers got the better of Arsenal at Emirates, Brentford almost caught Chelsea out and Leeds dumped Tottenham out 2-1. And so despite both finalists gracing the country's top tier, a Wigan victory over the Sky Blues would only be a fitting finale to that latterly discussed trend rather than a shocking anti-climax. What better occasion than a cup final to pull off the biggest of surprises.
Just sit on that thought as you read on.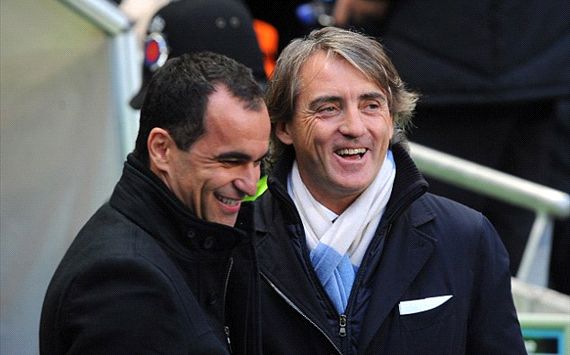 Its RM vs RM | An underrated and underplayed tactical battle on the cards
That brings us to the two most important men on the touchline. Nay, we aren't talking about the linesmen! The men in the spotlight are the two much spoken Robertos. One, an experienced Italian who seems to have been rugged by the rise and fall of the blue moon, seeking redemption for a season gone sour through a likely FA Cup victory. Another a Spanish tactician who is from the crop of young and upcoming managers who place a whole lot of emphasis on tactics and strategy rather than pure grit and old-fashioned mindgames. This sub-plot, though hitherto unnoticed could yet be the most fascinating of all on the 132nd final of this historic showpiece event.
With that brief comparison between the two put in place, let's turn our thoughts to one of Martinez's unspoken and unnoticed victories over Mancini in recent times. Keeping the FA Cup final aside, a lot has been spoken about Wigan's annual relegation battle and their recent harsh 3-2 defeat at home at the hands of Swansea. Latics supporters must be looking back to last year's miraculous revival with a string of sensational victories over Newcastle United, Manchester United, Arsenal and Liverpool. With all due respect, when a team of Wigan's stature pulls of a set of results such as these, it most definitely becomes the stuff of legend and lore. Let me remind you, it all turned around because of Martinez's timely change in his side's formation.
In February of last season, with his side sitting in a sorrowful 19th position, Martinez went in for change. He reverted to a 3-man defence which instantaneously paid dividends and produced the results. Utilising a 3-5-2 formation which Juventus have so beautifully implemented in recent times, Martinez avoided the drop at Wigan. His defensive players were extremely suited to this style alongwith the wing-players complementing the setup ever so effectively. The mission was accomplished for last season.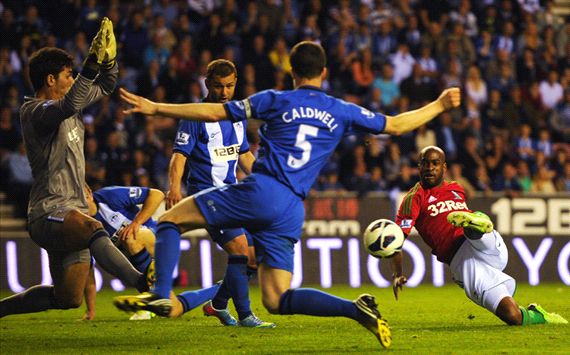 Wigan's 3-5-2 has been much more effective than City's similar formation earlier this season
As opposed to this, Manchester City and particulary Roberto Mancini's exploits with a 3-man defence never really bore fruit as he would have expected this season. Starting the campaign as title holders, Mancini's experimentative 3-4-1-2/3-5-2 never really took off. While it got them just about over the line against Chelsea in the FA Community Shield, it really led to their undoing in the second game of the season against Liverpool at Anfield. The Reds took advantage of City's lack of adjusting to the formation along with some lacklustre team selection by Mancini to go 2-0 up. City salvaged a point due to Liverpool's own inefficiencies at the back, but still went home outplayed.
That performance at Anfield really went on to sum up atleast the first half of City's season. Roberto Mancini had chosen to go with a formation and tactics that didn't suit his players, just hoping for change where it actually wasn't needed. An example was to play Pablo Zabaleta central when he had always done better on the flanks. Alas, a mix and match of playing styles had led to their so-so performances in the league while being completely dismantled by their Champions League counterparts in the group of death. To top it all off, his players too voiced their opinions opposing the change in formation.
Here is where the Spanish Roberto pegs back his Italian namesake: in terms of relative strategy and adaptability. He may not have the riches and luxuries in managing his side which Mancini can boast of, but the former Swansea City trainer's acumen has been proven time and again. While he has played the 3-4-3 or 3-5-2 to his side's credit of catching the opponent out or stifling them, he has also reverted to his traditional 4-3-3 when there has been a need to stabilize. His ways boast more flexibility than his direct number's in the Eastlands. His immense potential has placed him to be a top contendor for next season's vacated slot at Everton. Mind you, he too was a frontrunner along with Brendan Rodgers for the Liverpool job, but the Northern Irishman was picked over him.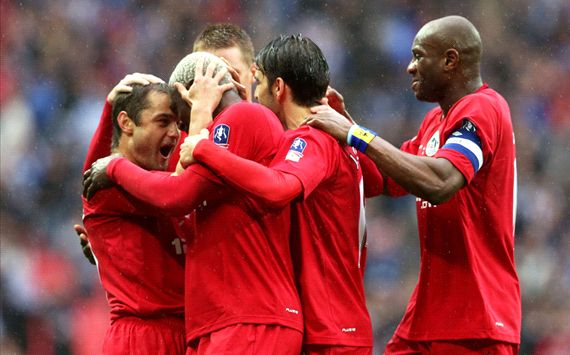 The Latics will be looking for a fairytale finish to top off a fairytale cup run
Turning our attention back to the big game that awaits us this evening, the latest Premier League match-up between both sides at the Etihad last month could provide some clarity. Wigan gave City a run for their money that night, only for the Citizens to clinch a narrow 1-0 victory courtesy a brilliant individual goal from Carlos Tevez. That night Wigan's play was fluid and they created quite a few chances of their own. Could be a sign of things to come, given the momentous nature of the occasion. They need to make sure they come out of their ranks upbeat and up for the challenge rather than wilt under pressure at the big stage.
Now whether Martinez takes a huge risk and employs the 3-4-3/3-5-2 remains a doubt. Injuries are a massive concern for him given his defensive options in Antolin Alcaraz, Maynor Figueroa and Ivan Ramis looking set to miss their biggest game of the season. Wing-back cum winger Jean Beausejour looks a doubt leaving Gary Caldwell, Paul Scharner, Emerson Boyce and Roger Espinoza as the reinforcements. Whether he chooses to vest his trust in these troops to assume the daunting task of facing an attack as formidable as City's in that formation or a traditional 4-3-3 will be a huge talking point. It could either turn out to be a masterstroke or the biggest disaster from Martinez.
As for City, for Mancini's sake the 4-2-3-1 is his best bet. With that setup his side had brutally brushed aside a good Chelsea side and made its place in the final. Any tinkering from his side would only be foolish, to be frank.
The writing on the realistic wall is clear: 'Manchester City cruise against fighting Wigan'. What remains to be seen is whether an ambitious Latics side builds its on fairytale wall over this one and springs a surprise or not...
Which Roberto will prevail in your opinion?

Don't forget to let us know your views in the comments section or discuss with the writer on twitter @Harsh8Shah
How do you stay up with football when on the move? With http://m.goal.com –your best source for mobile coverage of the beautiful game.