COMMENT | By Harsh Shah
From the time I along with the others of my generation started following the beautiful game, we have only known Manchester United to have one manager – Sir Alex Ferguson. In this day and age where loyalty is perpetually lured away by the promise of big bucks, the Scotsman has truly defied the trend by serving for a whopping 26 years at Old Trafford now with a directorial role in the offing.
Now that will come as a surprise more so to the growing legions of United supporters who started following the Red Devils solely because they had heard of this shrewd tactician whose winning attitude had established the club among Europe as well as the world's elite.
It is true. Today the red half of Manchester could do away with all the marketing deals in place and still stay among the profits as well as publicity; all owing to this timeless classic of a trainer fondly called Fergie. While the Ronaldos, Cantonas and Keanes have come and gone at Old Trafford, the remarkable Glaswegian has stood firm in the Red Devils' dugout and masterminded uncountable triumphs; and mind you we aren't just talking in terms of scorelines.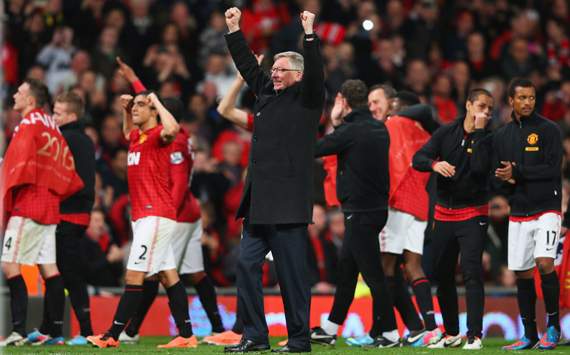 Fergie brought the winning habit to United
And so come next season, when this genius tactician's successor (my word, those boots are huge to fill) assumes his seat in the United dugout, it is bound to leave a strange and weird feeling in the bellies of Mancunians or otherwise. This generation of football fanatics does not know of a Manchester United without Sir Alex. What would you say of a man who has won 38 of the club's all-time 62 trophies in all competitions? Accountable for over 50 % of the club's all time accolades; hell, he was in his 7th campaign with the club when I was born. Not to mention, he won the league that year as well.
Leaving behind a legacy of 13 Premier League triumphs, the 10-time Manager of the Season has made sure the tournament will never be the same without him in-charge of United. True, he is just going to move upstairs in a directorial venture and still have a say in the club's major dealings, but still his touchline rants (which has led to 5 separate bans on different occasions), his constantly unnerving figure chewing gum away ceaselessly and the countless jubilant celebrations with both hands punching the air in a rather childish manner when his team scored a goal or clinched a title will be something we will have to learn to live without.
Also, how could we forget those juicy jibes he always took at the opposition manager? Never one to stay shut, Sir Alex has petrified coaches of all makes and qualities with either his cynical banter or ruthless tactics being played out effectively on the field. Leave alone the counterparts, he has always lived by the motto of 'no player is bigger than the club' and has stood by it despite the departure of many high profile names following conflicts with him. Refer the likes of David Beckham, Ruud Van Nistelrooy and Gabriel Heinze among a few others in that list. Love him or hate him, like him or loathe him, one can never deny the fact that what he has achieved might never be replicated by anyone in future.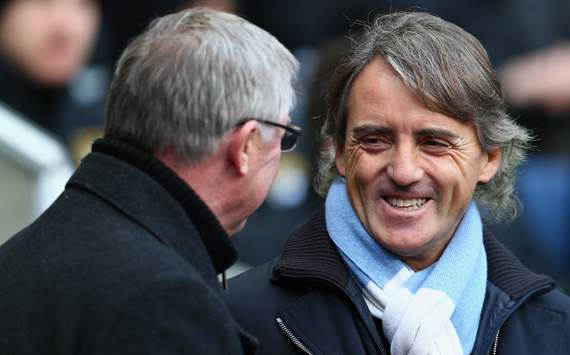 Sir Alex has seen off the challenges posed by numerous managers

Having said that, United are set to undergo a rare transition phase next campaign. There have been mini transitions of sorts when a big player has left the club or retired, but the brilliance of Sir Alex who has won 49 major trophies in his entire managerial career, was always there to ride through that phase with ease. With that fact fresh, it will be interesting to see the next season pan out the way it does for the Red Devils given Sir Alex will be waving away from the Director's Box and not the dugout at Old Trafford on opening day.
Staying with the former Aberdeen and St. Mirren coach's legacy; credit, massive credit to him for what he has accomplished at the club he is leaving. True, his CV is what it is due to the opportunity of managing the institution that is Manchester United. But not many would defy me when I say Sir Alex Ferguson is the one who has made Manchester United "united". Living for most of their history in the shadow of the horrific Munich air disaster in 1958 which literally wiped out their whole magnificent first team under Sir Matt Busby at the time, Manchester United were reeling in 21st position (second from bottom), fighting relegation in the chill of November 1986 when a cunning trainer from Glasgow took over.
It takes quite some gut and nerve to make claims of knocking Liverpool off their perch of domestic and continental dominance when your club is fighting for survival and is frankly miles away from the Merseysiders in terms of honours and performance. But true to his word, the wily Scot draws the curtains to his chapter having accomplished the task and fulfilled his promise by a mile of his own. Eccentricity backed with ruthlessness is signature Ferguson and that's something Liverpool, if I may say will be more than relieved to see the back of.
But again, he didn't have it all that easy as his records seem to show with United. His first 5-to-6 seasons at the club were definitely not up to the mark and to his standards, with the supporters alongwith the media actually asking for his head in the 1989-90 season following a dismal first three years at the helm. The two-time Champions League winner himself described it as "the darkest period he had ever suffered in the game" as his side finished the decade on the periphery of the drop zone.
As far as remarkable turnarounds and revivals go, United's fortunes turned in a couple of seasons following the phase. Sir Alex wrapped up his first English league title with the Manchester club in the 1992-93 season and as we all know, there was no looking back after that.
His transfers too have been the stuff of legend. From personally visiting Ryan Giggs' residence and asking for his parents and his consent for getting him aboard to providing the tutelage and shaping the likes of Roy Keane, Cristiano Ronaldo and Wayne Rooney and making them the stars they are today, Sir Alex's form might be temporary, but class is unequivocally permanent. Managing a quartet of forwards seems to be a luxury only a select few like the seasoned Scot are afforded.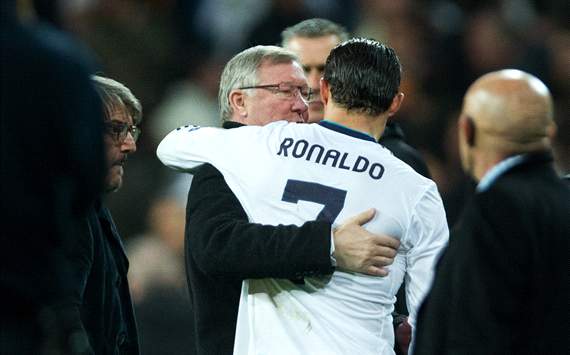 CR7 owes it all to Sir Alex

To the current set of footballers, managers and supporters of the beautiful game along with the others to follow in the future, Sir Alex Ferguson will always be that beacon of leadership, hard-work, and grit and never say die attitude which defines the true nature of the sport. Always pushing for more and striving for excellence, Fergie has made sure that at Manchester United, winning will always be a habit. True, the man who was knighted in 1999 has had his fair share of controversies in a reminiscent career, but still there are more positives than negatives to take from his experiences.
For a manager of Sir Alex Ferguson's stature and ominousity, any amount of grandiose in farewell won't be enough. All one can say is a mighty thank you for all the memories and benevolent congratulations for all the priceless achievements that he has garnered in his more than illustrious career. Though this bittersweet septuagenarian has been immortalized in stone outside Old Trafford, his zestful passion in flesh will always be cherished.
To conclude; as much as one may try to emulate or atone this living legend in the times to come, there can only ever be one SIR ALEX FERGUSON.
What are your favourite 'Fergie Times'?

Don't forget to let us know your views in the comments section or discuss with the writer on twitter @Harsh8Shah
How do you stay up with football when on the move? With http://m.goal.com –your best source for mobile coverage of the beautiful game.