Tottenham manager André Villas-Boas will not have particularly fond memories of the next place Spurs have to visit. Facing his former club at their home for the first time after being sacked last year, the Portuguese manager will face his former club a very confident man given the season his new side have had.
It's been close to 14 months since the 35 year old was shown the door at Stamford Bridge and Chelsea fans thought that they were not going to see Villas-Boas in the Premier League, at least not soon enough.
What these fans particularly didn't realize was that the fact that their owner , namely Roman Abramovich, went to great lengths to sign the man back in the summer of 2011, which simply proved that he saw in him the capabilities to manage side.
One failed campaign does not eliminate a man. And Villas-Boas has proved the statement quite emphatically.
What went wrong for him at Chelsea? It's quite simple actually; He never quite felt settled at Chelsea, with its agitating drifts, internal politics and the overemphasis paid to the moolah.Hence, he will be remembered by the Blues fans for not having a great start, for making the club finish 6th despite the efforts of Roberto Di Matteo in the end.
When he arrived at Chelsea, he was widely regarded to be a manager in the impassive cast: someone who saw football in a series of tactical diagrams rather than a game involving passion and soul. To be fair to the people who thought so, this perception was stiffened in the way he implemented his ideas in the time he spent with the Blues.
However, the same manager who at Stamford Bridge will be remembered for leaving the Chelsea dressing room badly divided, will be thought fondly of (seasons after as well) at White Hart Lane, for creating unity.
Villas -Boas took on a side who knew how to win in their very own tried and tested ways. He had unfortunately inherited a squad at Chelsea that had claimed a league and Cup double 12 months earlier and that could argue, perhaps correctly, that their trusted methods would eventually achieve success. Au Contraire, at Tottenham Hotspur, he has got players who actually want to listen to his ideas and absorb them.
An example of what he can do was displayed in Michael Dawson's resurgence. The English player was told that he was unlikely to feature in the first team and that the White Hart Lane outfit had accepted QPR's £9million offer for him.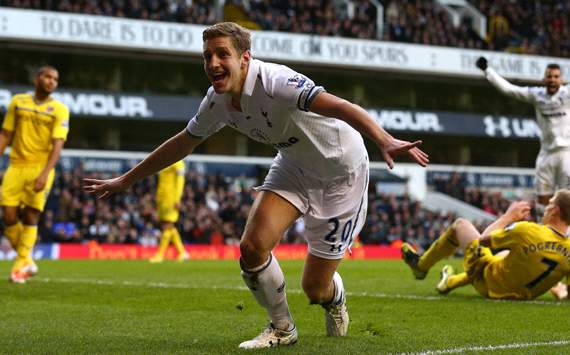 Dawson is now AVB's choice of a leader at Spurs
But Dawson wanted to stay on and find his footing at Spurs. Villas-Boas ensured that once Dawson did find his grip in the team, he would stick with him. This, in fact, did materialize and it cultivated an improved admiration, a new attachment from the players' side for their manager. Should Gareth Bale decide to spend another season with Spurs, his personal relationship with Villas-Boas will be one of the most important reasons which was highlighted when the Welshman ran across the pitch to celebrate with his manager after scoring a late winner against West Ham.
It wouldn't be surprising if the ex-Porto manager will be greeted with hostility at his former stomping ground. When the Portuguese manager had been fired, the situation of Chelsea was pretty awful. There had been only five wins in 16 matches in all competitions. Chelsea looked aimless in the football they played and hence were three points outside the top four. They had been burdened with a two-goal deficit from the first leg of their Champions League knockout tie against Napoli.
However, everything did not remain grey and it seems that it all worked out for the best. For Chelsea, AVB got the axe and his sacking meant that Di Matteo took over at the helm. The Italian ended up winning an unlikely FA Cup and Champions League double with the Pensioners.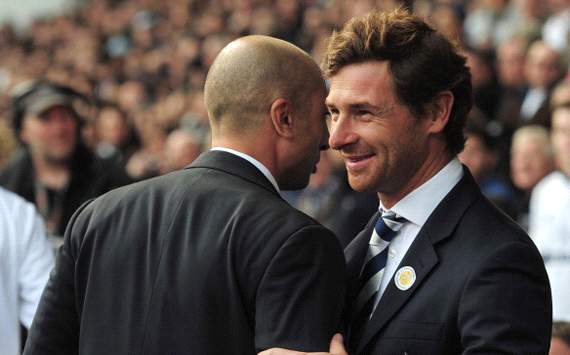 Di Matteo brought laurels to the Blues, unlike AVB

Villas Boas, on the other hand got time to think. He began to realize his mistakes in the failed spell with Chelsea. When Spurs chairman Daniel Levy came calling with an offer to take charge at White Hart Lane, the young manager accepted it and hence began his return to the top.
He hasn't changed his basic principles– he still grooms that unwearied, possession-based style at Spurs but there is more elasticity to his approach these days and more development in his dealings with key personnel.
Coming down to the crunch-tie, the ferocious rivalry ensures Benitez' team will not want to give any freebies to Spurs, even though success against Manchester United has offered them a hint of breathing space. For Tottenham, this is a do-or-die situation. Only a victory would ensure that they earnestly remain in the hunt for Champions League qualification.
If Spurs beat Chelsea, Stoke and Sunderland, Champions League is a given. AVB must focus equally on all the games yet the main emphasis will be on the game where the Lilywhites manager faces his old club. This is going to be his moment. If he wins at the Bridge, he will send in a nice message to Roman Abramovich, from not only his side, but probably from the endless list of managers the Russian has fired.
How do you stay up with football when on the move? With http://m.goal.com –your best source for mobile coverage of the beautiful game.