"I've thought long and hard about it, but I have decided not to extend my contract."

"Out of my huge respect for Mr Wenger, the players and the fans I don't want to go into any details, but unfortunately in this meeting it has again become clear to me that we in many aspects disagree on the way Arsenal FC should move forward."
The gravity of these words from Robin van Persie was something that Arsenal fans just couldn't come to terms with in the summer of 2012. Why would their striker want to leave the club after having such a stellar season with them? Why would he disagree with Arsene Wenger's plan seeing that the club had already signed Olivier Giroud and Lukas Podolski? These were just some of the questions that were being thrown up. Fans meanwhile took to social media platforms to vilify Van Persie by calling him a traitor and abandoning ship when the Gunners had stuck with him during his injury plagued 8 years at North London.
As the Dutch striker prepares to make his return to the Emirates Stadium to face his former club with 20-time league winners Manchester United, he will go there as a Premier League champion, something he never managed to achieve during his time at Arsenal. His £22.5 million move to Manchester was deemed as a money-making venture, but in reality all the Dutchman wanted was to win silverware.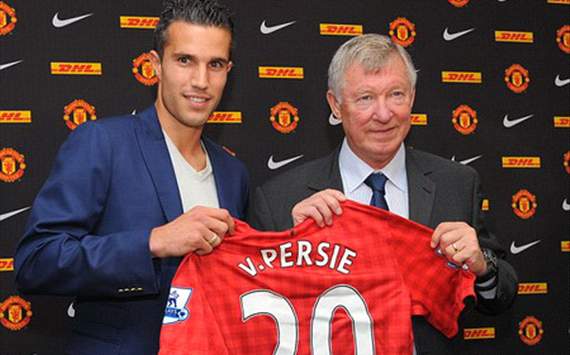 United's New No.20 helped them their 20th league title
The move to Manchester was not based on monetary gains alone. He had offers from Juventus and Manchester City. But United's record in England and Europe along with Sir Alex Ferguson's presence at the club paved the way for his transfer to United.
He is 29-years old, considered the age where footballers hit the peak of their form, and Van Persie has proved that so well. Scorer of 37 goals last season and scoring 24 this year in 34 matches, he has truly shown why Sir Alex paid such a huge amount for him. His partnership with Wayne Rooney has been top notch and has even prompted the Dutchman to state that he would like to finish his career at United.
That intention is perfectly sensible considering that there aren't many takers for a striker who is into his late 30's with no trophies to show for himself.
Arsene Wenger's strange policy of letting his best players go to other clubs is one that incensed Van Persie to an extent that he decided not to renew his contract. The likes of Cesc Fabregas and Samir Nasri quitting Arsenal for various reasons didn't help Van Persie's ambition if winning trophies with the club.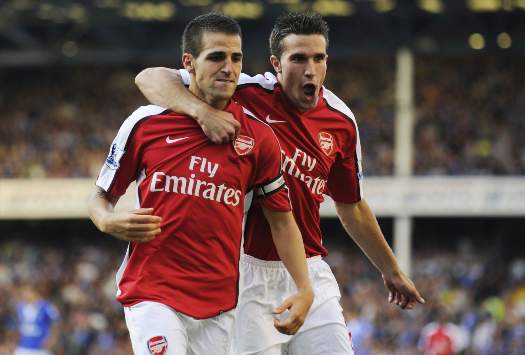 Wenger let some of his best players leave

'Arsenal are a great club but after eight years sometimes you feel that you need a new challenge. If you look at the last couple of months it explains it all. I'm seeing things again that I didn't see for a long time. All these guys here know how to win and become champions.

'When I came to Arsenal years ago, I saw things from Dennis Bergkamp and Thierry Henry I'd never seen before. Now I'm seeing those things again and that makes me really happy. It's like a kid in a sweet shop. It's like, "This is good, this is having fun, this is enjoying yourself".

'All these little things added together make a big difference. It makes me feel that I'm surrounded by champions.'
The above statements from the striker in January 2013 were enough proof of why he chose to leave North London.
Players can be persuaded to stay at a club on two factors – money and trophies. The former Arsenal have in surplus and the latter sadly none in the last 8 seasons. An analogy can be drawn to the Fernando Torres transfer to Chelsea in January 2011. Liverpool were still in the hunt for Champions League football while the Blues were a regular feature in the competition.
Yes, Torres' goalscoring records with Chelsea do not prove that Roman Abramovich was right in sanctioning £50 million for him. However the much-poked-fun-at Spaniard is now one of the most decorated footballers in history. He has won a Champions League and an FA Cup with Chelsea in his first full season at the club which adds to his World Cup and Euro medals.
Every footballer wants to win trophies. That is their sole motivation that drives them to step out on the pitch and perform week in week out. When it is clear that a club is not taking the right measures to achieve that, the player loses all motivation to perform.
Yes, Arsenal fans will claim 'We stuck by him for 8 years as he lay on the treatment table!'
True, but Van Persie's decision to leave London was predicated around the fact that Wenger never really replaced the top players that left the club with similar quality over these 8 years. Had he done that, fans might have just seen Van Persie playing for the home team this Sunday.
How do you stay up with football when on the move? With http://m.goal.com –your best source for mobile coverage of the beautiful game.