All the credit for the thumping 4-1 thrashing handed out to Champions League favourites Real Madrid by Borussia Dortmund predictably fell to the indomitable Robert Lewandowski who scored all four of his team's goals. He demonstrated a tremendous desire to score from any situation, besides showcasing his masterful poaching and technique on display to the bewildered Real Madrid lot.
When the Black Yellows reigned supreme at the Signal Iduna Park, credit was also shared by departing playmaker and prodigy, Mario Gotze who was at the heart of most of the goals. Although he had initially started in the middle, he was all over the pitch, drifiting out wide onto the flanks, cutting in between and changing wings at will.
This played havoc with Mourinho's tactical ploy of using Xabi Alonso to man mark the young midfielder. As he drifted wide, Alonso was too circumspect to vacate his midfield position and thus allowed the player who is on his way to rivals Bayern Munich to wreak uncontrolled devastation.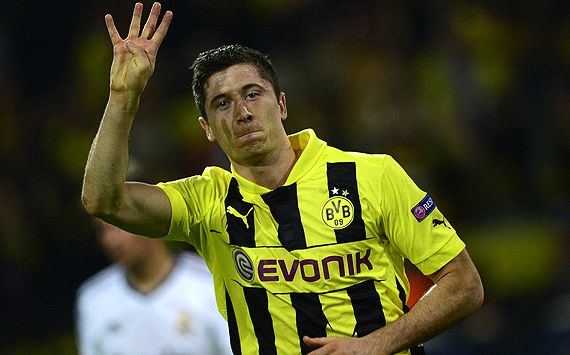 That's right - four of the best!!

The ever so direct Marco Reus was also at the forefront of most things good for Die Borussen as he complemented Gotze's movement and creativity with direct and penetrating play. When he received the ball and ran at the Madrid back line, all hell broke lose as he skipped past challenges and even if he failed to get a shot, he successfully managed to open up space for others to exploit.
Although widely considered a team effort, it is very difficult to take your eyes off the usual suspects, the attacking trio for the record breaking victory against the most successful team in Europe for that matter. Forget the scoreline or the margin, it could have been easily worse for Madrid if not for Diego Lopez, but the sheer force with which the Black and Yellow overran their much vaunted opponents was indeed scary, and bitterly surprising for the away fans who are used to seeing their team steam rolling opposition rather than being on the receiving end of such punishment.
What statistics and numbers might not prove but anyone who was witness to the dismantling of Real Madrid would be inclined to agree the telling contribution of the 22-year old Ilkay Gundogan in midfield. On paper he had completed four out of four attempted tackles in the match and also had taken on opposition players thrice and won each time. Nothing significant to write home about, for sure.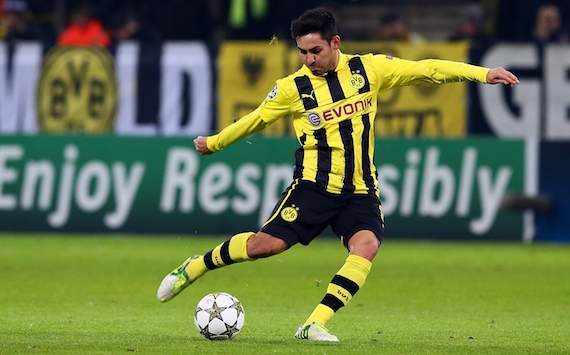 Gundogan was the puppet master in midfield
If this were a rock band, while Lewandowski, Gotze and Reus would predictably be the vocalist, lead guitarist and drummer taking all the plaudits and acclaim, Gundogan would be the quintessential bassist. Just like in a band, it is the bassist who has the most crucial role as he ties up everything neatly together with his subtle cues. However, if a guitarist misses a chord, hardly anyone will notice while if the bassist makes a mistake, it will be instantly noticeable.
Yet it is the bassist that links harmony and rhythm and drives the entire band on his shoulders. That would indeed be an appropriate persona for the lad who works tirelessly but is overshadowed by his much vaunted peers. Yet he is the one who links everything up, and that would be Ilkay Gundogan.
Every attacking move was begun by Gundogan for Dortmund. In the first half he had started deeper than usual which allowed Madrid to come back into the game, after the first fifteen to twenty minutes of unrelenting Dortmund pressure. His work was exemplified in the second half when he ventured forward more often, with Sven Bender being stationed further back. This was when Dortmund actually turned on the style, romping over a hapless Madrid team.
While he did intercept the pass and start a new attacking move, it was his timely runs from midfield which added an extra man in the Dortmund attack, that really made a mess of Mourinho's and Madrid's tactical discipline. Especially in the second half, he would play a quick one-two with Reus/Gotze before striding forward to link up with Lewandowski and also opening up space for his team-mates to exploit.
Lewandowski might have run away with the match ball, while Gotze's telling contribution might have been fresh on everyone's mind, but it was Gundogan who was the engine and driving force for his team.
Follow Kaustav Bera on

How do you stay up to date with football when on the move? With http://m.goal.com – your best source for mobile coverage of the beautiful game.