COMMENT
By
Shikharr Chandra
When you look back at Robin Van Persie's career one would feel that at the age of 29 the Dutchman has underachieved. Plagued by injuries, an FA Cup title is all that the prolific Dutchman had to show during his time at North London. It was going wrong for the former Feyernood forward, until the 2010-11 season where Van Persie had finally looked to have found his feet scoring 22 goals in 33 appearances for the London side. What followed next really defined Van Persie as he announced himself as arguably one of the finest center forwards in the modern era as he ended as the season's top scorer.
With Samir Nasri and Cesc Fabregas moving away from the London club, Van Persie knew his chances to secure a league title with the Gunners looked bleak which paved the way to his move to the 'Theatre of Dreams'.
Unveiled as the club's new #20, Van Persie made his decision to join Manchester United very clear.
"I've taken the No.20 shirt because I'm here to win a 20th title with United,"
said van Persie, who was true to his words. His stats at United have been no less than extraordinary. The Dutchman equates to 31 per cent of the Red Devils' goals in the Premier League this season and has provided more assists than his team's wingers.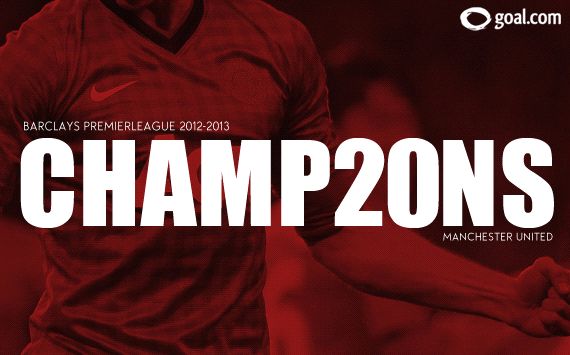 Van Persie was key to United's success
So when Van Persie scored arguably one of the goals of this season from a Wayne Rooney lofted ball on Monday night against a listless Aston Villa side, he not only moved above Luis Suarez as the league top scorer, but he achieved what he had set out to do - win the league. The Dutch forward put on a match winning performance with a first half hat-trick as he stamped his authority into the Old Trafford outfit and emerged as the leading contender to win the Player of the Season award for the second consecutive season.
"I'm very happy but it's weird. I had to wait for so long for my first title and it's a great feeling. The manager has great desire and a winning mentality. We all buy into that and want to do well for the club." - Van Persie
Having lost the title to neighbours Manchester City last season in dramatic fashion on the final day, Sir Alex was adamant to win back the league. It was the hunger and unwavering desire that lured Van Persie to the red half of Manchester, a feeling that was clearly missing at the Emirates stadium.
Van Persie's signing was questioned by many. Nobody thought the club needed another striker given that they already possessed amazing firepower in Wayne Rooney, Javier Hernandez and Danny Welbeck. But it's hard to question Sir Alex's judgement over signing players. Over the years the Scottish manager has made some remarkable acquisitions in Cristiano Ronaldo, Eric Cantona, Wayne Rooney and now Van Persie joining that elite list of Fergie's most inspired signings.
So what is so different at Manchester United?
During his early days at Arsenal, Van Persie was surrounded by the likes of Dennis Bergkamp, Thierry Henry, and Patrick Vieira. As the years passed by they got replaced with the likes of Gervinho, Aaron Ramsey, Nicklas Bendtner, and Theo Walcott to name a few. Although there was Cesc Fabregas but it was clear that the standards at Arsenal had fallen drastically while the likes of Chelsea, Manchester United, and Manchester City moved from strength to strength.
"I am seeing things again which I haven't seen for a long time. When I first went to Arsenal years ago I saw things from (Dennis) Bergkamp and (Thierry) Henry that I had never seen in my life before. Now I am seeing those things again and that makes me happy.
"It's like being a kid in a sweet shop. This is having fun, enjoying myself. That's what I am doing, I'm just having fun."
Into his last season, Arsenal did manage a third place, but it was clear that the club still lacked ambition when Van Persie saw the likes of Cesc Fabregas and Samir Nasri moving away for a better challenge. Remember Arsenal are one of the richest clubs in the world, but it has been a case of taking one step forward and two steps back when they allowed key players to leave the club every year. This was one of the key reasons in RVP coveting a move to a title-winning club.
In a statement Van Persie made after his meeting with Arsene Wenger and Arsenal boardroom member Ivan Gazidis he mentioned,
"it again become clear to me that we in many aspects disagree on the way Arsenal FC should move forward."
Some may see that as a final dig on his previous club but in reality time was running out for the Dutch international for a chance to finally win a trophy and to do so at Arsenal the chances looked very slim.
There were question marks at the start of the season regarding Manchester United's squad and how it could challenge for the title but the side showed charecter and were worthy winners in the end. Rafael, Michael Carrick are some notable names who were other notable performers at Old Trafford, but one guy stood out of the lot this season for the Red Devils and that was Robin Van Persie.
On Sunday as the Gunners get set to welcome the league winners, they are set to welcome Robin Van Persie as a champion and it seems fitting to say that his decision to leave Arsenal has finally paid off.
Do you think Van Persie was right to leave Arsenal? Leave your comments below or discuss with the writer on Twitter

@ShikharrC.
How do you stay up with football when on the move? With http://m.goal.com –your best source for mobile coverage of the beautiful game.