Aditya Bajaj

Comment | Serie A

Follow on
Okay first things first, Barcelona were absolutely hammered, but it would be naïve to suggest that they are finished just because they have been a little rough and uncertain in their gameplay this season.
The truth is, this season should be an eye opener for a side that had been - very complacently to say the least - ignoring their defensive problems which had started to become more and more evident with their continuous dominance around the continent. That their highly possessive and pressing game shielded them for so long only led to their downfall, and over the summer these are the issues that need to be addressed by the management even though its one season too late but its always better late than never.
The core of the team is still young, Messi is still Messi and will continue to rise for years to come but European football has always been about eras of dominance by a particular club and what Bayern only did was to mark the end of another one.
If Madrid dominated for five years from 1998-2002, the Rossoneri followed the footsteps stamping their own authority over the continent as Milan were the undisputed kings until 2007, only to be taken over by Pep Guardiola and his team of La Masia graduates who on Tuesday after a glorious five year spell passed on the baton to Bayern Munich who would look to consolidate their new found status as Europe's very best regardless of whether they win the Champions League in Wembley next month.
But what's interesting about next season is the fact that it bring backs with itself the good old days of Europe as the Champions League promises to be one the most fiercely contested in a long time as players – both and old new – look to gate-crash a competition so heavily dominated by the Spanish and the English (barring the last two seasons) over the last five years.
That the likes of Real Madrid, Bayern Munich and Barcelona will start off as favourites once again is known but Manchester United have tasted blood once again led by the ever-hungry Robin Van Persie and the Italians are slowly re-building to reclaim a region they have dominated historically.
Oh, did we forget to mention another force that has bought its way into the big league but nevertheless is a strong unit in the making?
Yes, if this season's performance in the Champions League is anything to go by, Paris St. Germain is certainly a team nobody would like to be drawn against as they proved what they are capable of over the two legs against Barcelona and as some would claim (rightly so) were only undone by the shabbiness of their own forwards as opposed to the Catalans' brilliance. Zlatan Ibrahimovic is playing the best football of his career, while in Lucas Moura they have the new shining star and it must not be ignored that Carlo Ancelotti and Leonardo are doing a great job at the helm of the capital club led by an inspirational captain in Thiago Silva who is undoubtedly the best defender in the world today.
Money is flowing in Paris from the Middle East, and if they continue like this, glory shall follow too.
The next season will also mark the return of the Italians as Juventus and Milan are successfully developing despite the crippling financial conditions in Italy. Financially stable off the pitch and very much able on it, 2013-14 would be crucial if Serie A wants to reclaim that fourth spot from Germany.
Juventus are already a formidable force and with clear deficiencies upfront, the signing of Fernando Llorente definitely makes them stronger and potent in attack – the one area where they have been badly misfiring over the past two years. What happened against Munich was an experience that they have taken home as despite the stature of the club, it is important to note that the most of the squad as a whole hadn't really experienced the magic of the Champions League before this season thanks to their absence from the continent's biggest football tournament for so long.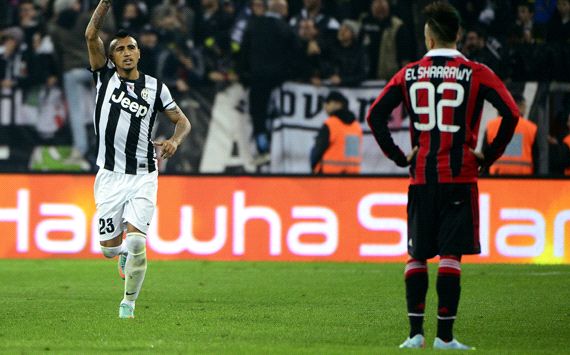 House of veterans no more | Youth is helping Milan and Juventus build a strong Italian contingent
Milan on the other hand, have shown great character despite a disastrous start to the season which threatened to spoil everything that Silvio Berlusconi had built over the course of his 25 years as club president. In shambles due to the heavy exodus last summer, they have turned around their season and you have to give it to this young side for leap frogging almost one half of the table in the league to sit on third albeit their recent form suggests they need to play their last five rounds like five cup finals. Gravely cutting down on their losses from the past two seasons, the Rossoneri are healthy again financially but rightly so will stick to the new policy of breeding youngsters that has seen the likes of Stephan El Sharaawy, M'baye Niang, Mattia Di Sciglio and Mario Balotelli take centre stage and kick start a new era in their history.
This is a young side and in Ricardo Montilivo they have finally replaced Andrea Pirlo whose elegance from the middle of the park was sorely missed but has been fulfilled by the former Fiorentina midfielder. A good centre back and another midfielder this summer and the Rossoneri are all set for the competition even though they need to make sure they hold on to their position in the league or risk spending next season in Europe's second tier competition.
But it's the English teams that would be eager to make an impression once again come September. Heavily embarrassed over the past two seasons despite Chelsea's shocking Champions League triumph last May, it would be interesting to see how they bust the myth that their time in Europe is up.
United have just re-claimed the Premier League from their noisy neighbours and with Van Persie having finally tasted blood and won his first major trophy, Sir Alex would be looking forward to continue the winning spirit and momentum going into the next season. They were unlucky to bow out of this season's Champions League for reasons known to everyone but certainly little bit of character could do wonders for the Premier League champions who reached three finals in four seasons between 2008-2011 but have struggled to make an impression since.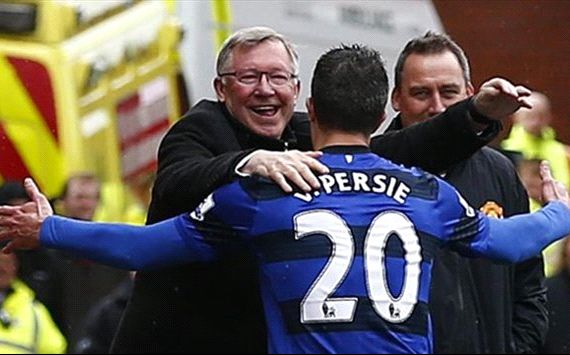 Another shot at Europe before retirement | Sir Alex and RVP will look forward to take their form abroad
Chelsea on the other hand, will look to put this season behind them and with that in mind and some obvious spending in the summer to further strengthen a squad that is undergoing a period of transition, will look to cement their place back amongst the big boys of Europe. However, rest assured the next few months will be dominated by some boardroom news as they are yet to decide on who will lead them from the bench with Rafa Benitez heavily tipped to complete his interim term and leave the club. A blue fan however would hope they don't forget their problems in the middle of the park and their desperate need for a world class central midfielder.
It will be interesting to see what City can do though. Will they once again phase out of the tournament like the last two seasons or will the horrifying but very valuable experience help them get past the group stage? Well, one thing is for sure. Their UEFA co-efficient indicates a tough life in the early stages of the competition and they should be prepared for another rough ride as another group of death beckons.

Amidst all this discussion and big talks about how the big sides are set to dominate once again, you many wonder why there isn't a single mention of Borussia Dortmund who thrashed Real Madrid on Wednesday to make a case for these year's title against all odds. But with their two best players bound to leave at the end of the season, you do pray that the team doesn't dismantle like other teams in the past who have fallen prey to the big spending giants of club football.
If that 4-0 hammering of Bayern Munich back in 2008-09 kick-started Barcelona's dominance which has led many to believe that this was indeed the best team to have ever played the game, its ironical how it has ended with a 4-0 thrashing of their own by the very same Germans who used that defeat four seasons back to introspect and build a side that has already started to strengthen further having already signed Pep Guardiola and Mario Gotze for next season.
Good news is that the old days are coming back, and next season awaits where most of the major football clubs will have their shot at going far in the tournament.
Rest assured that next season club football's biggest competition will not be about a handful of teams from Spain or England, but will certainly live up to its name.
Brace yourself for some competition come September.
Don't forget to let us know in the comments section below or discuss on twitter@adityabajaj
How do you stay up with football when on the move? With http://m.goal.com –your best source for mobile coverage of the beautiful game.