While many in the football world were shocked following last night's demolition of Barcelona by Bayern Munich, some may have seen it coming given that the Catalan side haven't been at their best this season. The signs were ominous. Barcelona had only won twice in their five away ties in the Champions League this term and even suffered a defeat against the unfancied Celtic.
The manner in which they were exposed by a depleted Milan side sans Mario Balotelli was there for all to see. This was followed by their so-so performance against Paris Saint-Germain in the quarter-finals where, as Carlo Ancelotti rightly pointed, they were eliminated for wasting their chances at home with Zlatan Ibrahimovic and Ezequiel Lavezzi among the culprits. Over the two legs, Barcelona couldn't breakdown PSG's resistance and made it into the semi-finals only on account of their superior away goals. Now when was the last time that happened to Barcelona?
What Bayern did was not rely on possession but instead altered their strategy to expose Barcelona's frailties. You don't have to be a Jupp Heynckes to know that the Spanish side's defence is brittle and doesn't have the tactical nous or the personnel to put in consistent performances against top teams.
On Tuesday night, Carles Puyol and Javier Mascherano were injured, Adriano was suspended while Eric Abidal had only just recovered from a major health scare. Tito Vilanova was left with Gerard Pique, who despite being in the FifaPro XI, was benched for several games by Pep Guardiola as his form dipped last term. Furthermore, a young Marc Bartra partnered the underperforming World Cup winner at the heart of the backline.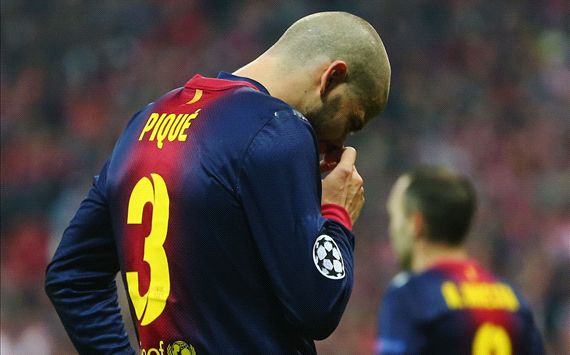 Not at his 'Pique' | The only regular defender available
Dani Alves was out-jumped on two occasions, Jordi Alba was unable to cope with Arjen Robben and Phillip Lahm while Pique was guilty of being in wrong positions in the first, second and fourth goals.
Barcelona had no one to call from the bench in order to minimize the damage done at the Allianz Arena. They could point towards the offside goals and the push on Alba in the build-up to Robben's goal, however one can't deny that the Die Roten were superior on the night.
It points to Barcelona's flawed transfer policy where they failed to plug in the defensive holes and had to pay the price against 'FC Hollywood'. While it is a known fact that Puyol's creaky knees have lessened his playing time over the years, Barcelona failed to sign an able replacement.
Yes, they were indeed linked with Javi Martinez last summer, but they couldn't meet his sell-out clause and the Spaniard instead joined the Bavarians and in many ways, was one of the key cogs which led to the Blaugrana's downfall.
Martinez was a constant menace for Vilanova's boys. He made late runs into the box so as to cause panic in the opposition defence. He kept Andres Iniesta on check and never really allowed him to break free and have a shot on goal, except on one occasion which went wide.
Martinez closed down the space for Barcelona along with his partner in crime, Bastian Schweinsteiger and didn't give Xavi and Iniesta the comfort to send in through-balls behind their back four, which were difficult to execute anyway thanks to Bayern's deep back-line that offered little to no space behind them.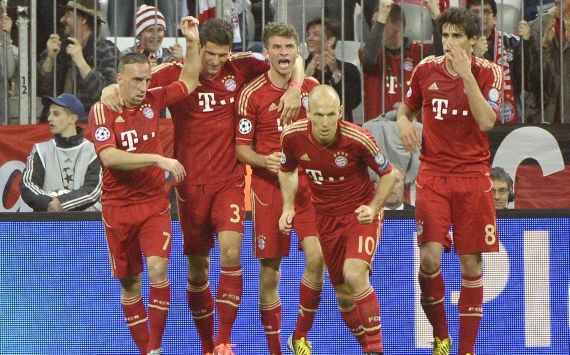 Stamping their authority | Bayern were far superior on the night
After missing out on the prized signature of Martinez, who can also play at centre-back, Barcelona chose to rope in the services of Arsenal's Alex Song, with Jordi Alba from Valencia being signed during the Euro 2012 to cover for the left-back slot.
Song, who many believe is a defensive midfielder, wasn't very good in his duties to tackle and stop the opposition attacks in his time with the Gunners. He was more effective when going forward and provided several assists to Robin Van Persie in the last campaign.
All in all, Barcelona had signed a 'defensive' player from a side who are known to let in goals at crucial junctures. No wonder, he was named among the biggest flop transfers of the summer in the Primera Division. If he was a half-decent player as he was perceived to be by Barcelona, he should have found a berth in the line-up either as a centre-back, where he has occasionally played for Arsenal or in the middle of the park with Sergio Busquets slotting alongside Pique. This would have added experience at the back and avoided the naivety shown by the Spanish U-21 international Bartra.
It wasn't just a case of the signings last summer, they should have snapped up a centre-back a year earlier but instead preferred to sign Cesc Fabregas despite having an array of midfielders from the youth set-up waiting in the wings for an opportunity. Not to forget the talented Thiago Alcantara who hasn't availed many chances and is getting increasingly frustrated, as was spoken about by his father.
Barcelona spent well over 100 million Euros on Zlatan Ibrahimovic, David Villa and Alexis Sanchez to find an astute partner for Lionel Messi. However, they never really had to depend on any one of the trio as the Argentine was at the peak of his powers and Barcelona have never really made the most of the above mentioned attacking players after the outrageous transfer fees they paid for each of them. Yes, Messi kept ticking and Barcelona added more to their trophy cabinet which saw many turn a blind eye on their mediocre transfer policy.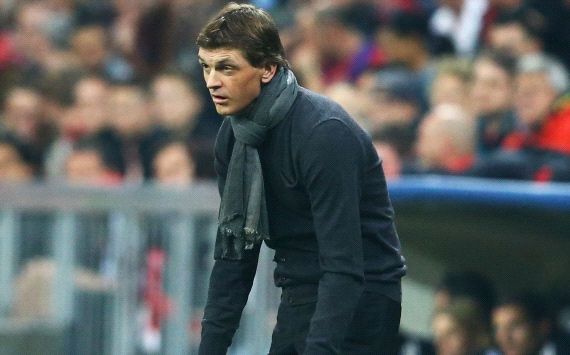 Stunned | Vilanova had no answer to Bayern's strategy
In the absence of Pep Guardiola, this aspect has certainly been exposed in the defeats to Real Madrid in the Super Cup, Copa Del Rey and the La Liga. Teams have learnt how to play against Barcelona by letting them have the ball around the half-line but to harry them off it by closing down spaces in the middle and attacking third. Counter-attacks work best against them owing to their full-backs not being defensively the strongest and neither do their centre-backs have the capability to provide cover. The space at the back is used intelligently by the opposition as was demonstrated in the third minute when Robben and Martinez combined for the former to have a pop on goal.
Heynckes made the most of the above mentioned issues and masterminded a famous win over the Blaugrana to avenge their 4-0 defeat in the 2008-09 campaign at Camp Nou. It must be remembered that after the 2-0 defeat to Milan at the San Siro, Pique had categorically stated that his side will score four goals if need be and indeed they did. None of such bombastic statements were heard but instead you had acknowledgement of the superiority of Bayern. This is a huge fillip for the German side and a matter of pride.
While Barcelona will look to comfort themselves by stating that the Primera Division is their priority, the fact is that they do need reinforcements at the back as they haven't been good enough.
It's time to introspect for the Blaugrana faithful.
How do you stay up with football when on the move? With http://m.goal.com –your best source for mobile coverage of the beautiful game.