COMMENT
By Harsh Shah
Fernando Torres' shock move to Chelsea turned out to be a rather cold one. Not just due to the timing of the transfer but also the nature in which it has panned out. Torres packed up and made his way to London from Liverpool in January 2011, putting pen to paper on a contract with Chelsea on deadline day of the winter transfer window. What was then sighted by the Spaniard to be a decision that would take his career graph upwards has actually turned out to be an affair turned sour, backfiring on him in more ways than one.
Stamford Bridge has hardly been 'home, sweet, home' for Torres who was a cult hero at Anfield. The 29-year old who currently is on a one-off purple patch of sorts has had to endure massive periods of goal drought and dip in form which led to resentment from the supporters and lack of first team action. His first half-season (2011-12) was absolutely torrid to say the least as the tornado-some lethality of 'El Nino' had died down to a rare whiff of air.
Reflecting on the former Atletico Madrid star's forgettable stint so far at Chelsea, Gary Neville's honest quote on the striker sums it all up:
"Torres has been playing like he has for two-and-a-half years now. That's not a dip in form; it's a change in the player."
Of all the Merseysiders, if there ever was one at this point in time who needs to take notice of all these facts it would be Liverpool's go-to-man this season: Luis Suarez.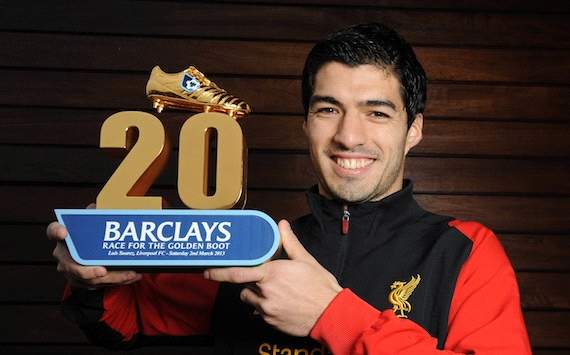 A high-flying Suarez has generated massive interest from Europe's top teams
As the Premier League's leading marksman with 22 goals so far, Suarez has been in the news lately not just for his goalscoring exploits and stellar play but also for a possible big money transfer in the summer. Juventus and Bayern Munich are the two huge names to have been linked with the Uruguayan so far with Manchester City too keenly interested.
The ironic bit for a team like Liverpool is that when any player of theirs is doing exceedingly well, nine out of ten times the man is sure to be linked with a transfer to a Champions League playing outfit. The 5-time Champions League winners' inability to provide their star players exposure in the continent's elite competition is turning out to be a nightmare.
Steven Gerrard came tantalisingly close to making a move to (again!) Chelsea few years back, but barring his exception, not many would have turned down such lucrative offers. The 26-year old Suarez is in the peak of his game and clubs all over Europe will be vying for his signature when the transfer window re-opens. Of all the clubs, Bayern seem to have an unusual advantage given their manager-elect Pep Guardiola's brother is said to be Suarez's advisor!
The former Ajax captain who arrived at Anfield just a few days before Torres' unpredictable departure to Chelsea, might just follow in the latter's footsteps in want of Champions League football and successive glory. He stands at similar crossroads as the Spaniard: He is at a similar age, has proven himself to be a world-class forward and has etched his place in Liverpool supporters' hearts.
TORRES THE NORTH STAR FOR LFC'S SUAREZ?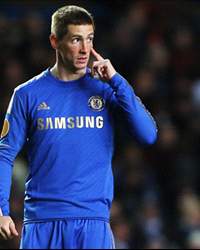 Went his first 903 minutes with Chelsea goal-less
First season-return: 1 goal in 18 appearances
LFC record: 81 goals in 142 appearances
CFC record so far: 32 goals in 123 appearances
For one, Suarez's desire to play with a better team than the Reds is not one bit unfair on his part. The club has been doing worse than they did in Torres' time in terms of position in the league table and it is clear Liverpool are not the European force they once used to be. So if he does bid adieu to his current employers in the summer, he won't be as condemned as Torres was.
Either ways with football being the unpredictable sport it is, could spring up a Torres-like scenario in the Liverpool No. 7's case; hence he better weigh up his pros and cons before taking a decision.
One may argue Suarez is a player of higher quality, strength and technique than Torres. But then the point has only come into contention given Torres' flop transfer to Chelsea. If for instance his move to Chelsea or some other club would have paid off, Suarez might not have been attributed relative superiority to the Spaniard. Torres too back in the day was the man who came on and invigorated the side, created chances, scored goals, led comebacks, salvaged points, scored sensational last minute winners, playing arguably his best football at Liverpool by a long standard. With that Torres, Suarez is neck to neck.
The Chelsea No. 9's drastic meltdown as a player has been due to his out-of-place nature in their formation, injuries, and some genuine bad luck. Many even see its the wrath of the Liverpool faithful proving to be a bad omen for him! Well, who is to say this cannot recur in Suarez's case if the Uruguayan goes in search of greener pastures?
Another element to his game which Suarez boasts over Torres is his fiercely nagging street-fighter nature. True, it has reaped a lot many dividends for the sides he has performed for, but still it is a cause for concern too. The supporters and club have stood by him in the darkest of times; there is no writing on the wall that other clubs would follow suit to that trend. No offence to Liverpool, but teams like Bayern Munich could have a sterner approach to his antics given their ruthlessly efficient models.
His case at the club he moves to must not end up in him assuming the bad boy role and landing himself in trouble (yet again). Mind you, Suarez has an innate knack of attracting controversies. The Ottman Bakkal ear-bite while at Ajax, the Patrice Evra handshake saga, showing the middle finger to Fulham fans and a whole lot of dissent shown to the referee and his linesmen are incidents that emphasize that aspect to his game. He is a fighter, and fighters attract trouble likewise to success. The problem is it might not be taken well elsewhere.
What the club needs to do is make a statement of intent towards Suarez himself with their actions early on in the summer – sell the misfits (there are quite a few in the team which will most certainly see an overhaul in the close season) and buy another quality striker to increase the potency upfront. Also, the defense needs quite a bit of clogging, as many a time this season they have been unable to keep a lead. With a the rear watertight, the advantage given by Suarez & Co with their goals upfront will be guarded better.
Prospects like Christian Eriksen of Ajax need to be snapped up early into the transfer season so as to reassure supporters and star players like Suarez and Steven Gerrard alike. Otherwise they might lose Suarez to an offer he just cannot refuse.
Will Suarez make a move or resist temptation? If he moves, will Torres' curse befall him? Let us know by placing a comment below or by getting in touch with the writer @Harsh8Shah
How do you stay up with football when on the move? With http://m.goal.com –your best source for mobile coverage of the beautiful game.