COMMENT
By Harsh Shah
Manchester United
have all but won the 20th Premier League crown with a handful of games to go. While business might seem usual with the Red Devils at the top of the pile, it actually has not been the case this season. Among the many discussions regarding the table-toppers, the one relating to
Wayne Rooney
is most fascinating. The former Everton prodigy has had a bittersweet campaign this time out so to say, with injuries and positional shuffling accounting for most of his headline-making.
Rooney's deployment in the United ranks has been observed, analyzed and criticized in multitude as the season has progressed. And why not? He is one of the team's most valued players and has been the difference between victory and defeat on countless occasions in the past in a red shirt. So where he plays on the pitch is definitely of paramount importance to the side's showing.
Speaking of which, Rooney has more often than not appeared either behind the main striker in an attacking midfield position or as an out-an-out central midfielder than as a forward. His most recent midfield salvo came in the 2-0 away win over Stoke City in which he was excellent. He has showcased his stellar midfield prowess all throughout the season, reveling at the tip of a diamond midfield in performances against Newcastle United (Capital One Cup and Premier League) and CFR Cluj (Champions League) among other ties.
But here is something to ponder upon – Has the four-time Premier League winner's versatility become a problem for him? Is the furious wrath of the talent that is Wayne Rooney unleashed the most when he takes over the reins in attack? The answer to that might be an arguable YES!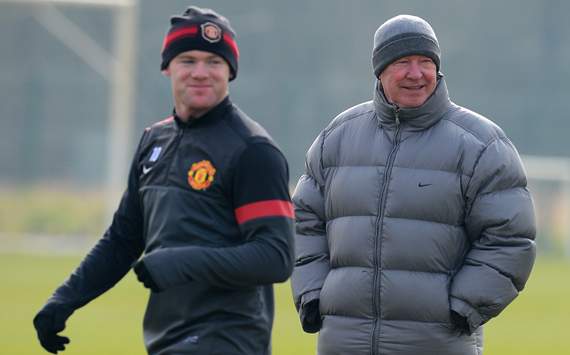 Solve the midfield crisis | WR10 assigns a future role for himself
Let's take what Rooney himself had to say about playing in midfield at the start of the season in consideration. "I get more of the ball, I'm involved loads and, after one game, I even think about playing there permanently, but only later in my career." He also added; and this is interesting, "Once I feel that I haven't got the sharpness needed to get away from defenders, I'll probably drop back into midfield for a couple of seasons so I can still influence the game." These were his quotes back in September, reflecting upon his role in the centre during previous season's midfield injury crisis. Fast forward almost another season and Rooney is actually playing where he thought he would a few more years down the line.
On the point of years, another fact worth noting is that Rooney is still just 27. This is the time he is supposed to peak and score plenty of goals at his optimum best. Rather, he is being played in the midfield position which someone like Ryan Giggs has donned only a few years previously, only after reaching 30+ and gaining a lot more experience than Rooney has at this stage. Giggs now at the age of 39 is being deployed in a central midfield role, whereas he was always your archetypical winger – one of the greatest ever. The same may be said for Paul Scholes. He spent a lot many years in an attacking/striker's role before settling down as the dependable central medio, honing his outstanding short/long range passing skills to the maximum. Rooney too is more than capable of achieving such great heights, but a bit later on in his career, one would suppose.
Let's face it – The reason Rooney has had to adapt is because of Sir Alex's prolonged midfield conundrum. Scholes is a waning figure and Giggs a sparing presence. Darren Fletcher looks like he will remain further on the sidelines and Anderson is waiting to push open the exit door. That leaves the trio of Michael Carrick, Tom Cleverley and Shinji Kagawa. The Japanese has failed to find his feet in his first United season and Cleverley has been an impressive starlet who has still to hit top gear. Result: Carrick is the only mainstay in midfield. He too is 31 now. And given Rooney's flexible nature, he was the man to fill in yet again.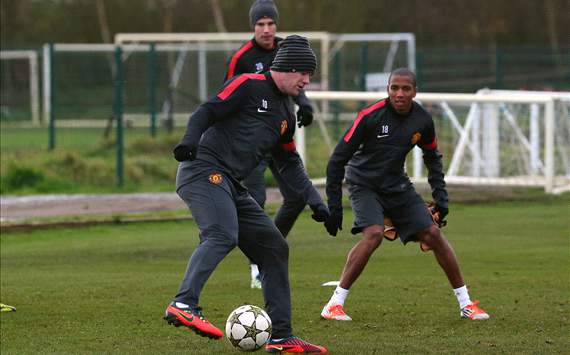 The next line of attack | What United's frontline could look like
Much has been spoken of United signing the next big center forward in Falcao or some another big name, but many would concur on the fact that investing in strengthening their midfield is the need of the hour for, more so now given their misfiring wingers. It would mean a win-win situation of sorts for Rooney and the club if that was to manifest.
One can also say that Robin Van Persie's acquisition has panned out as a bittersweet affair for Wayne Rooney. While the combination was likened to a Hollywood billing at the start; individually for Rooney it has been a hidden debacle of sorts. A mixture of injuries, good form of the Dutchman, genuine shuffling by Sir Alex by fielding Javier Hernandez and Danny Welbeck with the former Arsenal skipper has either left Rooney on the bench or in an attacking midfield role.
The one-time PFA Players' Player of the Year winner is now nearing a decade with the Old Trafford club. He has seen a tremendous transformation of sorts; now a settled maestro compared to the blitzkrieg of a talent who made his way from Everton to Manchester, taking the football world by storm with his amazing goal-scoring display in Euro 2004.
His innate ability to influence the game from any part of the turf has come back to threaten his lethality as a center forward. True, Rooney does boast of superior levels of adaptability, but that doesn't mean he is robbed of his primal desire as a footballer: leading from the front and scoring goals. Sir Alex stated that he had deployed Rooney in the heart of midfield against Stoke to help him regain his confidence. Imagine what a goal or two as a striker would have done to his morale then?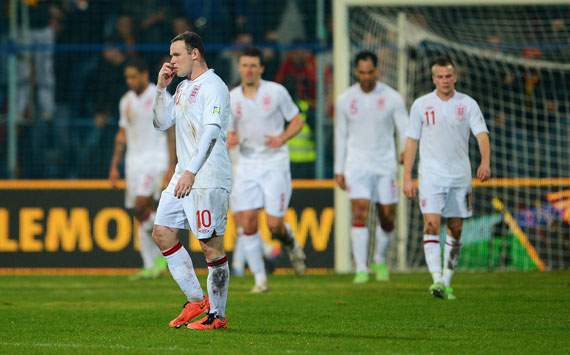 England duty beckons | How Rooney fits in Roy Hodgson's scheme
He is happy to take one for the team and help out from wherever he plays, but now with the World Cup upon us in just over a year's time, will it do England and Rooney's credentials any good if he continues to man the midfield? England are ably horded in midfield with the likes of Steven Gerrard while the attack needs a spearhead with the class of Rooney. What Roy Hodgson makes out of the United No. 10's current scenario is also worth foretelling.
What has happened here is that United's glaring success has overshadowed Rooney playing out of position. In hindsight and to the layman, since United have kept getting their results this season and almost grinded out yet another league title, the ploy of using Rooney as a midfielder looks like a strategy well planned and executed; but if Rooney as a player and his career at United or otherwise were to be examined in specific, it might not be viewed as that great a decision.
A case of loss of potential because of being played out of position might be sighted by the shrewdest critic. The instrumental Rooney could go on to win a lot more titles and trophies with United, but pundits, critics and a few analytical supporters alike may just ponder over a case of what might have been.
He could go on to settle down as a midfield general now, or raise his worth to an even higher level as a forward, which comes to him more naturally, in the coming seasons and then play out his career at Old Trafford reminiscent to Scholes on trekking to the other side of 30. Injuries, Sir Alex Ferguson, and Rooney himself shall script the future of this footballing tale.
What are your thoughts on Wayne Rooney's role? Let us know by placing a comment below or by getting in touch with the writer @Harsh8Shah
How do you stay up with football when on the move? With http://m.goal.com –your best source for mobile coverage of the beautiful game.