COMMENT
By Hyun Min-Kim
It seems that the duopoly in Bundesliga is now becoming a given fact. Last year Dortmund won the league, setting a new record of points (81) while the runner up Bayern was nine points ahead of third place Schalke. This season it is a similar story. Die Roten won the championship within 28 rounds and second placed Dortmund is leading Bayer Leverkusen by eight points.
Not only in the domestic league but also in Europe, both teams have reached the semi-finals of the Champions league showing their growth.
Last week in the league, Jupp Heynckes' side demolished Nurnberg 4-0 even though they fielded a second string line-up while Dortmund also triumphed against Greuther Furth, 6-1 in front of Jose Mourinho. Among Bayern's players there were debutants Emre Can and Pierre Emil Højbjerg.
So how are these two teams dominating the league in such a brutal manner? First of all we must talk about Die Borussen's recent success. During the mid-2000's Dortmund was actually a financially stricken club which almost went bankrupt. But after Hans-Joachim Watzke became the CEO and Michael Zorc took charge as the director, Dortmund has recovered through intelligent management. Moreover in 2008 Jurgen Klopp became the manager, step-by-step leading them to glory.
Consequently Dortmund won back-to-back championships from 2010-11 to 2011-12, which eventually hurt Bayern's pride as Germany's dominant giant.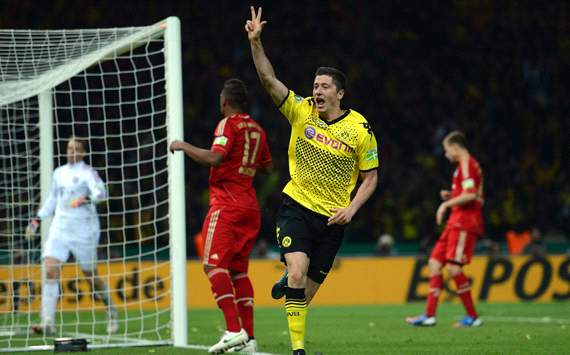 Dortmund, the two-time Bundesliga defending champions, have lost their crown to Bayern this season...
Frankly speaking, there is no other team which can compete with the financial might of FC Hollywood in Germany. That is why they won the league 23 times during the 50 year history of Bundesliga.
Their financial strength was demonstrated over the summer, when they spent €70 million in the transfer market. They bought in Mario Mandzukic, Javi Martinez, Dante, Xherdan Shaqiri, and Claudio Pizarro, which has led to another successful season.
And now Bayern is on the verge of breaking every Bundesliga record such as most points, most wins, highest goal difference and the longest winning streak.
Dortmund too now has the financial muscle to compete in the transfer market, and managed to buy Marco Reus by spending €17 million. Since they are now in the semi-finals of the Champions league, Dortmund are expecting a much higher income this year.
Jurgen Klopp's side is still a young team. Most of their main players are still in their early 20s while talented youngsters such as Moritz Leitner, Leonardo Bittencourt, Koray Gunter, Jonas Hofmann and Marvin Ducksch are waiting for their time to shine.
However other teams such as Schalke, Bayer Leverkusen, Hamburg, Werder Bremen are currently undergoing a financially difficult phase. Schalke and Hamburg are still recovering from spending too much money on players, while Bremen only recently expanded their home stadium. So in the near future, we cannot expect any other team to challenge Bayern and Dortmund.
Watze said, "Our goal is to build two lighthouses in Germany until 2020. One is Red and White (which are colours of Bayern) and the other is Black and Yellow (which are Dortmund's)."
But many in Germany are concerned that this duopoly may have a negative effect to the whole league system, just like the Spanish La liga. But it is safe to say, Germany is different to Spain. It is mainly due to the financial stability of the German clubs. Although we have mentioned above that Schalke, Hamburg and Bremen are undergoing a difficult time, still their status is much healthier than that of most of the Spanish clubs.
The gross revenue of Bundesliga teams may be lower than the English Premier League (EPL) but their net income is much higher. In 2009-10 season, the net income of Bundesliga was €150 million while for EPL it was only €85 million.
The average proportion of their expediture on player's wages is less than 50%. In case of EPL, it is 71% while Seria A is 68%, Primera Liga is 63% and Ligue 1 is 62%. This means although only Bayern and Dortmund has the power to spend big money, other teams have the strength to maintain their standards. This is helped by the fact that Bundesliga has the highest average attendance in the world and since 2002 all of the German clubs now have a modernized youth system.
Schalke reached the semi-finals of 2010-11 Champions league and beat Arsenal to the top place in this year's group stages. All seven German clubs which participated in the European competitions reached the tournament's knockout stages, which shows they will all have a competitive edge in the future.
La Liga clubs on the other hand, are in a crisis. Since the clubs all negotiate individually for the broadcasting rights, the gap between Barcelona, Real Madrid and other clubs have widened. Malaga, which reached the quarter finals of Champions league couldn't even pay their players' wages.
As a whole, we cannot refute Bundesliga is now dominated by two teams but it is very different to Spain. While both teams are now becoming a big force in Europe, the whole league is getting stronger through their stability and the German teams will turn into strong competitors in the future.
How do you stay up with football when on the move? With http://m.goal.com –your best source for mobile coverage of the beautiful game.