DEBATE
Both have dazzled, both have destroyed - ahead of Sunday's FA Cup semi-final between
Chelsea
and
Manchester City
,
Goal.com
debates which of the two sides' Spanish midfield maestros has the edge.
Juan Mata has been the heart and soul of Rafa Benitez's team this season while David Silva's influence at the Etihad Stadium has faded so far this term but he was imperious in their title-winning campaign. Liam Twomey and Husmukh Kerai fight each player's corner as the two prepare to go head-to-head at Wembley.
"The sheer consistency of Mata's brilliance is astonishing"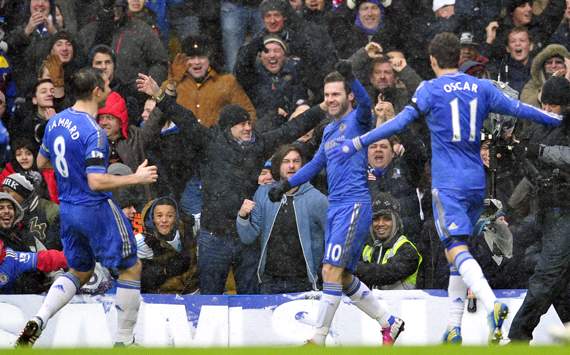 By Liam Twomey

In reality, choosing between Juan Mata and David Silva is the kind of problem that most writers dread and for which most managers would kill. Since arriving on these shores from Valencia, these two magical little Spaniards have lit up English football, winning legions of admirers as well as trophies.
JUANTERTAINMENT


MATA'S SEASON SO FAR

GAMES PLAYED
GOALS
ASSISTS
53
18
29

As such, any superiority can only be identified within the realm of fine margins and any argued deficiencies are strictly relative. Yet, this season, there has emerged a compelling body of evidence to suggest that Mata has surpassed his countryman.
For starters, the Chelsea maestro is the leading assister in the Premier League, laying on 10 goals for his team-mates in 28 appearances, as well as scoring 10 himself. Both numbers compare favourably with those of Silva, who has four goals and seven assists from the same number of games.
They also become even more impressive when you consider that Mata has been tasked in the main with providing chances for the hapless Fernando Torres, while Silva supplies an attack that won the Premier League title on goal difference for Manchester City last season.
It is remarkable that, following a summer in which Chelsea lavished close to £70 million on creative talent, Mata has made himself more indispensable than ever. He has been directly involved in 20 of the Blues' 61 Premier League goals – just under a third, and the team have won none of the five league matches that he has not started.
Yet more astonishing still is the sheer consistency of Mata's brilliance and the stamina required. In a relentless campaign which has seen Chelsea compete for eight trophies, the attacking midfielder has featured in 53 of the club's 58 matches, notching an incredible 18 goals and 29 assists. And all this after a summer which included Olympic and Euro 2012 commitments with Spain.
Silva, meanwhile, has featured in 36 of City's 43 games, helping himself to five goals and 12 assists. Of course, these are not the only statistics which matter to a playmaker but Mata is also highly competitive with – if slightly inferior to – Silva in terms of key passes per game and chance creation.
But while both players possess creativity in abundance, it is Mata who has this term emerged as a man on whom to count when the chips are down. Eight of his 10 Premier League goals have come away from home and he has scored at crucial times against Arsenal, Tottenham and Manchester United.
Vicente fel Bosque alone has the luxury of being able to call on both. Of the rest, one suspects that, this season at least, Rafa Benitez is happier with his lot than Roberto Mancini.
"His performances have too often been shackled by Mancini's tactical tinkering"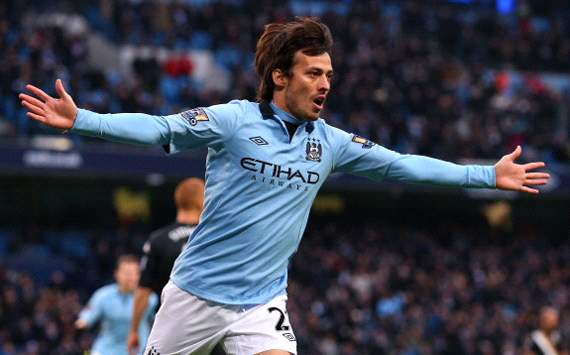 By Husmukh Kerai
Back in their days at the Mestalla, Silva was the creative hub of that
Los Che
side while Mata, three years his junior, was the apprentice learning his trade on the right-side of a front three that also included David Villa.
Over the last 12 months though, the Manchester City man has lost his mojo while Mata has gone from strength to strength since in his second season at Stamford Bridge.
WORTH HIS WEIGHT IN SILVA


SILVA'S SEASON SO FAR

GAMES PLAYED
GOALS
ASSISTS
36
5
12

Silva is the prototypical 21st-century Spanish midfielder. His ability to judge the weight of a pass, the way in which he can dictate a game of football without breaking into a sprint ... there just are not many better sights in English football that watching the midfield magician in full flow.
The 27-year-old, though, is major doubt for Sunday's FA Cup semi-final against the Blues after picking up a hamstring injury in City's 2-1 win at Old Trafford on Monday.
It is a shame because it was during that very match against the Red Devils that the little Spaniard returned to his magical, almost untouchable best for Roberto Mancini's men. He picked up the man-of the-match award after a playing a pivotal role in the visitors' highly efficient display.
Assuming the roaming role in behind one or two strikers undeniably remains Silva's best position but this season his performances have too often been shackled by Mancini's tactical tinkering.
Mata has started 17 out 33 games for Chelsea in a central attacking midfield role with a contribution of eight goals and nine assists. Silva, however, has only started the one game in his preferred position down the middle for City this term.
Add to that the fact Silva has been deployed in the grand total of seven positions in the Premier League this season, compared to Mata's four, and the story of how he has been misused this term becomes clear.
The Chelsea man does have had the unenviable task of providing the supply line for the misfiring Torres this campaign, while Silva has had the luxury of playing in beside the likes of Sergio Aguero, Carlos Tevez and Edin Dzeko.
The numbers, though, tell an entirely different story. In the Premier League, the Manchester City man averages 3.3 key passes a game with an overall success rate of 85.4 per cent. While Mata can match his compatriot's pass-completion stats, his average of 2.6 key passes is dwarfed by his international team-mate. The critical finger should not be pointed at Silva; statistically, at least, he is doing his bit.
Only Leighton Baines has created more goalscoring chances than Silva this season, giving us further reason to believe that the Spaniard's team-mates are in part responsible for his relatively poor figures. Thirty-nine of those chances created have come in the last nine games, putting him head and shoulders above anyone in the league in that period. If his season had not been hampered by a month out in October and Mancini's tactical indecision we would once again be talking about him as one of the players of the season.
Football is all about the moments which defy description, the instances that leave you breathless and lost for words. You will have to search long and hard before you find anything that tops the sheer artistry of Silva's masterful through-pass on the half-volley to set Dzeko away to score City's sixth at Old Trafford last season.
Mata may well have outshone his former Valencia team-mate this season but it is largely because the current Chelsea side is built around him. If Silva were offered the same compliment he would comfortably match his countryman's influence.
Statistics provided by whoscored.com, EPLIndex and Transfermarkt.