In what is yet another ill-timed outburst amidst a long chain of baffling statements, Roberto Mancini proves that he is nowhere near Sir Alex, when it comes to mind games...
While it is absolutely normal that with the big Manchester derby almost here, there will be frankly incredulous statements on both sides of the divide exhorting how the table might mean nothing and it is the performance of the day that matters. However, with England too following in the pattern of the major European Leagues in virtually having assured champions way before the end of the season, the upcoming derby between the top two is a damp squib.
Nevertheless, those involved are understandably tense as usual and the statements flying across seem to be even more preposterous than they were in the past. Javi Garcia, a player who has failed to make a mark and looks out of place when asked to anchor City's midfield, had this to say,
"..at City we really don't feel that the point differential as it stands is a true reflection of the merits of the two teams."
Alexander Kolarov followed it up with yet another smart jibe,
"They (United) are confident in this moment and it will be a different game but - if we play like we know, if we are all at 100 per cent - I think we are better than them."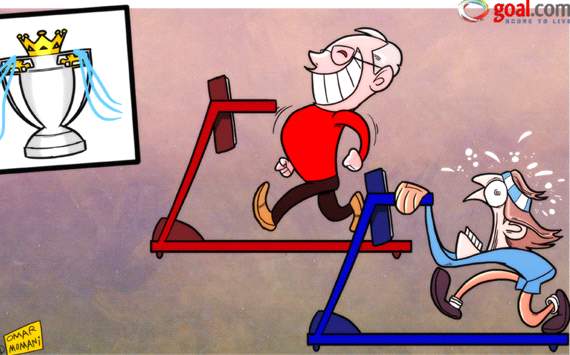 The absolute supremacy that Manchester United enjoy in the Premier League might say otherwise. However the clincher was of course left to the boss, Roberto Mancini to deliver the final sucker punch in the form of,
"We don't deserve to stay 15 points behind. They have played very well, they have won a lot of games... They deserve to stay on the top, but not 15 points. It is not a true table."
Only the Italian can answer what he means by 'deserving' as simply put, you need to win games to stay on top. United have done that. City have failed to. And the gap is of course a true measure of the league leaders' superiority. It was not as if the Citizens were held at gun-point and tasked with losing their games.
Keeping in line with this statement, Mancini followed it up with yet another statement on how the Eastlands club needs to spend big in the summer.
"I don't know how much money we can spend in the summer, but in the past United spent a lot of money to buy important players and now they don't need to spend £100 million every year."
What have the Citizens been doing the past three seasons then, if not spending money? So going out to say that they need to splash the cash in the summer might seem a bit farcical to say the least. The useless rhetoric gets in the way of the point he wished to make, as that certainly does have some weightage.
When you are nowhere near contending for the title and have a sudden windfall (in case of City with money from the Middle East), you would certainly need to splash big money to tempt people to choose you instead of the more established teams. While there are certainly other factors at play, like it or not, money is the ultimate clincher for a player would reject the more famous clubs to choose upstarts like City.
Last year's final day heroics gave Manchester City their first Premier League title and also allowed them to land a telling blow on bitter rivals, United with their injury time win. Dramatic as that might have been, City should have wrapped up the title long before it came to that especially with United's injury woes last season.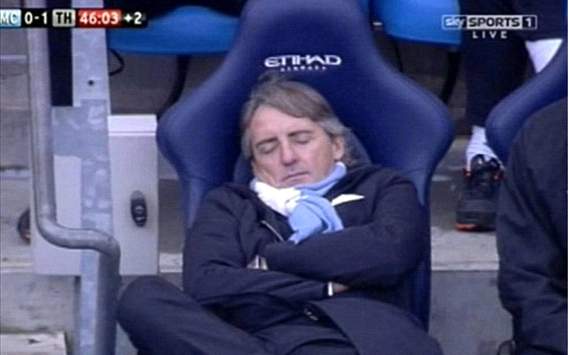 Last season the Red Devils had lost a cumulative
1681
days due to injury while their rivals, City had lost just a measly
186
days, according to
physioroom.com
. The tables have turned this season as recurrent injuries to Sergio Aguero, Micah Richards and Vincent Kompany have often kept them out of the squad.
The experience of Sir Alex Ferguson still carried the team along last season and to lose the league on goal difference was harsh on his side. However, when Mancini has faced similar problems in this campaign, he's failed to manage his side through it and has fallen 15 points of the pace. And now of course he has chosen instead to discredit United's success! Nothing more can or should be said as the difference between the two managers is palpable.
Instead of taking the blame on himself Mancini has blamed his player, lack of spending and probably even the earth's rotation for his team's 'undeserved' 15 point difference off the top. That money is not everything was proved at the beginning of the season when Robin van Persie, Javi Martinez and Eden Hazard all reportedly chose to give the Citizens a miss inspite of the obvious financial rewards. The impact that the Van Persie has had in the Premier League to launch United back to the summit must be an eyesore for Mancini.
That Mario Balotelli is in audacious form for AC Milan as well as Italy (he recently scored a brace) might also be bewildering as after a brilliant Euro campaign, the Italian failed to manage the temperamental striker and get the best out of him.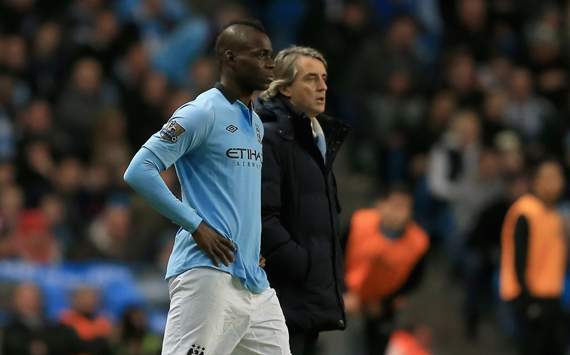 Incendiary statements kept aside, while the complacency of winning the league last season might have been a factor for the flat display by the Citizens this time around, Mancini's tactics too have come into question as his summer signings are either on the doctor's table or warming the bench, while his curious choice of often switching to three central defenders at the back have elicited voices of protest from his players who complained of being unaccustomed to the system.
Leaving that aside, the lack of tactical movement during matches has also cost them as teams have come to read City's lack of width and have crowded the midfield and the penalty box to deny them any space centrally. Mancini should thus focus more on what he's doing wrong, before blaming everyone else for his team's sub-par displays.
Let us know what you think of this piece by leaving a comment below...
How do you stay up with football when on the move? With http://m.goal.com –your best source for mobile coverage of the beautiful game.