DEBATE
Stefan Jovetic's teammate, Luca Toni recently advised him against joining Arsenal because he believes that Fiorentina are currently the better side and a move to the north London club would not be a step up for the 23 year old. Today we debate that notion with two
Goal.com
experts going up against each other.
Aditya Bajaj
will argue that Fiorentina are most certainly the better side while
Abhishek Nair
attempts to contest that statement.
Fiorentina better than Arsenal at present
Opening Arguments

FOR

Aditya Bajaj:
Let's just head back to the 2003-04 season. While Arsenal were celebrating an incredible season where they went through an entire campaign undefeated and were deservedly labelled the 'Invincibles', Fiorentina on the other hand were celebrating promotion to the Serie A, having suffered a lot due to the financial misgivings of their owner and the subsequent drop to Serie C in Italy. Eight seasons on, both teams are fighting for the same objective in their respective leagues and that is to earn a spot in next season's Champions League.
That says enough about where both clubs are heading in terms of the future. While Arsenal season after season are struggling and in fact moving backwards, losing one star after another every summer, the Viola today are playing some of the best football back in Italy.
While the Gunners failed to hold on to their star player last summer due to a lack of an ambitious project, Fiorentina did the exact opposite by presenting Jovetic with one by rebuilding their side with 17 new players and the result is there for everyone to see.
Arsenal are not even the top team in London anymore, let alone England while Fiorentina have proved their mettle this season with next to little investment and smart management. The very fact that a rich club like Arsenal deems itself successful by qualifying for the Champions League and using its history to stay afloat in the news proves where they are headed. Fiorentina on the other hand have let go of their past and are clearly moving towards a bright future, something Arsene Wenger has struggled to do.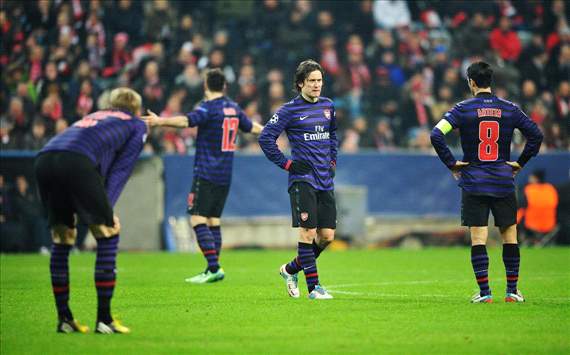 AGAINST
Abhishek Nair:
Are Fiorentina better than Arsenal? Definitely not. The Gunners have qualified for the Champions League consecutively for the past 15 years and that shows the standard of the club in my opinion. The North London club have always found a place amongst Europe's elite while Fiorentina last played Champions League football in 2009.
Arsenal will fight for trophies next season as Arseene Wenger will reportedly be given a £70 million 'warchest' to buy top players and will look to build his team into a more competitive unit. They have got talented youngsters along with experienced world-class players like Thomas Vermaelen, Santi Cazorla and Lukas Podolski.
It's common knowledge that Arsenal have the resources to continue to feature among the top sides in England and they'll always be respected by those teams for the threat they pose. However, it may well be that Fiorentina have simply overachieved this season. Yes, they've brought in some good players, they're playing good football and they seem to have a good chemistry within the squad but then again, Newcastle United had all those things last season.
This is not to say that they resemble the Magpies exactly but the fact is that they finished 15th in the Serie A last season and 9th in the previous one. Who's to say that this campaign isn't just a flash in the pan? Arsenal have consistently featured in the top four for the past decade and a half, are Fiorentina capable of featuring that high on a regular basis? We've seen how Arsenal have faltered following Van Persie's departure last summer so how far would Fiorentina fall if they lost Jovetic at the end of this season? Do they have the squad to keep them afloat like Arsenal have or will they drop like a stone? I believe the latter scenario to be the more likely.
Aditya Bajaj:
This is the very club where the great Gabriel Batistuta found his feet, turning into of the best strikers the game has ever seen. This is the very club that defeated Manchester United and Arsenal in the Champions League in the 99-00 season and has always been one of the top teams in Europe had it not been for the bankruptcy and a corrupt owner.
Arsenal have been leapfrogged by teams like Tottenham and Chelsea and are not even the kings of London anymore. They are dwelling desperately on their past laurels which aren't much when it comes to European football and in the current scenario they are on a downward spiral. A club that prides itself in qualifying for 15 straight Champions Leagues rather than aiming for the title every season with the kind of investment, stadium and back-to-back profit sadly may not even qualify for the same competition next season.
Fiorentina on the other hand have proved that they have everything from ambition, to a good 'team' that is not dependent on any particular player (they played most of the first half of the current season without Jovetic and yet finished 2012 on third) and the fact that they have signed a world class striker in Guiseppe Rossi proves that even though they are not healthy financially, how smart investment can really turn a team from ordinary to excellent.
As a club, Arsenal are much better and amongst the top in Europe but as a squad they are pretty much at par with the Italians and both teams are currently moving in opposite directions as far the present scenario is concerned.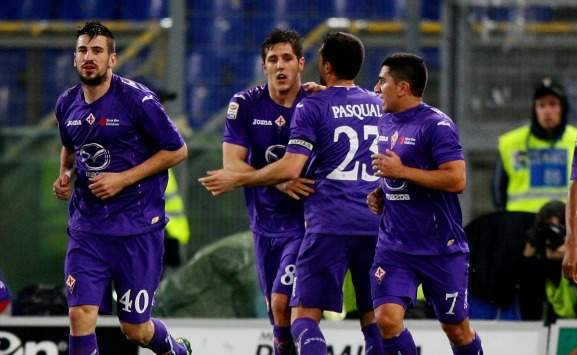 Abhishek Nair:
Questions would definitely be raised when a club of Arsenal's stature and history goes without a trophy for 8 years. What most people fail to understand is that Arsenal took the biggest step in their club history by moving into the Emirates stadium from Highbury.
The North London club's ambition to be one of the best teams in the world meant that they had to move to a modern and more dynamic stadium which would fit their billing. Moving into the Emirates meant a debt of around £400 million pounds and since the club isn't backed by oil money or a Russian oligarch, it meant it would be a slow transitional phase.
Star players have left but that has in a way helped the club balance the books. The club has now repaid major portions of the debt and have enough money to spend on top players. Arsenal have already set a strong platform in their bid to be one of the best in the world. The lack of trophies did hurt the Emirates faithful but next year Arsenal will be a stronger team with not only the ability to spend big but will also play in a 60000 plus capacity stadium with an array of sponsorship deals in store.
Fiorentina despite doing well in the Serie A are still very much behind the likes of Milan and Juventus and will take time to be an Italian powerhouse. Arsenal have endured the transitional phase and now it's time for the Gunners to challenge for titles again.
Aditya Bajaj:
Well, the argument that Arsenal built the Emirates stadium and hence is suffering as per the ensuing costs has failed to convince even the Gunners fans themselves. They have one of the most expensive season tickets in Europe and the least they can do is give the loyal fans some joy by actually investing in some experienced players and turn into a side actually capable of winning something and not just misleading them into believing that reaching the top four every season is a trophy in itself. Juventus built a stadium of their own and within two years, they have become the best team in Italy and are amongst the top four clubs in Europe and reaping the benefits of having a self-owned stadium.
Today, if a player like Jovetic decides to move to a club, Arsenal may not be able to recruit him because of his price. Secondly, they are not sure of Champions League football anymore so moving from Fiorentina to Arsenal is not really much of a step forward when there are other top clubs like Juventus, Manchester United, Manchester City and Chelsea who have at least shown the desire to win a trophy every season unlike Arsenal who have set the bar so low that the players themselves have the target of fourth spot in their heads rather than aiming for the title.
The very fact that we're actually having this debate where a club like Arsenal is now fighting for its honour against a very humble unit like Fiorentina speaks volumes about the Italian team's steady progress and its bright future as compared to the Gunners' regress into mediocrity.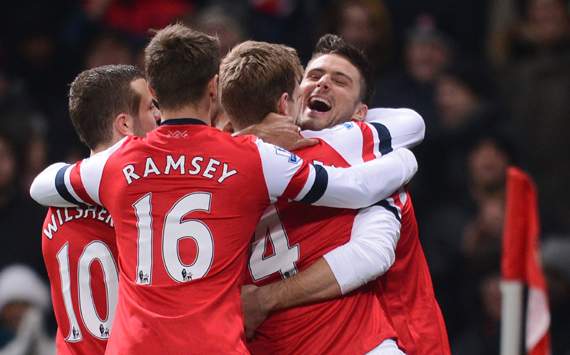 Abhishek Nair:
You have mentioned that Arsenal should invest in talented, experienced players. Well that has already been done this season as the likes of Santi Cazorla and Lukas Podolski are not only talented but have a good amount of experience at the highest level. The Gunners aren't just looking to add players to their ranks and have made it clear that they will only sign world class players that will make a difference to the team.
You have stated that Jovetic would do much better if he joined some of the bigger clubs but I disagree. There is no guarantee that the Fiorentina striker will blossom into the perfect number 9 at these clubs as we have seen talented youngsters failing at big clubs due to the lack of opportunities and excessive pressure to deliver instant results. Under an esteemed coach like Arsene Wenger, the Montenegrin may very well develop into one of the best strikers in world football.
Yes, comparisons with Fiorentina show the development made by the Italian club in recent time. Arsenal has had a mediocre 8 years or so but then such periods do arrive in every club's history and Arsenal are a club desperate for silverware. Qualification for the Champions League looks very much possible as the Gunners are only 4 points behind fourth placed Tottenham with a game in hand. Arsenal's transition was a slow one but is definitely on its last stretch. With a few more quality additions, who knows the heights this Arsenal team may reach next season.
What is your opinion on this topic? Leave your comments below...

How do you stay up with football when on the move? With http://m.goal.com –your best source for mobile coverage of the beautiful game.