Aditya Bajaj

Comment

l Europe
Follow on
When Spain won the Euros back in 2008 to start an unprecedented run of dominance that is yet to be curbed, there was still a distinct flavour to the team. Luis Aragonés' side was a mix and match of some of the best talent spread across the La Liga with Marcos Senna, Carlos Marchena, Juan Capdevilla and Fernando Torres forming an important part of a young side that would go on to lift the first of the impressive treble that the Spanish side have accomplished since then. David Villa was still a Valencia player and so was David Silva which left little room for the likes of Barcelona and Real Madrid to dominate the national side.
Then came Pep Guardiola, who took over the helms of Barcelona that summer relying totally on the talent in abundance at the La Masia and his ever fierce rivalry with Real Madrid meant that La Roja would slowly go on to revolve around these two teams. That's how strong they'd become, the benefits of which have been enjoyed by Vicente Del Bosque who was still skeptical of using David Silva until as recently as last summer's European Championships and Juan Mata – both of whom ply their trade in England.
The result?
By 2012, with the exception of Silva and Jordi Alba (later snapped by Barcelona), the European champions fielded a side that consisted exclusively of players from Madrid and Barcelona and why not?
The two teams have dominated both Europe and Spain like never before over the past two years and have relied heavily (the Catalans especially) on some of the best domestic talents who are a cut above the rest in the La Liga.
But if the top two teams of Spain could provide so much for the national team, then how could the Germans be left behind?
Amongst the most 'consistent' teams – often masked by their lack trophies over the past decade – in world football since 2002, Joachim Low's side against Italy in the semifinals was heavily dominated by players from Borussia Dortmund and Bayern Munich, of course with the odd exception of Mesut Ozil and Sami Khedira who were hijacked by Real Madrid post some impressive performances in the 2010 World Cup in South Africa.
Strongest potential XI for Spain, Germany and Italy
SPAIN
GERMANY
ITALY
Casillas (Madrid)
Neuer (Munich)
Buffon(Juventus)
Ramos (Madrid)
Lahm (Munich)
Abate (Milan)
Puyol (Barcelona)
Hummels (Dortmund)
Chiellini (Juventus)
Pique (Barcelona)
Badstuber (Munich)
Barzagli/Bonucci (Juventus)
Alba (Barcelona)
Schmelzer (Dortmund)
Di Sciglio (Milan)
Alonso(Madrid)
Khedira/Kroos(Madrid/Munich)
Marchisio (Juventus)
Xavi(Barcelona)
Schweinsteiger (Munich)
Pirlo (Juventus)
Busquets(Barcelona)
Muller/Gotze (Munich/Dortmund)
De Rossi (Roma)
Silva (Manchester City)
Ozil (Madrid)
Montolivo (Milan)
Villa (Barcelona)
Reus (Dortmund)
Balotelli (Milan)
Iniesta (Barcelona)
Gomez/Klose(Munich/Lazio)
El Sharaawy (Milan)
No wonder the two teams have been the best in the Bundesliga over the past three years and Bayern's impressive self-sufficient model coupled with Dortmund's knack for German youth means the duopoly is set to stay much to the delight of Low who re-affirmed his faith and in some aspects his hindrance, doing his best to avoid talent from outside the Munich-Dortmund axis. This was seen last week he deployed Mesut Ozil as the false nine to make up for both Gomez and Klose's absence from the national scene with Mario Gotze behind him, when another in-form striker in Stephan Kiessling from Bayer Leverkusen could have been called upon against a weaker Kazakhstan.
But while the Spanish and the Germans have only recently started building upon the strengths of their top two domestic teams, Milan and Juventus have almost always dominated the numbers for the Azzurri but not as exclusively as they have since last summer.
Mario Balotelli's move to Milan this winter and the rise of both Stephan El-Shaarawy and Mattia De Sciglio means that there is every chance that should Italy qualify (which is inevitable barring a catastrophe) there is a heavy chance that Cesare Prandelli's starting line up next year in Brazil will consist of a Juventus-Milan combined XI with the exception of Daniele De Rossi, with the other Serie A teams strengthening the bench lending much needed depth to the squad.
So is it really surprising that the trio of Spain, Italy and Germany have been the best performers from Europe since the World Cup in South Africa leaving behind the likes of the usual pretenders in England, Portugal and the Netherlands – the other powerhouses of the continent? Not really.
It's no co-incidence either.
First of all, selecting a strong XI based on this strategy means you're typically picking up players who play regularly in the top tournaments both at home and abroad and are heavily used to handling the pressure cooker situations that a major international trophy like a World Cup almost inevitably surrounds itself with. When these players go out representing their countries in the latter stages of such tournaments, they know exactly what to do and how to handle the pressure having dealt with such situations all throughout the season.
This is not doubting the abundance of talent in the mid-table teams, that boast of exceptional players (some maybe even better than those who are eventually selected) but the one thing that goes against them is the lack of big match experience, so important when it comes to such major international competitions.
A case in point is Antonio Di Natale, who has been perhaps the most consistent and outright goal scorer in the Serie A for almost half a decade now but has been overlooked almost for the entirety of his long career when it comes to the Italian national team. That he was finally chosen for the Euros last year was only down to the fact that Prandelli could not have his first choice striker in Guiseppe Rossi recovered in time for the gala in Poland and Ukraine last summer.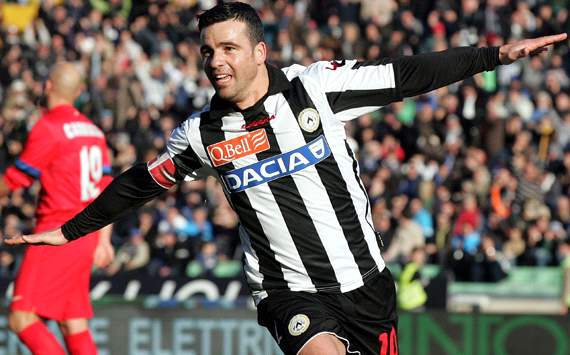 Di Natale | Players like him have always been overlooked despite strong domestic performances

Another similar case is that of Fernando Llorente, who has scored goals in abundance for Athletic Bilbao and almost single-handedly carried them until last season but was never really trusted by Vicente Del Bosque who instead went with Cesc Fabregas to play as the false nine almost throughout the tournament including the final against Italy. Stephan Kiessling like we discussed earlier faces a similar dilemma in Germany despite being amongst the most consistent strikers in the Bundesliga for some time now.
Now, these are all exceptional players in their own right and who have also let their performances for their respective clubs do the talking but the only thing that has always gone against them is the lack of big match experience that is a part and parcel of playing for a big club domestically.
Di Natale (35) never really moved beyond Udinese and neither has Kiessling (28) with Leverkusen while Llorente (29) may finally get his chance this summer when he is officially revealed as a Juventus player which will most certainly boost his chances with Spain facing a continuous lack of a reliable striker since David Villa's recurring injuries last year, provided he performs in Turin.
Secondly, and perhaps most importantly, it obviously lends so much stability to the squad in a sense that the players know each other so well as they play and train together, week in week out. Though there is a mix and match of players mostly from the top teams but helping two groups gel in such less time before a tournament or whatever little time they get during the qualifiers is always much easier than having a diverse group of players spread across the entire league or even abroad, regardless of their talent.
This is perhaps where Germany, Italy and Spain hold an edge over the likes of Portugal, the Netherlands and more surprisingly England which boasts of arguably the strongest league structure in the Premier League with so much investment and talent.
While the struggles of Portugal is understandable – it must be noted they have done pretty well given the kind of talent as compared to other teams over the last few years – the Dutch almost every time suffer from a lack of team spirit and camaraderie as was evident last summer and with the exception of the World Cup in South Africa, on previous occasions too having even failed to qualify for the World Cup back in 2002.
Despite boasting of some of the finest talents on earth, the entire squad is picked from all across the continent which is where there best players ply their trade eventually failing to gel just in time for any major international tournament given the lack of time and inevitable clash of personalities who are as different as chalk and cheese and almost entirely spend the best part of the year away from the national culture unlike the Italians, the Germans and the Spanish.
But England perhaps suffer the most despite having one of the best four leagues in Europe, largely due to the over-reliance of the top English teams on foreign players with minimal nurturing of local talent who mostly end up plying their trade with the mid-table teams. Yes, there are always the likes of Wayne Rooney, Steven Gerrard and Ashley Cole but they are surrounded by not more than average players who honestly lack everything from big match experience to lack of even playing time with the foreign imports forming the back bone of the clubs in the Premier League.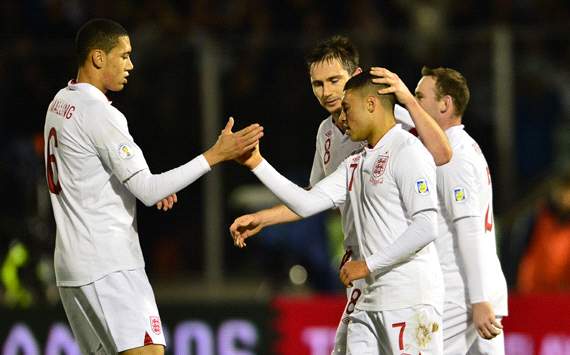 England will only do well when top premier league teams build around domestic talent
Unless the likes of Chelsea and Manchester City don't start harbouring and trusting local talent, the Three Lions will continue to be nothing more than an average side entering the next edition in Brazil once again as pretenders thanks to the media hype who never fail to raise the national expectations back home.
There is no doubt that Brazil and Argentina will enter the tournament as favourites next year, more so because it is being staged in South America apart from the exceptional talent. But as far as the Europeans are concerned, Spain will be joined by Germany and Italy who will enter as favourites without doubt if the last two years are anything to go by.
Of course there will be surprises as always and theres a still a year to go before the showpiece next summer, but the Madrid-Barcelona, Munich-Dortmund and Milan-Juventus duopoly is here to stay for their respective national sides for a long time to come and these teams have proved time and again what a strong league with a fetish for domestic talent can do for its national team.
La Roja, Die Mannschaft and La Nazionale have found their success mantra, but will others follow suit?
Only time will tell.
Don't forget to let us know in the comments section below or discuss on twitter@adityabajaj
How do you stay up with football when on the move? With http://m.goal.com –your best source for mobile coverage of the beautiful game.