Spain are without a shadow of doubt, the team to beat and with their World Cup sandwiched between two European Championships, certainly adding to that claim in no simple terms. The La Furia Roja, as they are called, are much lauded for their impeccable style, their organization and almost telepathic connection between the players, and of course the much-vaunted 'tiki-taka' or the short pass and move style, playing in neat triangles with unmatched movement and rotation among the players.
However, what is often left unsaid and what certainly goes unnoticed in their otherwise mesmerizing display on the pitch is their defensive structure or rather the lack of it, to be fair. Why teams fail to exploit it is of course because Vicente Del Bosque's men simply tire you out, not only physically but also mentally with their relentless and remarkably effortless pressing. Their knack of keeping hold of possession is so effective that the opposition literally has to scream out aloud that they too are here to play the game!
At first sight however, the central defense of the Spanish Inquisition looks as strong as it can be. The 6ft 4in Gerard Pique who typifies the ball playing defender, coached in the tactical school of the mighty Barcelona side, is equally adept at coming out of defense with the ball as he is defending deep. With him being no slouch, he can easily get back to clear the danger and cover for his partner if need be.
Partnering him is the 6ft Sergio Ramos from rivals Real Madrid. While he started as a right back by trade during his early Real Madrid and Spain days, the arrival of master tactician Jose Mourinho coupled with the injury to Carles Puyol saw him move to centre-back and boy oh boy, did he make the position his own, pushing Ricardo Carvalho from his club side, and keeping out Carlos Marchena and Raul Albiol from the Spanish team. However what can be Ramos' greatest strength can also be his weakness. Rash in tackling he often ends up giving freak penalties, and while striding forward leaves the defense empty. His lack of positioning also ended up giving the own goal for Manchester United in their Champions League tie.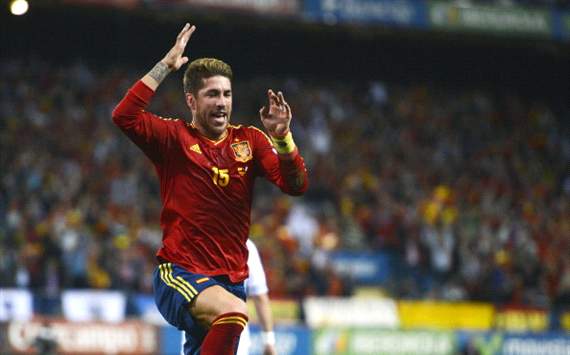 Ramos and Pique are the chinks in the Spain backline
Besides the individual abilites, the problem with the Spanish back two is the similarities between both players. What would be an ideal defense pairing would be in recent times, say a Thiago Silva and Alessandro Nesta from last year's Milan team, to serve as an example. While Thiago Silva had pace to boot and often galloped out of defense to make an extra man in attack, Nesta preferred sitting back and let his impeccable positioning and inch perfect tackles do the talking. In fact, the ageing Nesta had frustrated the best player in the world, Lionel Messi in the 2-2 draw by pulling off some mind boggling challenges. In the current Spanish armada, both the players like coming out of defense with the ball and while good tacklers with plenty of pace, have deplorable positioning sense.
What is rather baffling is that these tall central defenders are most at risk when defending set pieces and up against good headers of the ball, with a lot of physical strength to boot, which normally should have been no problem for the duo. But with Madrid conceding most goals from set pieces and Barcelona too as prone as always from any and every set piece as Raphael Varane recently demonstrated to great effect, the duo always find it difficult to go up against tall hulking forwards.
With France taking on Spain in the World Cup Qualifier, and enjoying a two point lead over Spain, their trumpcard to automatic qualification can be none other than former Montpellier man and current Arsenal forward, Olivier Giroud. Standing at 6ft 4in, Giroud is the archetypical No. 9 who harries the central defenders, contesting each and every aerial ball and jostling for possession. He can be quite a handful for the Spanish duo with not only his power and aerial prowess, but with his movement as he loves dropping deep to open up space for the marauding French wingers, in the guise of Franck Ribery and the in form and dangerous Mathieu Valbuena.
With Benzema in no kind of form, and being soundly criticized, Didier Deschamps might as well go out with only Giroud leading the line, especially with possession hogging Spain. What will be thus paramount to his tactics, will be Giroud's ability to hold up the ball as Spain are likely to have possession for rather long periods. As Pique had showed previously in the the two legged Milan tie in the Champions League, including their 4-0 thrashing of the Italians, that he can be susceptible to momentary of lapses in concentration, it will be imperative for the Arsenal forward to make use of those breaks in play, as he would have the task of making an attack by allowing the wingers to run at the full backs.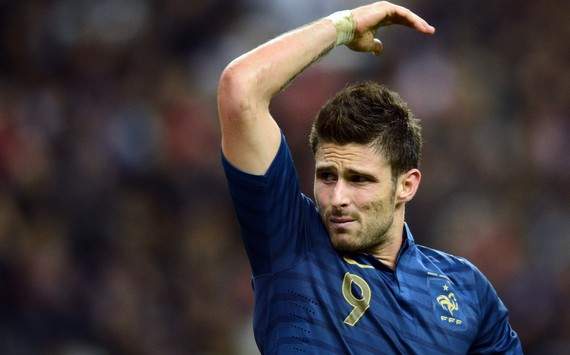 Giroud will be looking to trouble the Spain centre-halves

Moreover with the expertise in dead balls that France have at their disposal with Yohann Cabaye and the likes of Ribery and Valbuena to follow suit, Giroud's height in the box can wreak havoc among the already shaky Spain backline, leaving them all the more susceptible to conceding from a freak corner or a free kick.
As Del Bosque had said, Spain will play their natural game and in spite of their obvious defensive frailties they will be the overwhelming favourites. It will take an exceptionally clinical performance from the Les Blues if they want to win this encounter and will need Olivier Giroud to be on his toes. They would need to capitalize on whatever opportunity they get, as against a disciplined La Roja side, chances are bound to come at a premium.
Follow Kaustav Bera on

How do you stay up to date with football when on the move? With http://m.goal.com – your best source for mobile coverage of the beautiful game.