Brendon Netto




Special

| England


Follow on
The
Premier League
is widely regarded as the best league in the world and for good reason. People will argue that the La Liga has overtaken the English league in terms of style of play, technique and the quality of players and they make a fair arguement but the English top division still retains a fiercely competitive nature and a frantically quick-paced brand of football that is like no other.
| | | | | | | | |
| --- | --- | --- | --- | --- | --- | --- | --- |
| P | Team | G | W | L | D | GD | PTS |
| 1 | Manchester United | 29 | 24 | 3 | 2 | +38 | 74 |
| 2 | Manchester City | 29 | 17 | 4 | 8 | +25 | 59 |
| 3 | Chelsea | 29 | 16 | 6 | 7 | +28 | 55 |
| 4 | Tottenham | 30 | 16 | 8 | 6 | +14 | 54 |
| 5 | Arsenal | 29 | 14 | 7 | 8 | +23 | 50 |
| 6 | Everton | 28 | 12 | 5 | 12 | +11 | 48 |
| 7 | Liverpool | 30 | 12 | 9 | 9 | +18 | 45 |
| 8 | West Bromwich Albion | 30 | 13 | 12 | 5 | +2 | 44 |
| 9 | Swansea City | 30 | 10 | 10 | 10 | +2 | 40 |
| 10 | Fulham | 29 | 9 | 11 | 9 | -4 | 36 |
| 11 | Stoke City | 30 | 7 | 10 | 13 | -8 | 34 |
| 12 | Norwich City | 30 | 7 | 10 | 13 | -18 | 34 |
| 13 | Newcastle United | 30 | 9 | 15 | 6 | -11 | 33 |
| 14 | West Ham United | 29 | 9 | 14 | 6 | -11 | 33 |
| 15 | Sunderland | 30 | 7 | 13 | 10 | -9 | 31 |
| 16 | Southampton | 30 | 7 | 13 | 10 | -10 | 31 |
| 17 | Aston Villa | 30 | 7 | 14 | 9 | -25 | 30 |
| 18 | Wigan Athletic | 29 | 7 | 16 | 6 | -21 | 27 |
| 19 | Reading | 30 | 5 | 17 | 8 | -22 | 23 |
| 20 | Queens Park Rangers | 30 | 4 | 15 | 11 | -22 | 23 |
There's always a story in the Premier League. From training ground bust-ups, dubious refereeing decisions and the frequent sacking of managers to racist remarks, handshake fiascos and controversial tweets. There's never a dull moment and even if there was, you can always count on the British press to conjure up something.
England's top division also leads the way commercially. It is the most watched football league in the world with an estimated TV audience of around 4.7 billion people. Unsurprisingly, the Premier League has the highest revenue of any football league as well.
The league has more than just a couple high-profile derbies. Manchester United vs Manchester City has emerged as a massive derby of late with the latters recent succcess while United's games against primarily Liverpool and then Arsenal and Chelsea are also considered high-profile clashes.
There's also the famous Merseyside derby between Liverpool and Everton and the north London derby between Arsenal and Tottenham Hotspur.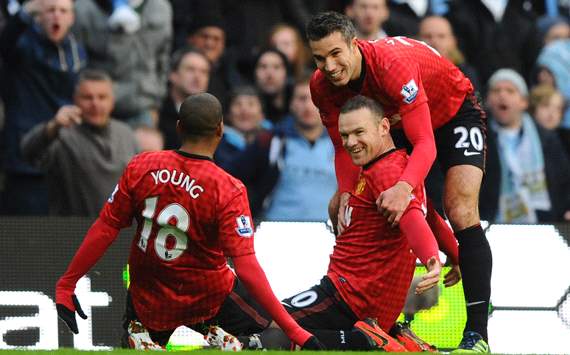 With 12 titles and 5 second-place finishes out of the 20 seasons, Manchester United is by far the most successful team in the Premier League era and they seem to be at it again. They were seconds away from celebrating their 20th league title last season until Sergio Aguero's late strike against Queens Park Rangers sealed their fate. It was a huge blow for a side that had been ravaged with injuries throughout the season and a cruel ending to their formidable title defense which literally went right down to the final kick.
Sir Alex Ferguson is the most decorated manager in the league and he didn't become so by failing to respond. He's made sure that his side have been focussed from the very beginning and his summer acquistion of Robin van Persie from Arsenal has been largely responsible for their success this season. The Red Devils are currently 15 points clear of Manchester City in second and look destined to lift that 20th title with their new number 20 offering more than just a helping hand.
However, the key to United's sensational form this season is the fact that they haven't relied entirely on the Dutchman. In fact, Van Persie has now gone 6 league games with just one goal but United have marched on even during his dry spell. The likes of Wayne Rooney and Javier Hernandez have ably stepped in when the goals have eluded the former Arsenal captain.
Meanwhile, their defense, which was woeful at the start of the season has been solid of late with the stellar form of Rio Ferdinand coinciding well with capatain Nemanja Vidic's return from injury. With such a wide gap at the top of the table, the title race is effectively dead and there's not a soul around who would suggest a late collapse from United especially after what happened last season. Sir Alex simply won't allow it.
The Tussle for Champions League Spots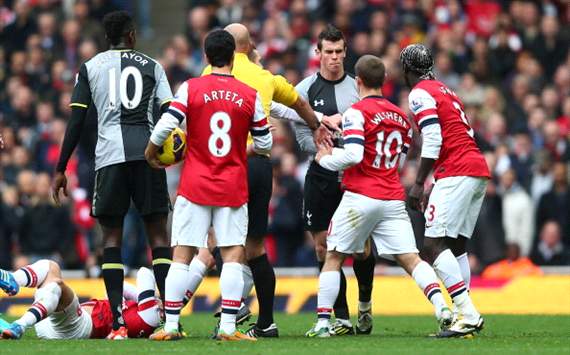 The battle for the Champions League places is turning out to be a real spectacle this season. Normally, there are a couple of clubs vying for that fourth and final Champions League spot but this time around the battle for third place is still very much alive while there is only a 4 point gap between second and third place as well.
Chelsea, Tottenham, Arsenal and Everton (in that order) are all in the mix while Liverpool watch on with a keen interest, albeit from a distance. Only 7 points separate Chelsea (3rd) from Everton (6th), who have a game in hand along with Arsenal and so the gap is actually narrower than it seems.
Chelsea started the season like title contenders but their league form suffered when the Champions League games came thick and fast along with the other competitions. A change in management hasn't helped their cause and they now need to ensure that they hold on to third place.
Tottenham were denied an appearance in this season's Champions League because Chelsea went on to win it last time although they finished 6th in the league. While Spurs had a right to feel aggrieved, they only had themselves to blame for a spectacular collapse at the end of last season which saw Arsenal not only close a massive gap between them but also leapfrog them to go into third spot.
The worrying aspect is that history is threatening to repeat itself again this term unless Spurs manage to keep their cool and hold off the north London rivals. Everton started brightly but have been patchy ever since. The positive thing is that they are still in the running and their most recent win over City proves that they have what it takes if they can stay consistent until the end of the season.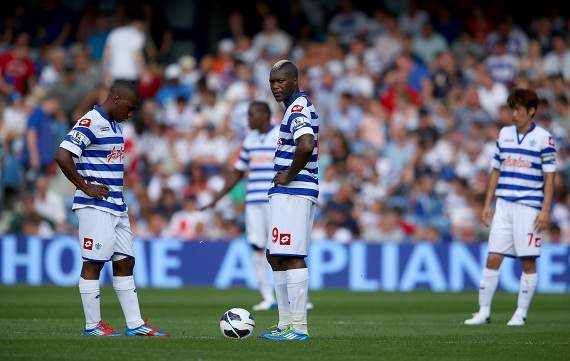 As ever in the Premier League, the relegation battle is anything but straightforward. QPR looked destined for the drop by December but the appointment of Harry 'Houdini' Redknapp coupled with a few new signings have been enough of a launch pad for the side to stage a late charge during the run-in. They are 7 points from safety but with 8 games left to play, well we've seen Redknapp pull off 'mission impossible' before and so they won't go down without a fight.
Meanwhile, things don't seem to be looking up for Reading. They've been a step behind the rest of the league in terms of quality throughout the season. Brian McDermott has just been sacked but you could argue that he's actually done a decent job given the resources available to him. He mentioned a few weeks ago that the club didn't strengthen enough during the summer and winter transfer windows and in all fairness, he may be right as that lack of spending has ironically cost them.
Somethings never change and Wigan Athletic's involvement in relegation dogfights is one of those things. A fight for survival at this stage of the season has almost become tradition for the Latics but they do look like getting away with it yet again. Meanwhile, Aston Villa, Southampton and Sunderland are still in danger of the drop and at least one relegation spot may only be decided on the final day of the season.
The Overachievers - Everton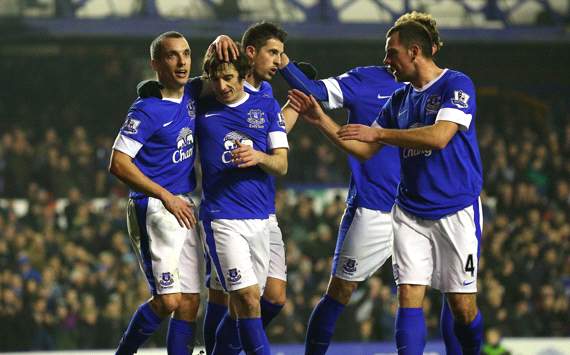 Swansea City have had another great season but given the form they enjoyed last time around, they were always expected to finish in mid-table this time as well and it looks as if that's where they'll end up. Their Carling Cup triumph is a massive achievement but since we're strictly speaking in terms of league form, Everton must get the nod as the surprise package this season.
Make no mistake about it, with the squad that they have, Everton are most certainly overachieving by being within touching distance of a Champions League spot. One might argue that their current 6th place in the league is pretty much where they ended up last season (7th). While that is absolutely true, the points they have accumulated and the gap between them and the teams above them is where the difference lies. While they only garnered 56 points last season and finished 13 points behind Spurs in 4th, they already have 48 this season and are only 6 points behind Spurs in 4th again with a game in hand as well.
They've also been a lot more prolific this season, scoring 46 goals so far while they managed only 50 by the end of their last campaign. What people don't always realize is that Everton's financial state has figuratively put the club on crutches. In a time when the clubs around them, and even a lot of the ones considerably below them, are spending more and more money on bolstering their squads, David Moyes has had to operate with precious little and rely on his ability to get the best out of what he has.
What's admirable about the Merseyside club is their style of play which is a blend of the neat and tidy football that fans love and the pragmatic approach that induces efficiency into their performances. They aren't overly ambitious in attack but they aren't too rigid either. Most of all, their work ethic is simply phenomenal and their attitude commendable. A Champions League spot would be the ultimate reward for Moyes and his troops but even a 5th place finish and a path to the Europa League would be impressive.
The Flop Team - Newcastle United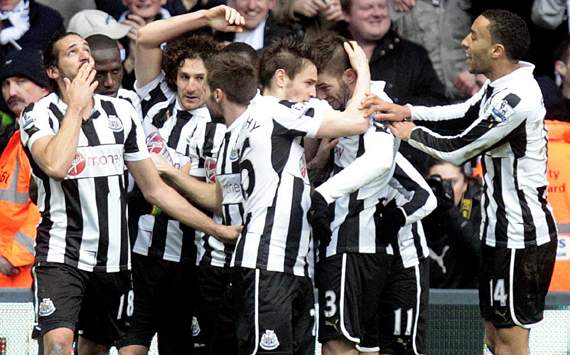 There's no doubt about this one, Newcastle United are definitely the most disappointing team this season. After enjoying a spectacular campaign last time around that nearly culminated in a Champions League berth, they have been poor this season and it's not difficult to see why.
Newcastle's first eleven, in good form, are capable of challenging any team in the Premier League but the fact is that they were fortunante not to sustain too many injuries last season because they don't have much depth in their squad. In fact, they only lost their way in the tail-end of their last campaign during which they suffered injuries to key players like Cheick Tiote and Yohan Cabaye.
The midfield duo have been troubled by injuries again this season along with the likes of Hatem Ben Arfa and Steven Taylor, leaving Alan Pardew with very little options and ones of significantly less quality. Fortunately, the Newcastle boss has identified the problem and went about addressing it during the January transfer window, and if he hadn't, they may have had a relegation battle on their hands.
As it turns out, there still is a slight threat of relegation but things are looking up for the Magpies. Pardew has been successful with his signings from the French league in the past and he's stuck by his scouting network in that region and it seems to have paid off. They now have plenty of options and the signings of Yoan Gouffran, Mapou Yanga-Mbiwa and Moussa Sissoko in particular has rejuvenated the squad and they look set to sail further up the table and away from the drop zone.
The Race for the Golden Boot

APPS: 29
GOALS: 22

APPS: 26
GOALS: 19
Luis Suarez and Robin van Persie are neck and neck in the race to be this season's top scorer in the league. This particular contest is far from being decided with Suarez currently only 3 goals better off than his Dutch counterpart. The Uruguayan has 22 goals in 29 appearances while Van Persie has 19 goals in 26 appearances.
It's worth mentioning that 6 of Suarez's goals have come from hat-tricks against Norwich City and Wigan Athletic while Van Persie scored the more decisive goals by often bagging the winner to take all three points. In all fairness to Suarez, that doesn't matter as far as the Golden Boot is concerned; you just need to score the most goals regardless of how they come or who they're scored against.
Both players' goals have been vital to their respective teams. Van Persie's acquisition in the summer is already being hailed as one of Sir Alex's best ever signings and is being credited for their inevitable title triumph while Suarez has shown a more prolific side to his game this season and has attracted interest from around Europe and Bayern Munich in particular. Van Persie has only scored 1 goal in his last 6 league games but few expect that dry spell to last and with 8 games to go, either one of these strikers could top the scoring charts with Gareth Bale leading the chasing pack with 16 strikes followed by Michu and Demba Ba with 15 each.
Player of the Season so far

There are plenty of candidates for the player of the season so far including the two leading the chase for the Golden Boot. Apart from their goal scoring exploits, Van Persie and Suarez have 8 and 7 assists respectively and have been in outstanding form.
However, Gareth Bale is also considered a front runner for the award. With 16 goals in the league, the Welshman has been Tottenham's talisman and is largely responsible for their challenge for a Champions League spot. Meanwhile, Juan Mata has been indispensable for Chelsea despite the arrivals of Oscar and Eden Hazard over the summer. The creative midfielder has been remarkably consistent and leads the assists list with 13 to his name while he has also amassed a very helpful tally of 10 goals.
Michu is another player who has been in sensational form this season. He's taken the Premier League by storm and looks like the bargain of the summer following his move from Rayo Vallecano. The Spaniard has 15 goals for Swansea City so far in the league which is a fantastic return for a player in his debut season at a mid-table club.
What are your thoughts on the Premier League so far this season? Leave your comments below or discuss with the writer on Twitter @BrendonNetto.
How do you stay up with football when on the move? With http://m.goal.com –your best source for mobile coverage of the beautiful game.