Brendon Netto




Special

| Spain


Follow on
The
La Liga
has had to play second-fiddle to the Premier League in terms of popularity in the past and arguably continues to do so but there's no hiding from the fact that the league is home to the best talents in world football and two of the biggest clubs in Real Madrid and Barcelona.
| | | | | | | | |
| --- | --- | --- | --- | --- | --- | --- | --- |
| P | Team | G | W | L | D | GD | PTS |
| 1 | Barcelona | 28 | 24 | 2 | 2 | +57 | 74 |
| 2 | Real Madrid | 28 | 19 | 5 | 4 | +44 | 61 |
| 3 | Atletico Madrid | 28 | 19 | 6 | 3 | +26 | 60 |
| 4 | Real Sociedad | 28 | 13 | 7 | 8 | +14 | 47 |
| 5 | Valencia | 28 | 13 | 9 | 6 | +1 | 45 |
| 6 | Malaga | 28 | 12 | 8 | 8 | +11 | 44 |
| 7 | Real Betis | 28 | 13 | 11 | 4 | -3 | 43 |
| 8 | Getafe | 28 | 12 | 10 | 6 | -6 | 42 |
| 9 | Rayo Vallecano | 28 | 13 | 13 | 2 | -9 | 41 |
| 10 | Sevilla | 28 | 11 | 12 | 5 | +3 | 38 |
| 11 | Levante | 28 | 10 | 11 | 7 | -8 | 37 |
| 12 | Vallodolid | 28 | 9 | 11 | 8 | -2 | 35 |
| 13 | Espanyol | 28 | 9 | 11 | 8 | -4 | 35 |
| 14 | Athletic Bilbao | 28 | 9 | 14 | 5 | -19 | 32 |
| 15 | Osasuna | 28 | 7 | 14 | 7 | -9 | 28 |
| 16 | Granada | 28 | 7 | 14 | 7 | -13 | 28 |
| 17 | Zaragoza | 28 | 7 | 16 | 5 | -17 | 26 |
| 18 | Mallorca | 28 | 6 | 16 | 6 | -25 | 24 |
| 19 | Celta de Vigo | 28 | 6 | 17 | 8 | -14 | 23 |
| 20 | Deportivo La Coruna | 28 | 4 | 16 | 12 | -27 | 20 |
The juggernauts of Spanish football have dominated the domestic league since its inception in 1929. In fact, out of the 81 championsips played out till date, Madrid (32) and Barcelona (21) have won 53 which is 65% of the total championships.
Barcelona's famed La Masia academy have produced some stellar talents especially in the recent past and they have taken full advantage of its success of late by incorporating several of its graduates into their first team. This 'golden generation' of players have established the Catalans as the dominant force domestically and abroad as well and has contributed exponentially to the outstanding success of the national team.
Real Madrid however, haven't just stood by and watched; at the moment four of their players are regulars in the national team's first eleven although the majority of the line-up is occupied by Barcelona players.
The La Liga may not be as commercial a franchise as its English counterpart at present but they do have the best players in the world. The FIFA XI team announced for the last year only included La Liga players while that was the case for the three finalists for the Ballon d'Or award as well.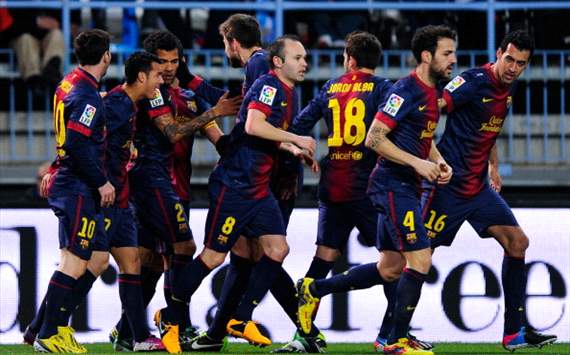 Barcelona have dominated the league in recent years winning five of the last seven championships. Last season, their fierce rivals Real Madrid were able to overthrow them as they did back in the 2007-08 season but it seems certain now that the Catalans will reclaim their crown this time around.
The Blaugrana have a healthy 13 point lead with only 10 games to play and a collapse from arguably the best team in Europe at this stage is highly unlikely. Madrid are second but have had to pay for their slow start to the season. Their patchy form throughout the campaign along with the unrest off the field within the squad and club hierachy have contributed to a feeble defense of their title.
The title race is virtually over so both teams now turn their attention to the Champions League. Given the disappointment in the league, Jose Mourinho is under increasing pressure to deliver a historic 10th European crown for Madrid despite reaching the finals of the domestic cup. Meanwhile, Atletico Madrid are just a point behind Los Blancos in third and will be looking to finish above their cross town rivals for the first time since they won the league in the 1995-96 season.
The Tussle for Champions League Spots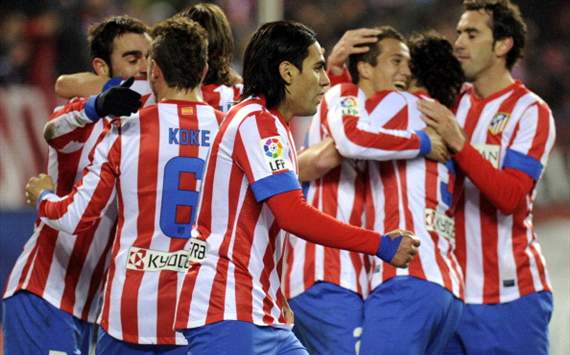 Realistically speaking, there is only one Champions League spot still up for grabs this season and there is no shortage of suitors. While the gap between 3rd and 4th is a massive 13 points, only 6 points separates Real Sociedad in 4th and Rayo Vallecano in 9th.
However, Real Betis and Valencia look the most likely to threaten Real Sociedad's spot with Malaga excluded from European competitions as a result of their violation of the new Financial Fair Play (FFP) regulations.
Despite Sociedad's impressive run this season, Valencia in particular will look to secure the final Champions League spot ahead of them. In all probability, this sub-plot may only be resolved on the final day of the season.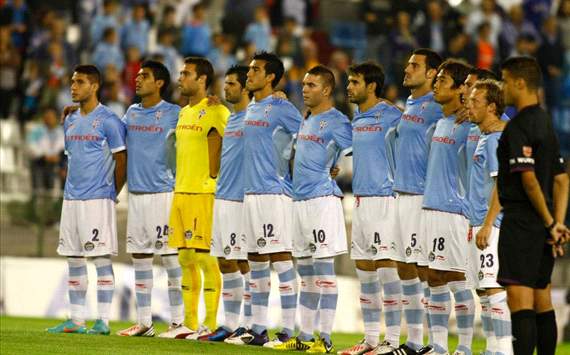 The relegation dog-fight is well and truly on with as many as six teams involved. Mallorca (24), Celta de Vigo (23) and Deportivo La Coruna (20) currently occupy the bottom three spots but Zaragoza (26), Granada (28) and Osasuna (28) could all still be sucked into the drop zone.
Deportivo were champions of the Segunda division last season but have found the top flight much too challenging. Aside from their financial issues, they were hit hard in the summer when Andres Guardado who had the most assists in the second division last season left for Valencia on a free transfer and one of their top scorers, Lassad Nouioui also left on a free transfer to join Rangers.
They have been over-reliant on Juan Carlos Valeron in midfield and on Riki for goals. They simply didn't replace the quality that they lost and that's why they are at the bottom of the table. However, the teams above them haven't looked convincing either and a good run of results for any one of the bottom three could lift them out of the drop zone and towards safety. There may be a couple of twists and turns before the end of the season.
The Overachievers - Real Sociedad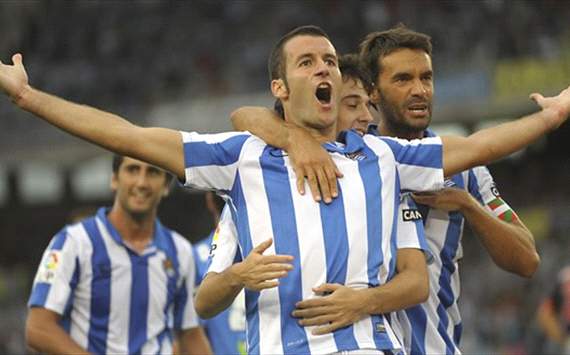 Real Sociedad have been a breath of fresh air in the La Liga this season. Astonishingly, Philippe Montanier has led them to 4th in the table and are desperate to hold on to that final Champions League spot over the final ten games. Despite having resources that don't even compare with the other three teams in the top four, Sociedad have managed to come this far and have sprung a few surprises on the way as well.
They were the first team to beat Barcelona in the league this season and they recently came back from two goals down to salvage a 3-3 draw against fellow top four contenders, Real Betis. Furthermore, they beat Athletic Bilbao in the Basque derby and were the first team to take points off Atletico Madrid on their home turf.
Antoine Griezmann is an upcoming player who has consistently performed for the club since making his debut as a 19 year old three and a half years ago. He enjoyed his best season last year when he recorded 8 goals and 4 assists but has excelled in the current campaign and already has 6 goals and 4 assists. Their captain, Xabi Prieto is their driving force and an exceptional leader.
However, the star man for the club this season has been former Arsenal striker, Carlos Vela. He's been absolute quality for the Basque outfit this season and has 12 goals and 8 assists in the league to show for it. The team is made up of some stellar young talents and they have been guided well by Montanier. Even if they don't qualify for the Champions League, a place in the Europa League would still be a great achievement.
The Flop Team - Athletic Bilbao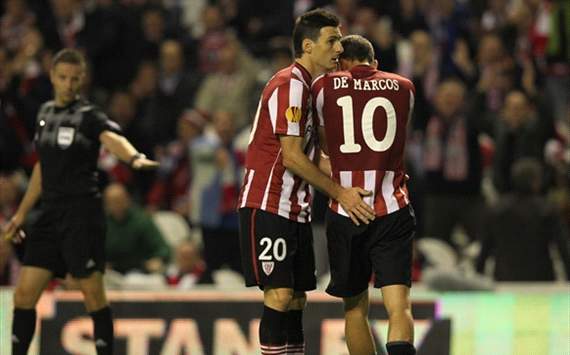 Athletic Bilbao were flying high last season and wowed audiences with their skill, relentless closing down and quick-paced style of play. They even outplayed Manchester United on their way to the Europa League finals. Marco Bielsa was even being linked with several high-profile jobs around Europe including the one that was soon to be vacated by Pep Guardiola at Barcelona but their season this time around could hardly be more contrasting to their last.
Javi Martinez's big-money move to Bayern Muncih following a lengthy transfer saga has certainly cost them and so has Fernando Llorente's attempt at using a similar strategy to leave the club for greener pastures. He wasn't as successful at first and was frozen out of the first team which was counter-productive as the club inevitably suffered. He has now secured a summer move to Juventus but his lack of commitment has crippled a team that never had much depth.
Bilbao relied on their first team last season with Martinez and Llorente being undoubtedly among the biggest contributors to their form. It's those contributions that have been sorely missed.
In a way, their downward spiral began at the tail end of last season when they were beaten in the Europa League finals by Atletico and the Copa del Rey finals by Barcelona. Martinez leaving and Bielsa threatening to leave over the summer compounded their problems and ultimately, they just haven't shown the same kind of desire and incredible work ethic that took them so far last season.
The Golden Boot and Player of The Season: Messi dominates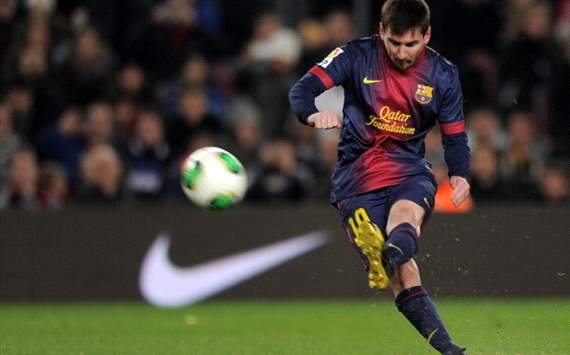 Here's the thing about Lionel Messi - he's never satisfied. Not only has he monopolized the Ballon d'Or award over the past four years, he's now taken over both the 'top scorer' and the 'best player' sections in this article. Barcelona have lost just 2 games this season and their profligacy is largely responsible for that because their defense hasn't been the best.
The reason why Barcelona have been able to score so many goals is because their sublime Argentine has banged them in almost effortlessly. Messi has scored an incredible 42 goals in the league so far which accounts for nearly half of his side's tally with 47.77%. Cristiano Ronaldo's impressive season has been overshadowed by the Barcelona ace once again as the Portuguese remains his closest competitor for the Pichichi award with 27 goals.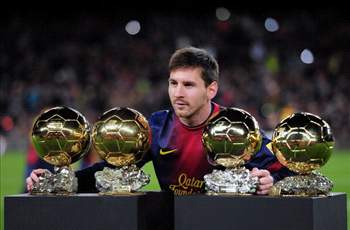 Radamel Falcao also has 21 goals to his name but with a 15 goal lead at the moment, we can all agree that Messi has this one all wrapped up. Moving on to the Player of the Season award then and one could argue that Messi deserves that solely for his goals anyway but just so there isn't a shadow of a doubt, the Argentina skipper has gone ahead and provided 10 assists in the league, second only to Andres Iniesta.
Along with his assists, Messi has been directly involved in 59% of Barcelona's league goals this season and given that they will probably lift the trophy at the end of it, there really isn't a more worthy candidate for the Player of the Season award. Of course, Iniesta's performances this season have been fantastic and he deserves a mention as does Carlos Vela for his hand in Real Sociedad's form this season but inevitably, Messi looks certain to walk away with this accolade as well come the end of the season.
What are your thoughts on the La Liga so far this season? Leave your comments below or discuss with the writer on Twitter @BrendonNetto.
How do you stay up with football when on the move? With http://m.goal.com –your best source for mobile coverage of the beautiful game.