COMMENT
By Harsh Shah
Luis Suarez's presence is of quintessential nature to this Liverpool squad under Brendan Rodgers. One would argue that in almost about two-and-a-half seasons at the club he has become more of a talisman than Steven Gerrard, seeing the way he torments defenders, dictates play in the opponent half and scores crucial goals on a regular basis. And given Liverpool being a 'work-in-progress' for the past few years now, Suarez's presence at Anfield is an absolute necessity if things are to remain on track at the L4.
SUAREZ: MASTER ARCHITECT IN THE REBUILDING PROCESS
Ever since Rafael Benitez left and Fernando Torres unhappily followed suit, Liverpool have been meek challengers both domestically and in Europe. Unsatisfactory phases under Roy Hodgson and Kenny Dalglish have seen the Anfield side go many rungs lower in the English ladder despite being bought out by American bigshots Fenway Sports Group (FSG) spearheaded by John W Henry. While the owners have been supportive, patient and generous to the officials in the dugout, results have not been consistent. And during such testing times, Luis Suarez has been that bright spark who has been carrying the red half of Merseyside on his able shoulders.
Having scored 50 goals in his 92 appearances so far, Suarez has become an Anfield favourite in no time. Currently the leading goalscorer in the Premier League with 22 goals, El Pistolero has been a thorn in every side's way he has faced. A player with exemplary energy levels, he has tormented defenders of all makes and sizes and has either won the game or rescued the plot for Liverpool single-handedly on plenty of occasions.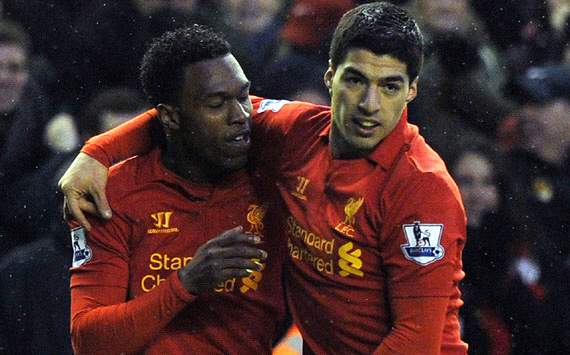 Goals aplenty | Suarez & Co have been the face of Liverpool's progress this campaign
Suarez's importance at Anfield cannot be explained enough. Liverpool stakeholders need to understand and value the mettle of the gem they possess in Suarez's form. Coupling his profligacy along with Liverpool's 'rebuilding' process, a loss of a players of his stature will only be detrimental to Rodgers' troops. If Suarez were to leave for greener pastures in this summer or even the next for that matter, Liverpool will lose some valuable mileage in their trek to regaining their position of power in English as well as European football.
In a supposed quote taken out of context by the media recently, Suarez admitted to be open to a Liverpool exit. Apparently the Uruguayan, who is currently off on international duty, confessed he would talk to rivals with greater prospects of competing in Europe than Liverpool even though he is 'very happy' at Merseyside. The club's managing director Ian Ayre was quick to quash any such rumours and point out that the star striker had just signed a new deal earlier this season keeping him at Anfield for another four years.
Such pieces of speculation with the close season approaching would fill any Liverpool supporter's heart with concern. After seeing Fernando Torres' shock move to Chelsea just days after Suarez had signed for Liverpool in the 2011 January transfer window, the Reds' faithful might just not be able to see a quality attacker move on in the summer of 2013. If Suarez were to leave, then it would be yet another case of history repeating itself at Anfield. Coping with the nature of Torres' transfer to London was difficult; dealing with Suarez's exit to a bigger club will be devastating for Liverpool.
SUAREZ HAS BECOME LIVERPOOL'S MESSI OF SORTS
Luis Suarez is to Liverpool what Lionel Messi is to Barcelona. Without the Argentinian meastro the Catalan side have looked toothless at times. Liverpool's plight without the Uruguayan is very much similar, if not the same. At 26 years of age, Suarez is at his peak as a footballer. If Liverpool do let go of him with the kind of instrumentality and whirlwind presence he has on a football field, it will be criminal to say the least.
As mentioned earlier, Suarez has had a more telling say than Mr. Liverpool Steven Gerrard himself. His link-up play with the skipper is telepathic and also with the No. 8 now almost 33 years of age, Liverpool must look at Suarez to take up the captaincy in the near future. He has proven to be the cutting edge that the 5-time European champions have been yearning for in the past few years. The former Ajax forward has easelessly carried on his form from the Dutch club and taken the whole Premier League world by storm, making headlines for one reason or the other regularly. A proven nutmeg artist, Suarez is among the world's elite when it comes to dropping his shoulders and turning his opponent.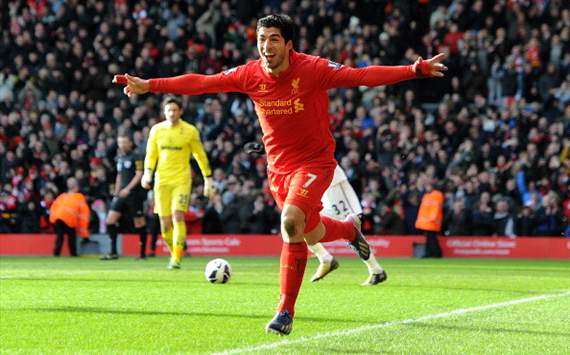 He can only get better | Suarez is enjoying his best season in a red shirt
The street-smart former Nacional and Groningen braveheart hardly gets injured. With Torres there were injury concerns too, but Suarez in his time at the L4 has hardly ever stayed out due to injury. He has been relegated to the sidelines on quite a few instances due to disciplinary reasons, but they too were debatable.
Another principal reason why Liverpool should never ever let go of Suarez and try keeping him for many more years to come is his work-rate. Dirk Kuyt used to have similar industry, but with all due respect to the Dutchman, Suarez is a far more technically gifted player than he is. His passion, drive, commitment, determination and that constant buzzing around opposition defenders is something Liverpool will find extremely tough to replace.
Suarez hates getting subsitituted. Even if he has already scored in the game and Liverpool is cruising to victory, the Uruguayan hates coming off. Where will they find such a motivated player if Suarez were to leave, no one knows.
LFC NEED TO ADD MORE QUALITY TO MAKE SUAREZ STAY
Speaking of the man who has been able to guide Suarez in bringing the best out of himself in a red shirt: Brendan Rodgers. The former Jose Mourinho protege with his style of play has helped hone Suarez's game and given the latter a more free role than his first one-and-a-half seasons under Kenny Dalglish. In the Northern Irishman's first season at the helm, if not in way of results and position, Liverpool have become a more potent outfit when it has come to style of play, passing and also goalscoring. Few of his better signings in Daniel Sturridge and Philippe Coutinho along with a revitalised Steven Gerrard have added more thrust to Suarez's threat in front of goal.
Though Liverpool lie 7th in the table, they are 3rd when it comes to scoring goals with 57 already in the Premier League this season, surpassed only by Chelsea and Manchester United. Suarez to his credit has had the most number of shots this season apart from bagging the gong of topscorer so far. With Liverpool's team chemistry finally finding its feet with Suarez central to the whole attacking love affair, it will be a very bad time to lose Suarez in the summer.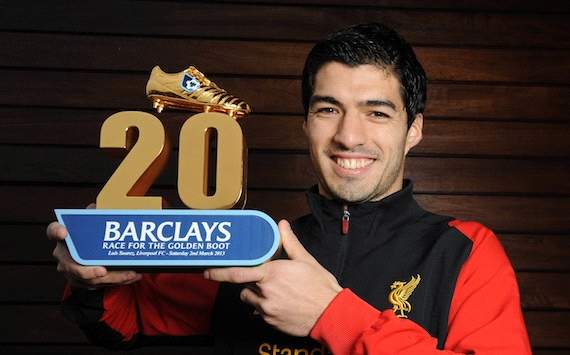 He just can't stop scoring | Suarez has always been a proven goal-getter
The Copa America winner is in contention for the PFA Player of the Year accolade following his tremendous contributions for Rodgers' side thus far. If Rodgers' is to maintain his stronghold and drive down his philosophy and style of play further, the final piece in the Liverpool jigsaw won't be to let Suarez go, rather it will be to somehow keep hold of him and get another player who can match his level – that will be a statement of intent from the Anfield that they really mean business. Manchester United did that by bringing in Robin Van Persie despite having a star striker in Wayne Rooney and look where they are; on the verge of a 20th Premier League crown.
Liverpool have to see the bigger picture here. With a player like Suarez in the team, if he is to get able support, someone apart from Gerrard who can really hit the kind of level he keeps hitting consistently, the Merseysiders could really mount a challenge next season for the Premier League. But if Suarez is lost, then it will be the same old story at Anfield with the supporters keeping the faith yet in their heart of hearts knowing that all is definitely not well at the club.
Follow Harsh Shah on



Will Suarez make a move in the summer? Let us know what you think of that proposition...

How do you stay up to date with football when on the move? With http://m.goal.com – your best source for mobile coverage of the beautiful game.