COMMENT
By Sasa Ibrulj
The second that the fates ensured that Croatia and Serbia would be in the same World Cup qualifying group, it was obvious that this would be the biggest clash of the preliminary stage. There may be better teams and more eye-catching matches, but nothing can be compared with this rivalry.
Over two decades ago, the two countries were going head to head, but in a far scarier arena than the football pitch, when Yugoslavia, the nation which bound them together for over 60 years, broke up and ended in a bloody war which started in 1991.
Those who had been football rivals became enemies in battle, leaving deep scars which will undoubtedly rear their ugly heads on Friday, when the two clash in Zagreb.
Politics always played a huge role in Yugoslavian football. Even in the 1930s, the divisions between the different peoples that made up the country could not be hidden, with only Serbians representing the nation at the inaugural World Cup in Uruguay.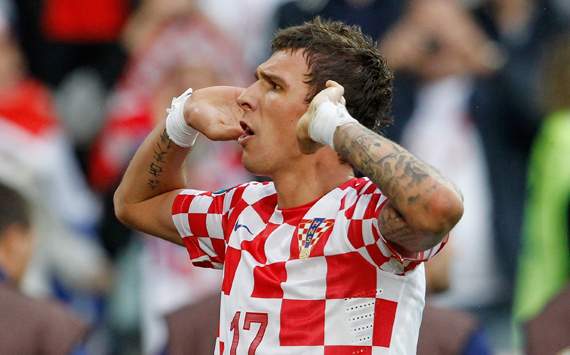 "We can't wait" | Mandzukic is hoping to realise the hopes of his nation
After World War II, socialist leader Josip Broz Tito took over, preaching "brotherhood and unity", but nationalism was still plain for all to see in the stands. Following his death in 1980, it became all the more obvious.
In a way, the war started in Zagreb's Maksimir Stadium following vicious riots and clashes between the fans of Dinamo, Croatia's finest, and Red Star Belgrade, the biggest Serbian club.
Happily, there is no prospect of a repeat on Friday, when the two countries meet at the same stadium; not because the hatred between them has died down, but because both of their Football Associations agreed that it would be best if away fans were banned.
"Organised groups are not allowed," a Croatian FA official said. "If we see individuals wishing to enter the stadium as Serbia fans, they will be arrested and eventually sentenced to 30 days in prison." The same applies for the match in Belgrade.
"This is a special match and the rivalry is huge. We must stay cool and approach this match as any other"





- Dusan Tadic

While the players and coaches of both sides are attempting to play down matters off the pitch, fans and the media have taken a different tack. There have been serious problems with ethnic diversity within Croatia of late.
Last week, a politician labelled Serbs - along with other minorities in the country - as "guests", while young hooligans attacked an Orthodox priest, due to the religion's association with their neighbours.
Most worryingly, Zdravko Mamic, president of Dinamo Zagreb, publicly offended a member of the Croatian government purely because of his Serbian roots.
With tensions rising, it would be easy to forget that there is a match to play, but players from both sides are eagerly awaiting kick-off.
"This is one of the matches you will remember your whole life," says Croatia and Bayern Munich striker Mario Mandzukic. "Everybody is talking about it, asking and begging us to win, and we can't wait to go out there and play it."
His Serbia counterpart, Dusan Tadic of Twente agrees: "This is a special match and the rivalry is huge. We must stay cool and approach this match as any other."
Picking a favourite seems easy. Since Yugoslavia split, the two countries have followed decidedly different paths, with Croatia missing just two major competitions and Serbia reaching only one as an independent country. To top it off, Igor Stimac's side are certainly in better form.
But the visitors can cast their minds back to qualification for the Belgium and Netherlands tournament, in 1999 when they claimed a 2-2 draw at the Maksimir to seal progression ahead of their rivals.
For the divisions between the two countries, though, come 18:00 CET on Friday, they will be fighting for the same things: pride and victory.