Brendon Netto




Special

| Italy


Follow on
The
Serie A
won't always provided you with free flowing football and regular goal-mouth action but for those who appreciate the tactical side of football and the discipline that goes with it, the Italian league has those attributes in abundance.
| | | | | | | | |
| --- | --- | --- | --- | --- | --- | --- | --- |
| P | Team | G | W | L | D | GD | PTS |
| 1 | Juventus | 29 | 20 | 4 | 5 | +39 | 65 |
| 2 | Napoli | 29 | 16 | 5 | 8 | +24 | 56 |
| 3 | AC Milan | 29 | 16 | 7 | 6 | +20 | 54 |
| 4 | Fiorentina | 29 | 15 | 8 | 6 | +18 | 51 |
| 5 | Roma | 29 | 14 | 10 | 5 | +11 | 47 |
| 6 | Inter Milan | 28 | 14 | 9 | 5 | +7 | 47 |
| 7 | Lazio | 29 | 14 | 10 | 5 | +2 | 47 |
| 8 | Catania | 29 | 13 | 10 | 6 | +3 | 45 |
| 9 | Udinese | 29 | 10 | 8 | 11 | 0 | 41 |
| 10 | Sampdoria | 28 | 10 | 12 | 6 | +2 | 35 |
| 11 | Bologna | 29 | 10 | 14 | 5 | +1 | 35 |
| 12 | Torino | 29 | 8 | 9 | 12 | -2 | 35 |
| 13 | Parma | 29 | 9 | 12 | 8 | -3 | 35 |
| 14 | Cagliari | 29 | 9 | 12 | 8 | -13 | 35 |
| 15 | Chievo | 29 | 10 | 14 | 5 | -13 | 35 |
| 16 | Atalanta | 29 | 10 | 14 | 5 | -12 | 33 |
| 17 | Genoa | 29 | 6 | 15 | 8 | -16 | 26 |
| 18 | Siena | 29 | 8 | 14 | 7 | -11 | 25 |
| 19 | Pescara | 29 | 6 | 20 | 3 | -37 | 21 |
| 20 | Palermo | 29 | 3 | 14 | 12 | -20 | 21 |
The Scudetto has a unique allure; the stadiums, the history, the tradition, the passion and the style of play all contribute to make the league irresistibly engrossing for every football enthusiast.
On a sour note, the league has been tainted by match fixing scandals repeatedly in the past. Indeed, the reigning Scudetto champions, Juventus were stripped of their titles in the 2004-05 and 2005-06 seasons for their role in the "Caciopoli" scandal.
However, apart from the negative affects, the scandals have served to add to the drama and intrigue surrounding the Serie A.
Amidst the controversies, the league is not short of quality either. In fact, more players have won the coveted Ballon d'Or award while playing in the Serie A than any other league in the world.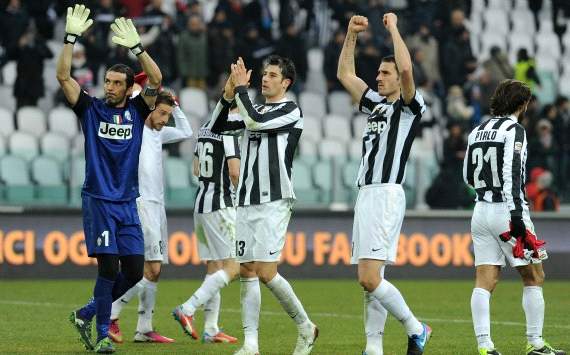 Juventus enjoyed a record-breaking and undefeated title-winning league campaign last season and although they have been beaten four times during this term, their dominance hasn't wavered. The Bianconeri maintains a formidable position at the top of the table with a 9 point lead over Napoli in second place.
They have a world-class central midfield trio of Claudio Marchisio, Arturo Vidal and Andrea Pirlo who have been largely responsible for their success. Juventus began the season with their manager Antonio Conte serving a touch-line ban for his role in the Scommessopoli scandals. Nevertheless, the team were able to start strongly as they won 9 of their first 10 games in the league and have since been consistent enough to establish themselves at the summit.
With Napoli and AC Milan 9 and 11 points behind the leaders respectively, only a major and unprecedented collapse from Juventus will see the title go anywhere else other than back to Turin. The defending champions will be keen to wrap up the title while they must also turn their attention to facing Bayern Munich in the quarter-finals of the Champions League.
The Tussle for Champions League Spots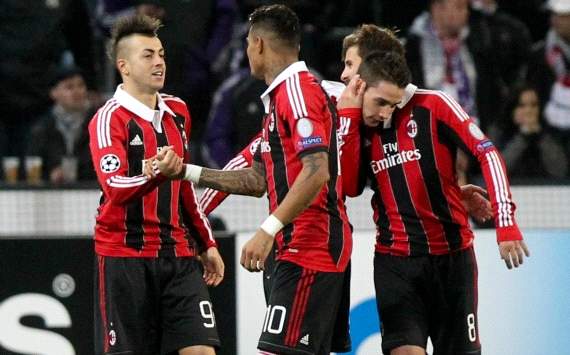 Unsurprisingly, there are quite a few clubs still in the mix for the Champions League spots. Napoli and Milan are currently in second and third with 56 and 54 points respectively but are closely followed by Fiorentina who have 51 points. Meanwhile, Roma, Inter Milan, Lazio and surprisingly Catania are all still in with a shout.
Currently in the third and final Champions League spot, Milan's recent form means they're favourites to hold on to that position and may even look to snatch second place away from Napoli but they have a difficult run-in which includes home games against Napoli and Roma while they still have to travel to Fiorentina and Juventus. That's four tough fixtures in their final nine games and so their presence in next season's Champions League is by no means certain just yet.
In all likelihood, Inter, Lazio and Catania will lack the consistency to seriously threaten Milan in third place but Roma and Fiorentina remain in striking range of them and Napoli as well. The games between the four teams will be crucial and while the title race may not be a stimulating one this season, the batte for the Champions League places may end up going right down to the wire.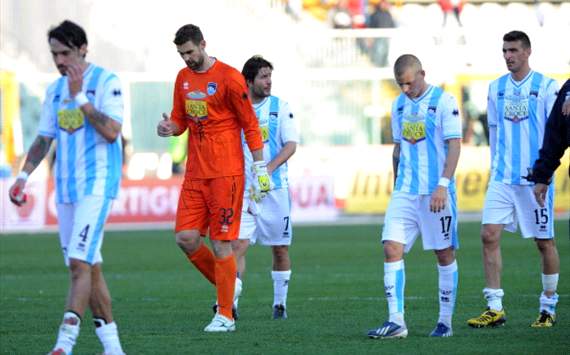 Among the newly promoted sides this season, Torino and Sampdoria have done well to stay clear of the drop zone at this stage but the same cannot be said of Pescara. Not only are they second from bottom in the table with 21 point, but they have been the whipping boys of the league so far as well.
They've conceded a massive tally of 58 goals, renderring their defense the worst in the league. They've also been on the receiving end of the biggest home and away wins this season when they were beaten 6-0 away to Sampdoria and 1-6 at home to Juventus.
The big story has to be Palermo being rooted to the bottom of the table and even with 9 games to play, they look certain to go down. They've shot themselves in the foot more than once this season with a series of questionable decisions by the club hierachy with regard to the managerial position that has affected their performances on the pitch.
Meanwhile, Siena will be disappointed to find themselves in the relegation zone but all is not lost yet. They are a point away from safety at the moment and could well save themselves come the end of the season at Genoa's expense while Atalanta could be dragged back into the mix as well.
The Overachievers - Catania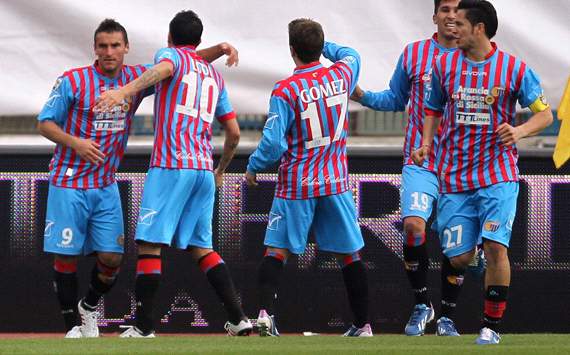 Catania returned to the Serie A in the 2006-07 season and narrowly survived the drop in the following one but have consistently maintained their mid-table status since. Last season, they recorded their best finish in the league when they secured 11th place but their impressive form this time around has put them on course to improve on that league position.
They currently lie 8th in the table and are within 2 points of Lazio, Inter and Roma above them, although Inter have a game in hand. Their target may have been to maintain their mid-table status once more this season but they now find themselves in a position to secure a place in Europe next season.
The 5th spot is well within their reach and would earn them a place in next season's Europa League which would be a significant step forward for the Sicilians. Meanwhile, a Champions League spot which is currently 9 points away from them remains a long shot but stranger things have happened in football and the very fact that they are in range of it at this stage is a victory in itself.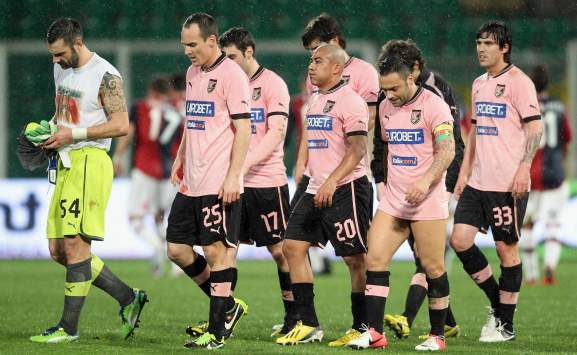 Palermo have simply self-destructed this season. Yes, the players have underperformed but little blame can be attached to them with the managerial fiasco at the club taking center stage. The eccentric owner, Maurizio Zamparini is quite visibly the chief culprit. For those who aren't familiar with the Italian's actions and think Roman Abramovich is ruthless and trigger-happy; brace yourselves.
A little over a week ago, Palermo announced the appointment of Giuseppe Sannino as their new head coach, a managerial change at this stage of the season is not uncommon but in this case, it was the fifth managerial appointment of the campaign.
Sannino began this season at the helm but was relieved of his duties in September and was replaced by Gianpiero Gasperini. There was widespread unrest within the club due to the owner's behaviour, including the resignation of the club's general manager Pietro Lo Monaco who claimed it became impossible to work with Zamparini. The club were bottom of the table after January and Gasperini was inevitably fired and replaced by Alberto Malesani.
After just two games and one point, Zamparini deemed it necessary to fire Malesani and re-hired Gasperini. However, his second tenure at the club this season lasted only a few weeks and Sannino has returned for his second tenure now but how long before he is fired again?
Perhaps all of this shouldn't come as a surprise since Zamparini has fired five managers in a season before with Calcio Venezia during the 1994-95 season. In his 26 years at club president, he has changed 41 coaches. Zamparini's actions have made the club the laughing stock of the league and has seemingly condemned them to relegation which is an absolute shame given their stature.
The Race for the Golden Boot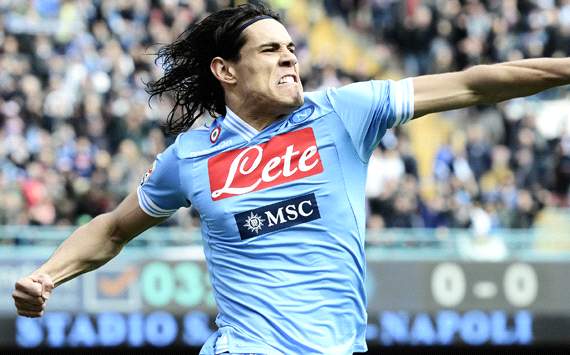 Zlatan Ibrahimovic moved to Paris Saint-Germain in the summer and Diego Milito hasn't had the best time at Inter this season with his injuries while the team has been inconsistent. With the two front runners from last season out of the picture, the chasing pack of Edinson Cavani and Antonio Di Natale have graduated to the top of the goal scoring charts and have been accompanied by the emerging Stephan El Sharaawy.
Cavani leads the list so far with 20 goals but is being hunted by El Sharaawy and Di Natale who have 16 and 15 goals respectively. The Napoli striker seems to be back on track after a brace against Atalanta ended his six-game drought while the Milanese youngster has slowed down in the second half of the season with only 2 goals in his last 11 league games. Meanwhile, the Udinese captain has also been patchy with his goal scoring of late and with just 1 goal in his last 8 league games, Cavani seems to be the favourite.
Player of the Season so far - Totti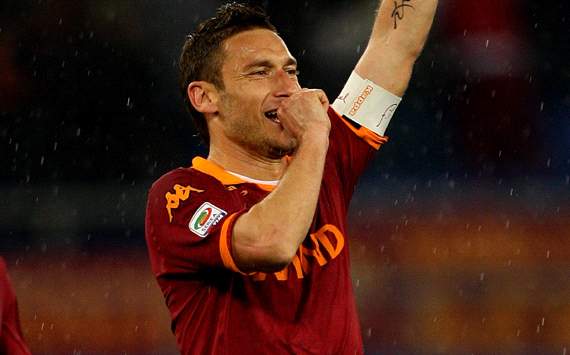 Once again, Cavani can be considered in the mix as the player of the season with his goals helping Napoli to second in the table while El Sharaawy's form in the first half of the season to keep Milan afloat was also commendable but the best and most influential player in the league so far has been Francesco Totti. He is the quintessential trequartista and he has proved so again this season by being Roma's talisman, frequent goal scorer and playmaker all at once.
In his 26 games so far, he's been directly responsible for at least one goal in 19 of those fixtures, averaging a goal or assist every 102 minutes. With 11 goals and 10 assists this season, he is the second most prolific midfielder in the league and is also second in assists. His character and experience has been essential to Roma's form this season and at the age of 36, he continues to be a charasmatic icon within the Serie A.
His winning goal against Juventus last month was a stunning strike from long-range and epitomized the class with which he has played the game for nearly two decades while being a fitting tribute to his sensatiional talent. He also scored a stunner against Fiorentina earier this season and continues to wow the Italian league with his ability from range. The impact he's had on his side this season deserves recognition and so far, he has been the stand out player in the league.
What are your thoughts on the Serie A so far this season? Leave your comments below or discuss with the writer on Twitter @BrendonNetto.
How do you stay up with football when on the move? With http://m.goal.com –your best source for mobile coverage of the beautiful game.