TRIBUTE | By Harsh Shah
Francesco Totti has a very special place in Italian as well as world football. Performing consistently at the top level for almost two decades now, Totti has now elevated his stature as a professional footballer to such a level that his following and fandom has reached a crescendo that is afforded only to the best of the best out there. And with the Roman born and bred toppling records and milestones with classic vigour even at the age of 36, one can only excitedly wait in anticipation to see what comes next from the boots of Rome's favourite son.
Totti's agelessness is adulation to Italian football's many greats who just like him keep getting better as the years progress. Andrea Pirlo, Gianluigi Buffon and Javier Zanetti are a few among the active players who are synonymous to Totti's predicament in the Serie A. While others are found receding in form as well as physicality on reaching the other side of 30, the likes of Totti and Pirlo seemed to have gulped down the Elixir of Life; as they look surprisingly unstoppable and tireless in their pursuit and love for the game.
As the seasons have rolled by, Totti has only grown mature and showcased integrity while Roma has seen a barrage of managers come and go. Playing in his 20th season with the Giallorossi first team, Totti has featured under a mind-boggling total of 14 managers in his time at the Stadio Olimpico. It is a tremendous compliment to Totti's character, professionalism and love for the club which has seen him excel and maintain his composure under so many different tacticians at the helm with all their philosophies, styles and work ethics coming into play. He is that kind of player who puts his head down to work and keeps going, despite the goings-on in the club's dugout, never one to complain.
Mind you, Totti's stock has not just risen in recent times because of his record-breaking club figures. The all-time Roma top-scorer with 281 goals has come under contention for a national call-up in light of his astoundingly consistent displays in club colours. The omnipresent attacker hung up his international boots in 2007 to be almost lured back by Marcelo Lippi for the 2010 World Cup. If he were to honour Cesare Prandelli's invitation this time out to play for Italy anytime in the run-up to next year's World Cup in Brazil and/or also feature in the main finals of the competition, it will be a rare instance of a player coming out of retirement after almost 7 years on the sidelines.
It will be a return to the international fold based solely on his merit and foreseeable influence on the game and not a case of him making a forceful comeback citing unavoidable circumstances. A certain Dino Zoff would be a proud man if Totti were to don an Italian shirt next summer in Brazil!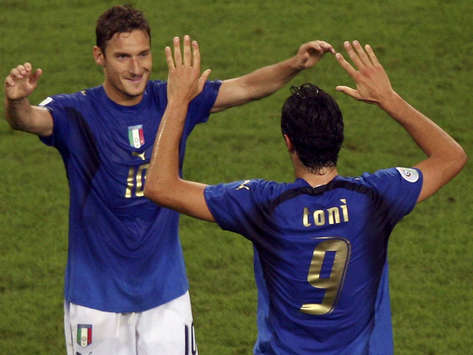 Almost two decades of Totti magic | Italy call-up after 7 years out?
Having Totti back in the Azzurri blue will be a huge boost to the Euro 2012 losing finalists and could just be that extra element which fires them to glory in next year's carnival of a World Cup. With Balotelli & Co looking to come of age, Totti's excellent leadership skills could be of some real help in going that extra mile. With 58 international caps under his belt, Totti could be just the man to execute the disciplined Prandelli's tactics. His so many years of experience with the Giallorossi could very well go on to help the national challenge next year. Adding Totti's name to the list of Renaissance-like artistic players in the Italian lineup will raise any football enthusiasts' eyebrows.
Totti's Italy career is more than decent. Scoring 9 goals in 58 appearances, he was named in 2006 World Cup's All-Star team in Germany. With 4 assists (the most in the tournament by any player) and 1 crucial injury time penalty goal against Australia in the round-of-16, Totti lit the competition alight with his gritty performances in the hole. The Euro 2000 losing finalist played the whole 2006 showpiece edition with metal plates in his ankle that had yet to be removed following a surgery in the back-end of the previous season. One just can't help but salute the gladiator-like dedication and demeanour of the prolific attacker.
Switching the spotlight to Totti's style of play, one can see the evolution that has taken place in it over the years. Predominantly attack-minded, Il Bimbo D'Oro (The Golden Boy) has been deployed in varying roles upfront by the many trainers who have come and gone. He made his debut on 28th March, 1993 and was used sparingly until the 1997 season, scoring 16 goals in his first 3 years at the club.
Zdenek Zeman in his first stint as Roma coach in the 1997-98 season stationed Totti on the left side of a 4-3-3 formation. He scored 30 goals during Zeman's initial reign at the helm and even assumed the captain's armband for the first time under the Czech coach at the tender age of 21. Then came the 5-year Fabio Capello era during which the No. 10 took up the role of a trequartista or in other words an attacking midfielder role behind the main striker to take advantage of his innate passing skills. In Capello's second campaign Totti won his only Scudetto title, notching up 13 goals and 7 assists in 30 league appearances in total.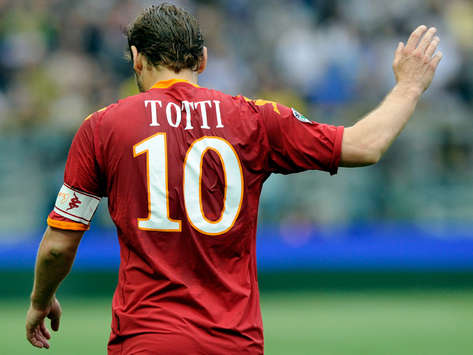 The ageless wonder | As true a No. 10 as there ever was one
Luciano Spalletti was handed the mantle of manager in the 2005-06 season after a turbulent previous season which saw a whopping four managers come and go at the Stadio Olimpico. Spalletti stayed on for a total of 5 years in which Totti thrived in a 4-2-3-1 formation as the lone striker upfront. But his role was not to wait for crosses and chances, rather he was to fall back frequently and make space for attacking midfielders to surge forward. It was the first version of the 'False-9' formation well portrayed by the current Spanish side.
Totti arguably enjoyed his best years under Spalletti, becoming the Serie A top scorer in the 2006-07 campaign with 26 goals, helping Roma finishing runners-up to Inter Milan and win the Coppa Italia. Totti also scored his 200th goal for Roma during the Spalletti era in 2008 and won his 5th Italian Footballer of the Year title that year. During the same campaign, Totti also become the second most successful club captain in team history as by then he had a total of 5 major titles and 10 runner-up medals to his name!
Ever since Spalletti has left, Totti's positioning has been juggled with by the coaches who have followed, namely Claudio Ranieri, Vincenzo Montella, Luis Enrique and Zdenek Zeman (his second spell). Totti's evolution as an attack minded player with his versatility is there for everyone to see. He can score with either foot, his head and from almost anywhere in the opponent's attacking half.
With his importance at the club only growing with all the managerial inefficiencies and incompetency, Roma is identified by Francesco Totti's name and not the other way around as it is in most players' case. He is easily the best bet to take over as player-manager if Roma's perennial coaching issues are to follow the existing trend. And one would rarely doubt his influence if he were to actually take up the position! Totti can be identified as that one vital cog in the Roman wheel which has prevented the capital side from fading away into the darkness on many occasions in the past.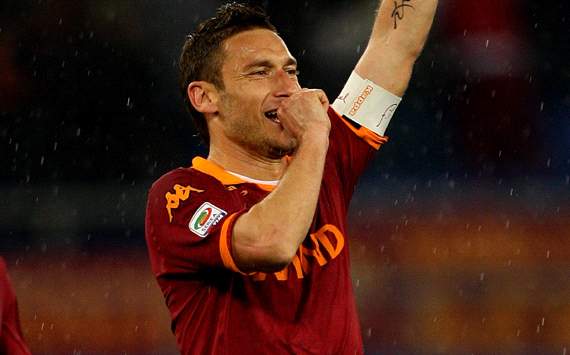 281 goals and counting for Roma | Is it that easy for Er Pupone (The Big Baby)?
The modern day gladiator in Totti is of paramount importance to an i Lupi side which is seeing a transition of sorts given their lack of challenge at the domestic level in the past few seasons. His goals are of the highest quality, given he is blessed with two feet capable of launching missiles, literally. His goal this season against Juventus was said to be travelling at the speed of 113 km/hour before it struck the back of the net. No guesses for what would have happened, had anyone got in the way of the shot?!
His sheer hard work and ingenuity on the football field has seen him surpass Gunnar Nordahl to the second spot in the all time leading goal scorers list for the Serie A with his 226th goal coming against Parma a few days back. Totti has vowed to go next in pursuit of Silvio Piola's record of 274 Serie A goals and assures he still has a lot of years left in him. Pairing the La Maggica talisman's work ethic, physical condition and his raw determination to keep going at the highest level along with the latest developments in sports healthcare, one would not be surprised if he played at the top level for the next 4 or 5 years easily.
At the age of 36, Totti will make it hands or in this case legs down to any classic all-star XI of modern greats or even hone the forward role of a team filled with all one-club players such as Steven Gerrard, Xavi Hernandez, Andres Iniesta and the likes.
Totti's worth to this current Roma side and also proof of him being one of the greatest and best ever even after crossing three dozen years of age comes from current Roma coach Aurelio Andreazolli's quotes on the playing legend;
"Totti? It's always easier with him around, he makes difficult things look easy. Totti has said that if we continue like this he'd like to see me continue as coach next season? The captain buying into it is very important, of course, but he's biased: he's my buddy"
Enough to point the way towards who is the real Il Re di Roma – The Real King of Rome.
Follow Harsh Shah on



Do you think Totti will play for Italy in next year's World Cup? Let us know..

How do you stay up to date with football when on the move? With http://m.goal.com – your best source for mobile coverage of the beautiful game.