Brendon Netto




Special

| Germany


Follow on
The
Bundesliga
is one of the best European Leagues and has been on the rise in recent years. The German Football Association has spent the best part of two decades revolutionizing their country's footballing philosophy at the grass root level and have rightly reaped the benefits.
| | | | | | | | |
| --- | --- | --- | --- | --- | --- | --- | --- |
| P | Team | G | W | L | D | GD | PTS |
| 1 | Bayern Munich | 26 | 22 | 1 | 3 | +58 | 69 |
| 2 | Borussia Dortmund | 26 | 14 | 5 | 7 | +29 | 49 |
| 3 | Bayer Leverkusen | 26 | 13 | 7 | 6 | +12 | 45 |
| 4 | Eintracht Frankfurt | 26 | 11 | 9 | 6 | +2 | 39 |
| 5 | Schalke 04 | 26 | 11 | 9 | 6 | 0 | 39 |
| 6 | Mainz | 26 | 10 | 8 | 8 | +4 | 38 |
| 7 | Borussia Monchengladbach | 26 | 9 | 6 | 11 | 0 | 38 |
| 8 | Hamburg SV | 26 | 11 | 10 | 5 | -4 | 38 |
| 9 | SC Freiburg | 26 | 9 | 8 | 9 | 0 | 36 |
| 10 | Hannover 96 | 26 | 10 | 12 | 4 | 1 | 34 |
| 11 | FC Nurnberg | 26 | 8 | 8 | 10 | -3 | 34 |
| 12 | VFB Stuttgart | 26 | 9 | 12 | 5 | -16 | 32 |
| 13 | VLF Wolfsburg | 26 | 8 | 11 | 7 | -10 | 31 |
| 14 | Werder Bremen | 26 | 8 | 12 | 6 | -9 | 30 |
| 15 | Fortuna Dusseldorf | 26 | 7 | 11 | 8 | -4 | 29 |
| 16 | FC Augsburg | 26 | 5 | 12 | 9 | -15 | 24 |
| 17 | TSG Hoffenheim | 26 | 5 | 16 | 5 | -19 | 20 |
| 18 | Greuther Furth | 26 | 2 | 15 | 9 | -26 | 15 |
The German national team has emerged as a major force in international football over the past decade. Players like Mesut Ozil, Mario Gotze, Marco Reus, Thomas Muller, Toni Kroos, Lewis Holtby and Julian Draxler are just some of the sensational young players their improved infrastructure has managed to unearth.
The quality of players and improved style of play has made the Bundesliga a much more popular brand and the fact that they have two teams in the quarter-finals of the Champions League this season is testament to their progress. The domestic league has served up plenty of talking points this season.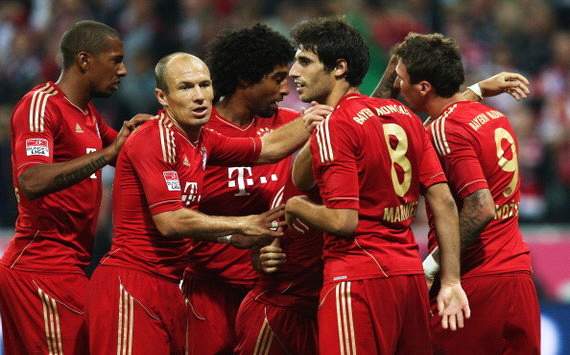 Title race? What title race? Bayern Munich have absolutely steamrolled the competition this season and are firmly established at the summit with an assertive 20 point lead over Borussia Dortmund in second place. Dortmund were champions for the previous two seasons but have been made to pay for an extremely slow start to this time around.
From an attacking perspective, the Borussians have kept pace with the Bavarians having scored 60 goals with the league leaders netting 69. Hannover are the side closest to the top two in the goal scoring department with just 47. However, Bayern have been in a league of their own defensively having conceded only 11 times while Dortmund have conceded 31 goals and therein lies the telling difference.
The title is quite clearly a foregone conclusion and both teams occupying the top two slots will turn their attention to their respective Champions League campaigns for the remainder of the season. Bayern will also have the domestic cup to play for having made it to the semi-finals. After a disappointing end to last season, the Munich side look determined to make up for it on all fronts.
The Tussle for Champions League Spots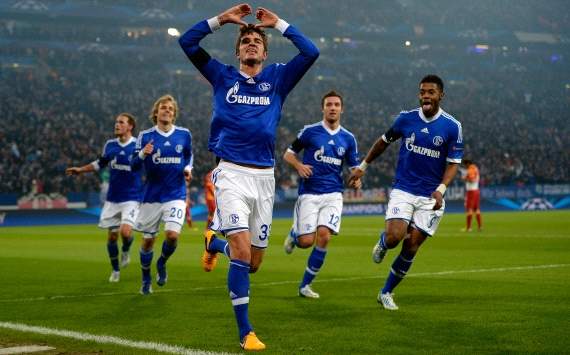 This is where the excitement is as far as the Bundesliga is concerned this season. Bayer Leverkusen have had a great season and don't look like loosening their grip on 3rd place which only leaves 4th place up for grabs. There are just 5 points separating Eintracht Frankfurt in 4th and Nurnberg in 11th. Any one of 8 sides could grab that last Champions League spot and the battle for it promises to keep us engrossed until the final day.
Newly-promoted Frankfurt have stunned the German top-flight this season to currently occupy the 4th Champions League spot with 39 points to their name but FC Schalke are hot on their heels, trailing only on goal difference. Mainz, Borussia Monchengladbach and Hamburg are also in hot pursuit with 38 points each.
With the form they've shown of late and the fact that their elimination from this season's Champions League means they are no longer distracted, Schalke are favourites to return to the tournament next season. However, injuries to key players like Klaas-Jan Hunterlaar and Ibrahim Afellay have hampered their run-in while they have also had to contend with the departure of Lewis Holtby. Nevertheless, Julian Draxler has been in top form for them of late and they will hope the youngster can get them over the line. The recent acquisition of Michel Bastos from Lyon has given their attack a fresh impetus.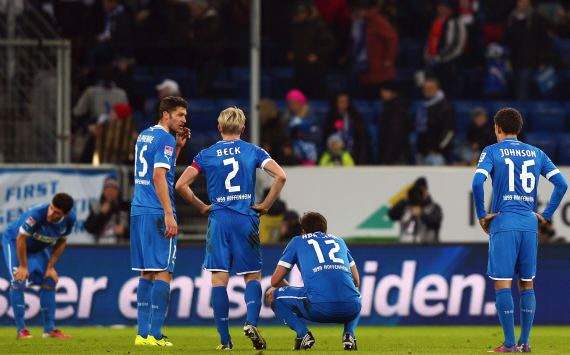 Greuther Furth were always going to be favourites for the drop and so it's no surprise that they find themselves firmly rooted to the bottom of the table with only 15 points, ten points from safety. Their defending has been abysmal and the fact is that they just don't have the quality to stay up.
Meanwhile, Hoffenheim will be extremely disappointed with their performance this season and they look certain to pay the price. They languish in 17th place with just 20 points, 4 behind Augsburg who are above them in the relegation play-offs spot. Their best chance is to try and catch Augsburg in order to secure the 16th spot and hope that they can survive the play-offs.
However, if Augsburg finish their season well, which may be unlikely, there's every chance that Fortuna Dusseldorf and Werder Bremen could still be dragged into the drop zone. With just 8 games to go, the bottom three teams don't have a lot of time to save themselves and while Augsburg is still in with a fighting chance, the bottom two look destined for the drop.
The Overachievers - Eintracht Franfurt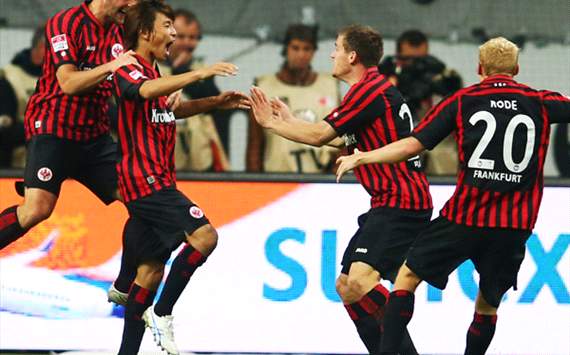 Eintracht Frankfurt's sudden ascent this season has taken the German top flight by storm. Their target at the start of the campaign for the newly-promoted club was to merely survive relegation but now they're having to pinch themselves as they are one of the contenders for the final Champions League spot which they currently occupy.
Many of their players were part of the team that was relegated from the Bundesliga in the 2010-11 season but have since matured and learned valuable lessons down in the second division. Their attacking play down the flanks has been a feature of their success this season and ex-Leverkusen full-back, Bastian Oczipka in particular has 7 assists to his name courtesy of his remarkable crossing ability from the left.
Meanwhile, Stefan Aigner also has 7 assists to his name from the opposite flank but has also chipped in with 8 goals in the league. Their attacking midfielder and talisman, Alexander Meier has been the grateful recipient of the efficient crosses from his widemen and has duly obliged with 12 league goals this season.
Even though they are in 4th spot at the moment, if Frankfurt don't maintain their form, they could still drop several places as they are only 9 points ahead of 14th placed Werder Bremen, a fact that emphasizes the importance of finishing the season well.
The Flop Team - Borussia Dortmund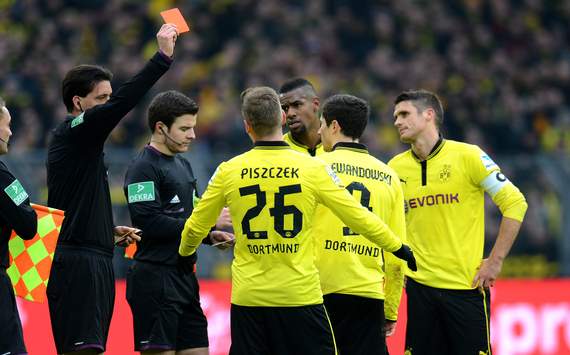 It may be harsh to have the team in second place deemed the 'flop team' but the fact is that the 20 point gap between them and Bayern Munich have rendered Borussia Dortmund the most disappointing team of the season. Perhaps a third consecutive Bundesliga title was always going to be a difficult task but surely they were expected to offer a better defense to their crown.
It's not too hard to identify the problem for Dortmund this season. While they conceded only 22 and 25 goals throughout their previous two title-winning campaigns, they have already let in 31 this season with 8 games to go. They have maintained their goal scoring form with the likes of Robert Lewandowski leading the way while Marco Reus, Mario Gotze and Jakob Blaszczykowski have all chipped in with telling contributions.
While they endured a poor start to their campaign, their form in general has been patchy this season but they have been a much stronger force in Europe, drawing a few similarities with Real Madrid's form this season. Bayern just have to win two of their last eight games to ensure that the title will be mathematically unattainable for Dortmund. The Borussians will use the rest of the season to focus on their Champions League aspirations.
The Race for the Golden Boot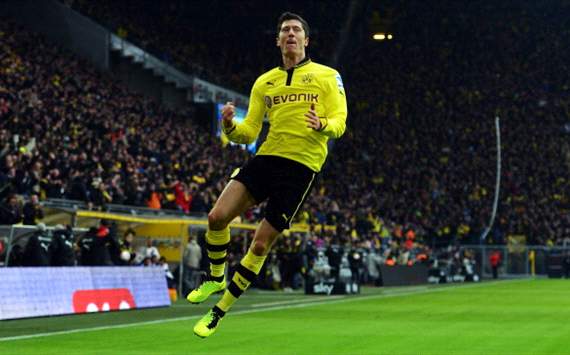 Despite Dortmund's shortcomings this season, Robert Lewandowski remains in pole position in the race for the Golden Boot. The Poland international has plundered 19 goals in the league this season and has continued to impress potential suitors. Jurgen Klopp will be weary of losing his star striker with the player refusing an extension on his contract which runs out next summer.
Stefan Kiebling has been largely responsible for Leverkusen's fine form this season as his 16 goals so far have helped them to 3rd in the table. They can still overcome Dortmund who are just 4 points ahead of them and Kiebling will feel that he can still catch Lewandowski who he trails by just 3 goals.
Bayern's Mario Mandzukic is not out of the picture either as his 15 goals so far have helped him overthrow one of the goal scoring sensations from last season in Mario Gomez as the first choice striker in Munich. While Gomez, who was the second top scorer last season with 26 goals, has scored just 7 times this season, last season's top scorer, Huntelaar who scored 29 goals has also been a major disappointment, managing just 7 goals as well.
Player of the Season so far - Thomas Muller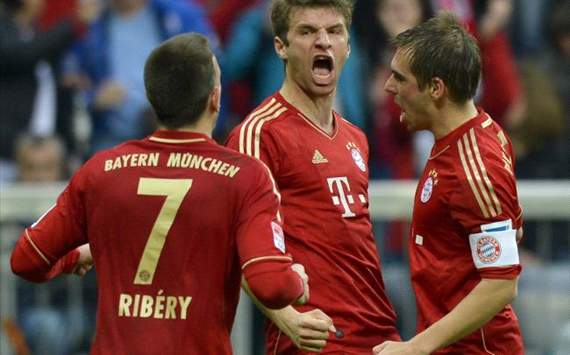 There are a number of players who have been standout performers in the league this season. Franck Ribery has enjoyed a good campaign with 6 goals and 9 assists to his name but Kiebling and Lewandowski must also be credited for their goals. Reus has been sensational this season with 10 goals and 8 assists and is a top candidate while Philippe Lahm's 9 assists coupled with his defensive performances puts him in contention as well. Dante Santos has also been crucial for Bayern and as added solidity at the back.
Frankfurt's Aigner is also among the mix with 8 goals and 7 assists but Thomas Muller has arguably been the best performer fo far. He has 9 assists and 12 goals in the league. He is part of an irresistible attacking force at Bayern and is quite often at the center of their goal scoring exploits. His ability to play in the hole or out wide has made him a mainstay in the starting line-up of the treble-chasing side. He has a knack for scoring important goals and always seems to be involved.
What are your thoughts on the Bundesliga so far this season? Leave your comments below or discuss with the writer on Twitter @BrendonNetto.
How do you stay up with football when on the move? With http://m.goal.com –your best source for mobile coverage of the beautiful game.