COMMENT
By Harsh Shah
Tottenham Hotspur are on-course to repeat their unfortunate legacy from the previous season. Andre Villas-Boas, in his first season in charge of the club has not disappointed by any stretch of imagination but now is seeing his side suffering from a recurrent dosage of end-of-season blues. This after the North London outfit lost their third successive match in all competitions with a 1-0 humbling at the hands of a mediocre Fulham side.
PROMISING UPS FOLLOWED BY DEMORALISING DOWNS
Crucial wins at home against Arsenal (2-1) and Inter Milan (3-0) were heralded in Spurs' season, adding momentum to their claim to a European spot for the coming campaign. It was supposed to provide all the impetus in the world to an in-form Gareth Bale & Co to go into the next two equally important fixtures - a challenging trip to Liverpool and the Europa League Round Of 16 second-leg fixture at the San Siro. But what eventually transpired is Tottenham losing out in both games and further losing morale last evening with a 1-0 home defeat at the hands of a Dimitar Berbatov-inspired Fulham.
Tottenham had taken a hard-fought 2-1 lead over Liverpool only to see two horrendous defensive errors handing the home side a 3-2 win. The next defeat against a determined Inter Milan was let us just say of 'relieving' nature. Going in with a 3-goal lead from the first leg, Tottenham conceded 3 goals in the second to see the game go into extra time. Missing Gareth Bale due to suspension, they were happy to see Emmanuel Adebayor score in extra-time. And even though Inter scored again to win the game 4-1, Tottenham won the overall tie unconvincingly on away goals. And then Spurs went down 1-0 to Fulham with ideas and attempts occuring at a premium.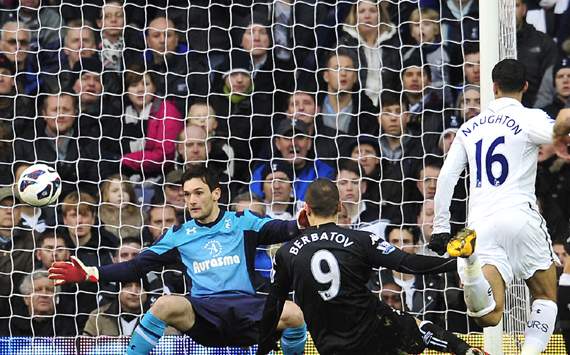 SHOCK HOME DEFEAT TO FULHAM THE LATEST OF TOTTENHAM'S DEBACLES
Clearly an ambitious White Hart Lane faithful expect more from their side. Right at the business end of the season their side seems to be losing the plot, with most of the undesirable play a result of own doing. If they aspire to cement Champions League football for next season, they will have to replicate their best form from and come on top against some very able sides in the upcoming fixtures in the league. The Europa League also is a possibility with the Spurs now into the quarter-finals.
A loss to a spirited Liverpool and then a lesson of sorts by an Inter side has left Andre Villas-Boas flustered. Moreover Arsenal winning at Swansea has now reduced the gap between both North London clubs to 4 points with Spurs having played a game more. Jan Vertonghen and his troops at the back need to plug in the leaks from the last few games with the Tottenham defence letting through 8 goals in the last 3 outings,
A CASE OF HISTORY REPEATING ITSELF
A painful 5-2 thrashing at the hands of Arsenal on 26th February 2012 last season saw Tottenham who were under Harry Redknapp then, go winless for the whole of March in the Premier League. Just like this time out, they did well for most of the season up until this point. It affected their bid for the Champions League berth adversely. Finishing 4th, they lost out to Chelsea to the last Champions League spot as the Blues won the competition and automatically qualified for this season's edition. If they had maintained their composure during the March-April period last season, Spurs might have finished 3rd and Arsenal would have had to face their plight on finishing 4th! How satisfying would that be for a Spurs' supporter?
So keeping with the trend, Tottenham find themselves choking yet again this season. It is becoming an increasingly regular and frustrating experience for the supporters who have been seeing this kind of history repeating itself season-in, season-out. Spurs have always been a bright and creative side, but when it has come to sustaining the potential till the end of the season, it has been a massive challenge. Though it is a new feeling for Villas-Boas, it was kind of expected by the fans nonetheless.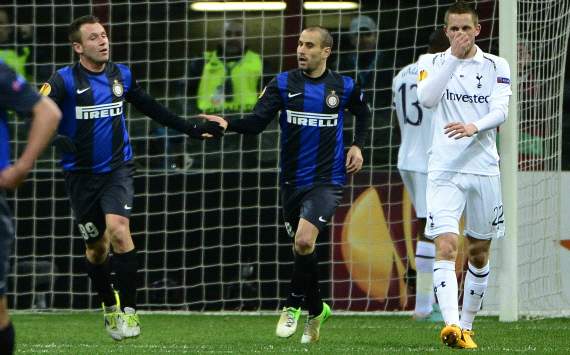 Switching off against Inter Milan almost cost Spurs dearly
To inject the energy, commitment and drive into his players, the Portuguese tactician needs to change the mentality of his troops. He needs to motivate his players and ready them for what might be equivalent to eight 'cup finals' for the club. Any slip-ups at this stage will be punished by Chelsea and Arsenal who are experts at seeing it through at this stage. Next up for Tottenham is a trip to Swansea City followed by the three fixtures that will unequivocably go on to seal Tottenham's fate this season - Everton (H), Chelsea (A) and Manchester City (H).
Europa League commitment is also upon AVB's side as the Everton tie is sandwiched right in between legs home and away against Swiss giants FC Basel. Now it remains to be seen whether continental action goes on to damage Spurs' domestic aspirations. Spurs' reserve players cannot afford to falter against Basel lest influence the team's morale and fatigue in the Premier League. The likes of William Gallas, Kyle Naughton and Jake Livermore cannot afford to do another Inter Milan. Grabbing every opportunity and delivering is the need of the hour.
EVERY SINGLE TOTTENHAM PLAYER NEEDS TO SHOW UP
Teams like Manchester United thrive in this phase of the season the most. When other sides seem to be raking in their glory from the games gone by, others like United atone for their errors and catch-up in the business end. So many times the Red Devils have gone on to win the league following good results starting with wins during this phase of the season. Something similar needs to happen to Spurs' fortunes. Even if they are unable to recreate their flair in the coming games, they just need to find the kind of luck they did at the San Siro so as to make the Champions League cut.
The over-dependency on Bale has come back to haunt Spurs in the last three games. If one is to analyze closely, against Liverpool he was fairly stifled even though he had a hand in both of Spurs' goals. He was sorely missed at the San Siro following suspension and then against Fulham last evening he was relegated to a deeper role by some compact play from Martin Jol's side. Spurs need every player to rise to the occasion and collectively bring the club out of the recent rubble.
Complacency coupled with over-dependency on Bale has led AVB a bit to the shadows
Bale's absence has not been the only factor to Spurs' misfiring performances off-late. Complacency among the other players has also contributed to Tottenham's receding cause. Kyle Walker, Gallas and Benoit Assou-Ekotto have not been at their best and in midfield Lewis Holtby has not settled in as yet. Other midfield options like Jake Livermore have been really complacent and predictable. A much better challenge on-field as well as from the bench is expected of a side trying to reassert its Champions League credentials.
As mentioned earlier, the next 4 games or so will go a long way in deciding Tottenham's fate. And if their fate is to point in the right direction, all of Spurs' players need to spur up their performances. Coming out a winner from such a situation will serve as a huge boost to Tottenham's reputation among England's elite; a transformation from 'choking underachievers' to 'coming-of-age Champions League outfit' maybe on the horizon.
Follow Harsh Shah on

How do you stay up with football when on the move? With http://m.goal.com –your best source for mobile coverage of the beautiful game.