Cesare Polenghi




Comment

|
Champions League


Follow on
According to the Spanish newspaper "El Mundo Deportivo," if there is a team Barcelona want to avoid, it is Juventus. Considering how the Catalans have bulldozed 4-0 the other surviving Italian team, Milan, to the most it might seem unlikely they should fear the overall inexperienced Bianconeri.
In fact, with the exception of a couple of veterans, most of Antonio Conte's squad are facing their first ever experience in the Champions League, a fact they surely had to cope with at the beginning of the season, when they seemed on the verge of being eliminated by Chelsea and Shakhtar Donetsk.
However, El Mundo Deportivo and Barcelona might have their good reasons to hope to avoid Juventus. It is in fact quite simple: the Italians, who are on their way to their second domestic title in a row, have probably been the most convincing team in the previous round, as they disposed of Celtic with an aggregate score of 5-0.
As the numbers show, and in typical Italian style, Juventus' success has been built around an impenetrable defence. Conte's boys have been in fact the only team not to concede goals in both games of the last round, while favorite such as Barcelona, Real Madrid and Paris Saint-Germain have conceded two, and Bayern Munich three.
The last time Buffon picked up the ball from his net was back on last year's October 24, in the game tied against Nordsjaelland. Since then, the Bianconeri have played 491 minutes without conceding. Juventus' record in the last champions League five games is impressive: five victories out of five, scoring thirteen goals and, as said, leaving none to the opponents. They are still undefeated in the competition, having tied their first three games of the group stage.
Juventus defensive success is based on three lines of "containment." In midfield, the trio composed by Arturo Vidal, Andrea Pirlo and Claudio Marchisio not only has speed and creativity, but also can work as a tampon whenever the opposition tries to push through the central part of the field. Their first reserve is Paul Pogba, who at 19 has already earned his first call for the national team.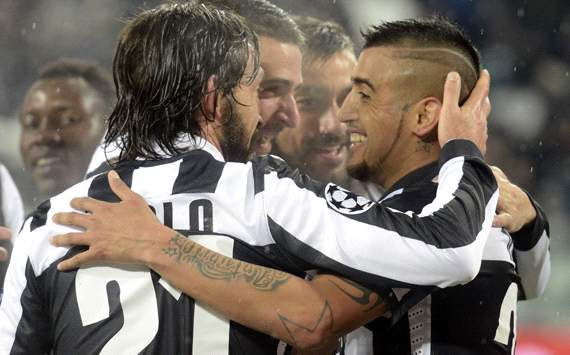 Vidal and Pirlo are part of one of Europe's strongest midfields
On the sides, they are supported by physically overwhelming wingers such as the Swiss Stefan Lichtsteiner, Uruguayan Martin Caceres and January newcomer, Italian international Federico Peluso.
Behind them, stands possibly the best trio of defenders in Europe: Andrea Barzagli, Leonardo Bonucci and Giorgio Chiellini. All three are overwhelming in the air and tactically savvy. And as a last obstacle, the opposition will find in goal the man who is still considered by most the best goalkeeper in the world: Gianluigi Buffon.
Clearly, even a formidable team such as Barcelona will need to be at its top form in order to force their way though Juventus' lines.
At the other end of the pitch, it is often said that Juventus weak spot is their striking force. Truth to be told, none of Antonio Conte's forwards has been consistent in the past two seasons, but with the exception of the late comer Nicolas Anelka, all other four strikers (Sebastian Giovinco, Fabio Quagliarella, Alessandro Matri and Mirko Vucinic) have scored crucial goals in this edition of the Champions League.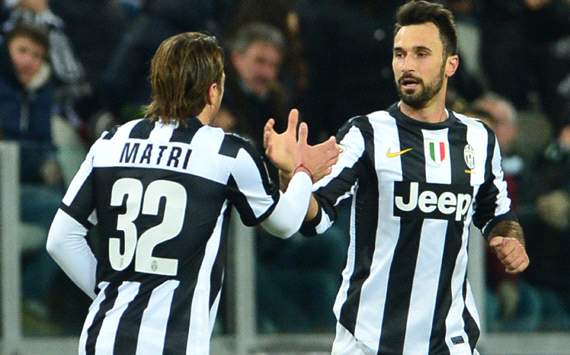 Matri and Vucinic have scored crucial goals for Juve
Moreover, Juventus' attacking power is in no way limited to its forwards. In fact, in the ongoing season, already 15 different players have scored for the Bianconeri, who are likely to come close to their incredible record from the past season in which 19 players netted at least one goal.
One more element play in Juventus' favour: unlike present day's giants Real Madrid, Barcelona and Bayern Munich, Conte's men have no pressure to win the trophy. They are overall a new team, with quite a few players who still have not reached the apex of their career. Their campaign has gone already beyond expectations, and whatever more they can achieve will be seen as an unexpected achievement.
It is hard to say if the few lines by El Mundo Deportivo truly come by people near Barca's management as claimed, but surely Juventus will be an uncomfortable match for whoever will have the tough luck to draw them.
How do you stay up with football when on the move? With http://m.goal.com –your best source for mobile coverage of the beautiful game.