COMMENT
By Abhishek Parmeswaran
As far as stories go,
Arsène Wenger
and
Arsenal
's 15 year tryst with European football falls somewhere between an inspiring tale of earnest, wide-eyed participation, and a tragi-comic yarn with twists so horribly sudden, that they soon became predictable. You know you shouldn't laugh at the nervous, tottering lady falling head over heels on an escalator she had gingerly tried stepping on a moment earlier, but you do.
Lest it appears that Arsène and Arsenal's achievement are being scoffed at, it should be known that they have qualified for the Champions League for the 15 seasons the Frenchman has been in charge, and qualified for the knockout stages for 13 consecutive seasons, a record that is only bettered by Real Madrid (16).
Along the way, there have been stellar moments and indeed, a resolute, if not glorious, run to the final in 2005, where a makeshift defence comprising of Emmanuel Eboue, Phillipe Senderos, Kolo Toure and Mathieu Flamini didn't concede a goal till Barcelona toiled hard to break a 'stronger' defence comprising Sol Campbell and Ashley Cole. The glorious moments include a 1-5 annihilation of Inter and a 0-1 victory against an ageing but strong Real Madrid.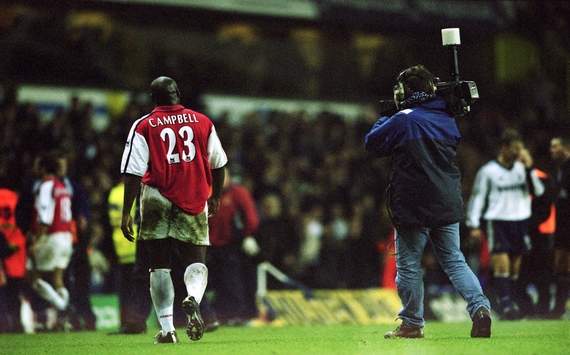 Can that "formidable" Arsenal ever come back?
Arsène's sides have evolved consistently over the years, and it has been especially highlighted in Europe. When he first arrived at Arsenal as a relatively fresh faced bespectacled wisp of a man, Le Professuer, as he was disparagingly referred to at first, set about transforming football as England had known it then. Physically robust, direct football was replaced by a more continental, 'pass-and-move' philosophy. And move they did. A young Thierry Henry, Nicolas Anelka, Patrick Vieira, Robert Pires and co beautifully completed the no-nonsense defending led initially by the venerable, occasionally boozy Tony Adams, and later Sol Campbell. Full backs were no longer employed as pure defenders and occasional attacking supplements, but as pacey, skillful complements to the midfield and wing-play.
The Frenchman's sides adapted to every game, with his tactics at first questioned, but then followed by the rest of England, and even the rest of Europe. From around the 1997-98 season onward, Arsenal had settled into a counter-attacking 4-5-1, using the grit and presence of Ray Parlour and Emmanuel Petit to complement the fluid movement of Patrick Vieira, Marc Overmars, Dennis Bergkamp Ian Wright, later Henry and Pires; and switching to an attacking 4-4-2 when the opportunity presented itself.
The impressive team and football notwithstanding, Arsenal remained perennial disappointments in Europe, falling short at critical junctures, failing to capitalise on well worked opportunities. The beginning of the decline was perhaps the end of the 2003-04 season, when having achieved the impossible with an 'Invincible' domestic campaign, Wenger chose to not make any 'big name' signings, most likely with an eye on the massively expensive project which was the Emirates stadium in the horizon, and banking on the faith and patience of his own galaxy of stars.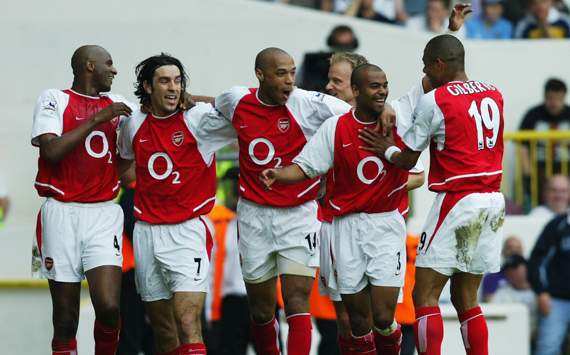 Ever since the protégés starting leaving Arsenal

Arsène's protégés, though, now wanted away, unwilling to be as patient as the manager was, with clubs willing to pay them big bucks and promises of silverware. However, in 2005-06, with a side which by all rights shouldn't have made it past the group stage, Arsenal reached the Champions League final. Wenger recognised the severe limitation he faced with top defenders Campbell and Cole sidelined for the majority of the season, and he enforced a strict counter-attacking, 'defend-with-your-lives' dictate, and his new crop of young stars rose to the occasion, at the expense of a domestic finish outside the top two for the first time in nine years.
Since reaching the final in 2005-06, Arsène's sides have gradually devolved a process that began with the departure of Gilberto Silva, in a position that was vital for a team like Arsenal. His selfless displays in midfield, uncanny eye for a tackle and efficiency in breaking down opposition moves, and his leadership, have been auditioned for unsuccessfully by Alex Song and now, Mikel Arteta.
The side which faces Bayern Munich on Wednesday night, 1-3 down, and virtually out, show none of the tactical nous nor penetration of the sides of the past 15 seasons. The breathless pace and exhilarating movement has been replaced by turgid, directionless movement, severely lacking in self-belief or quality. Playing at Liverpool away early on in the season, there were hints of sophisticated counter-attacking ability on display, with Abou Diaby providing the drive and Santi Cazorla and Lukas Podolski bursting at pace. That proved to be merely a mirage, as familiar defensive frailties returned, and a host of flummoxing attacking issues emerged.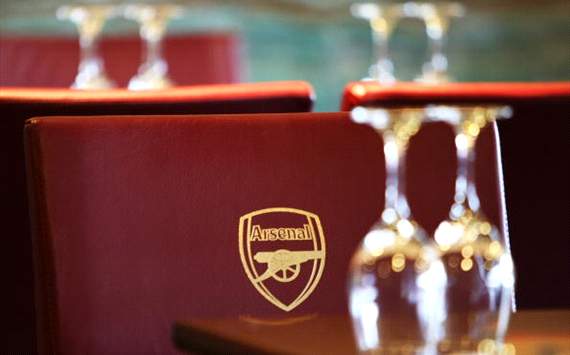 Arsenal have become a feeder club to the giants

Wenger's perceived decline can largely be attributed to his obstinacy and his refusal to accept that players could perhaps not share the same vision and faith as he did. His persistence with Samir Nasri and Cesc Fabregas in 2011, despite both wanting away for at least a season, led to perhaps the biggest jolt for him and Arsenal supporters alike. No longer was Arsenal the club where a top player saw his future. Arsenal had gradually, unwittingly become a feeder club to the giants of European football.
The high standards Wenger set so early on in his Arsenal career also play a part in his fall from grace. He created a side that punched well above its weight, and then held its own against the top sides in the land and Europe, and the supporters grew accustomed to European nights in Milan, Munich and Manchester. One could hazard a guess and say that Salzburg, Rosenborg and Dagestan probably won't have the same allure.
As he gazes around the European football landscape this season, Wenger would find that teams like Borussia Dortmund, Schalke, Juventus have shone in Europe and domestically, with a model not unlike what Arsène had laid down for Arsenal all those years ago. Facing what could be his last match in the Champions League with Arsenal, the furrow-browed Wenger will long for a last chance to ascend to the very summit he had come torturously come close to in Paris 2006. He might find though, that the oxygen of patience and faith is in shorter supply than ever.
How do you stay up with football when on the move? With http://m.goal.com –your best source for mobile coverage of the beautiful game.